Take a look at these cool homemade Scooby Doo costumes shared with us by costume enthusiasts from around the world. Along with the costumes here, you'll also find loads of homemade costume ideas and DIY Halloween costume inspiration for your next costume project. Enjoy!
Latest Scooby Doo Costumes
---
---

---
Featured Costumes
Costume by Emily B., Sacramento, CA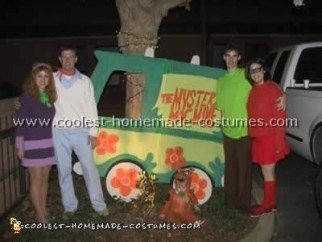 Here are our Scooby Doo Costumes. For Velma I found an orange sweater from a thrift store and made the pleated red skirt from a sewing pattern. The socks were softball socks and I found the shoes at Ross. The glasses were the ones with the big nose and a moustache but I pulled off the nose and just used the glasses.
For Fred we got most of it at a thrift store. Dapne's dress was also made from a dress pattern but we added the stripes on the bottom and the sleeves. For Shaggy it was just a bright green T-Shirt from a T-Shirt store and big baggy brown bell bottoms from the thrift store. The Scooby-Mobile we made from cardboard and some poster paints. We can't take credit for the little Scooby costume because we bought it.
Total Spent: $50
Costume by Sarah H., Warrenton, VA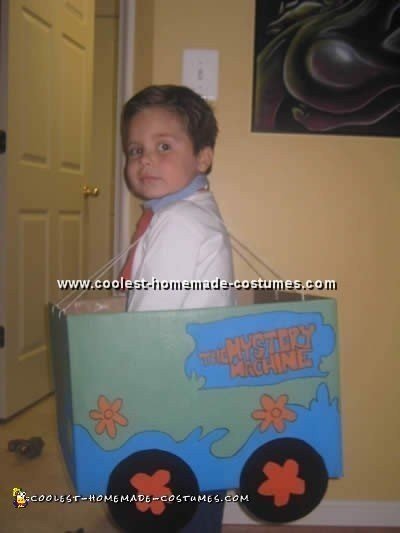 My sons absolutely adore Scoobydoo costumes. I had been tooling around with the idea of making a racecar costume for my youngest son. I randomly thought of Fred and the Mystery Machine and went with it. In the end my eldest liked the costume mystery box soo much he gave his Sportacus costume to his little brother.
My mother in law was moving so the box came from her house and I used art supplies that I already had on hand. I did have to purchase 2 things, the plates that I used for the wheels and the yarn that held up the box. His ascot came from an old shirt of mine that I cut and then knotted to the right length.
Total Spent: $1.50
Costume by Cheryl S., Cortland, OH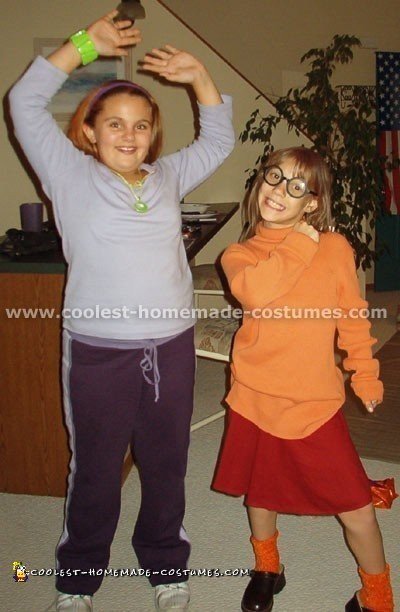 My Daughter and her cousin Love the Scooby Doo Movies and wanted Scooby costumes. The two of them do everything together, and so of course their Scooby costumes had to match.
This year they went as Velma and Daphne. We sprayed her blonde with brown and curled her hair under. We found an orange turtle neck sweater, red skirt, orange knee-highs and a pair of black-rimmed glasses. We finished it of with her brown shoes.