Take a look at these homemade Rocky Horror costume ideas submitted to our annual Halloween Costume Contest. You'll also find loads of homemade costume ideas and DIY Halloween costume inspiration.
Costume by Lori M., Valparaiso, IN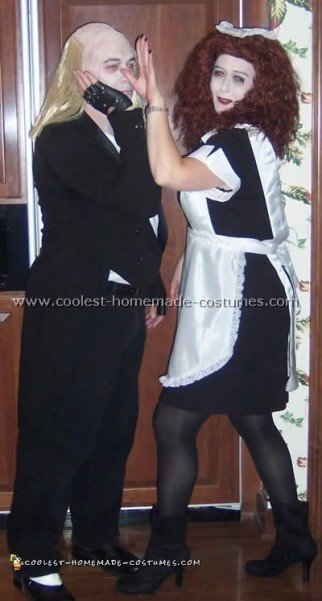 This Rocky Horror costume is Magenta and Riff Raff from Rocky Horror Picture Show. We used an old tailed tux jacket for Riff Raff. My husband has thick black hair but we used a latex rubber bald cap kit from a costume store and glued that sucker down with special latex adhesive. Then applied make-up and I added the authentic looking hair cut from a wig and attached to bald cap.
Magenta's dress was a simple black maids-type dress and I attached authentic looking sleeves neck-line and made apron and headpiece from white material/lace. I spent many midnights in my youth watching this insanely fun movie and spend many hours in my late 30's looking over pictures to get the costumes right.
I hope you enjoy, now just try getting the songs and lines out of your head tonight!