This little pumpkin Halloween costume was really fun to make. I used orange sweat pants, an orange long sleeved t-shirt, and an over sized orange sweat shirt I picked up at Wal-Mart.
I then sewed the two shirts together by hand at the armpits and neck. As I was sewing the neck together I made sure to attach the green pipe cleaners at this point using a combination of tacky glue and embroidery thread to secure.
I stuffed it loosely with fluffy cotton and sewed the bottoms together. I used hot glue to attach the pumpkin face and the green leaves at the neck.
The hat was a headband that I covered in orange felt, before I glued the orange circle on (two pieces sewn together with just a little cotton in the middle for shape). I sewed the brown felt together and then turned it inside out (like a throw pillow) and then sewed it on after I hot glued the leaf and pipe cleaner on.
I did have to buy the little slippers, but I figured it was okay because I put his sneakers on when we went out to trick or treat.
Total Spent: $20
Jack-o'-Lantern Pumpkin costume by Melina H., Fort Smith, AR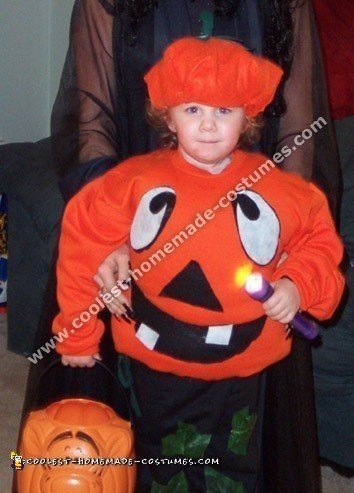 This costume was a last minute idea. My daughter insisted that she be a pumpkin and we couldn't find any kind of pumpkin costume anywhere.
We went to the store around noon on Halloween and got an oversized orange sweatshirt, some black, green, and white fabric, and black sweat pants.
My husband did a quick sewing job to make the face of the pumpkin costume and I took leaves from a plant and put a few stitches to hold them in place. Finally we took the cover off a car buffer and covered it in fabric, then stuck it on her head to top it all off!