Take your DIY costume to the next level with the coolest packaging. As every child knows, the best part of a toy is the box. So, choose your favorite doll to wrap up. Then browse through the online Halloween costume ideas here and create your own awesome homemade doll and toy in a box costumes.
An extremely popular homemade costume is the iconic Barbie in her classic pink box. You will see her bedecked in her typical outfits as well as hilariously original idea. The options for unique DIY costumes are endless, as you will see here.
Also, check out the American Girl doll costumes here. For kids who are obsessed with their dolls, it's an adorable and fun idea for a DIY costume.
So, this Halloween try your hand at a homemade costume. Get inspired by this collection of doll and toy in a box costumes and create one yourself!
Latest Doll-in-a-Box Costumes
---
---

---
Featured Costumes
Online Halloween costume by Lisa K., Bonne Terre, MO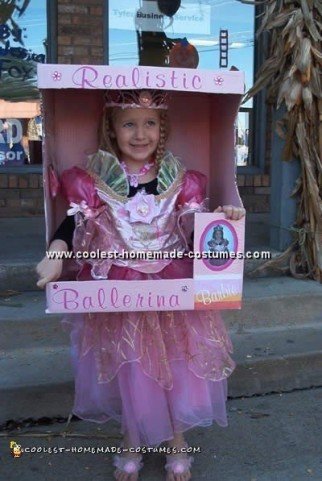 I have had my eye on this online Halloween costume I came across on the internet.
I just took a small box, painted it pink. I used my print artist program to make all the writing. Cut it all out and glued it on to the box along with store bought gems. On each side of the box wrote "Barbie".
On top and in the middle I took a picture of my Barbie, printed out and glued it on as well. The clothing was all store bought.
Total Spent: $25
Online Halloween costume by Tiffany N., McKinney, TX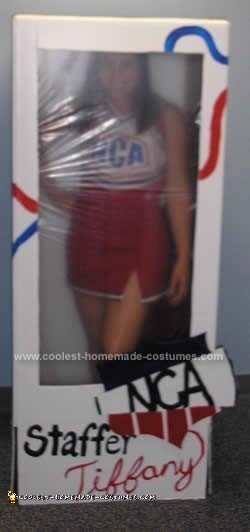 I loved making this! I work for the National Spirit Group which is the National Cheerleaders Association Corporate office and we hold a costume contest every year. Last year was the year that I won!
I was a Cheerleader Barbie still in the Box! It was fun to make and everyone loved it. The greatest thing about this costume is that you could be any toy still in the box. It is a gender friendly idea.
I work in Cheerleading so I though it would be neat to be "Staffer Tiffany" after an NCA employee that staffs our camps every year across the country. All it took was a hanging clothes box from my local U-haul store, some paint and creativity for the outside of the box a clear drop cloth to make the opening look filled with plastic and the appropriate attire inside the box.
I closed the bottom of the box and turned it upside down. This made it easy to hold the handles from inside the box and walk. I then painted the box white (2 coats) and then decorated the back with a write up about the "doll" inside. (Just like on the back of the real thing). I then zip tied two pompoms to the inside on either side of where I stood and a coveted Spirit Stick. These were displayed as if they came with me in the box as the accessories. Then I dressed in a cheerleading outfit.
Take your favorite action figure or athlete and try it today!
It got me the top prize at my office!
Good luck with your online Halloween costume search.
Total Spent: $50