All kiddos can be monsters at times but there is no cuter time than on Halloween. After a monster themed baby shower and first birthday it just made sense to use the theme for Halloween. After searching for a little monster costume that was not overly expensive but still adorable I came up short handed. Luckily I had a vision to create the cutest little monster ever. After some clearance fabric and remnants, along with my crafty crocheting I was able to create an adorable little monster that was sure to turn heads and not cost a fortune to create. Luke plays the little monster part quite well as he still walks with a wobble, he looks like an oversized little baby sneaking up to scare you. However, you turn around to the most adorable smiling little face ever. Little Luke will always be mommy's adorable little monster!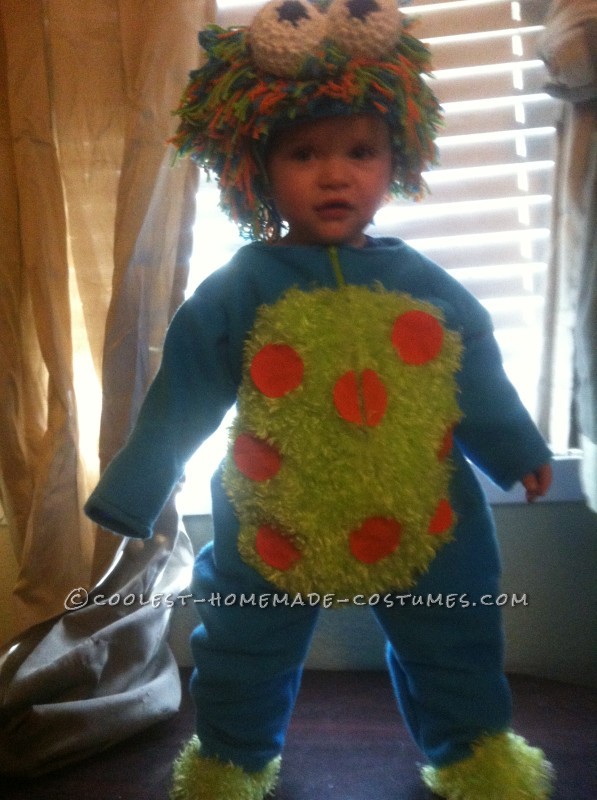 Find your inspiration
I found my inspiration by looking at some cartoon monsters and choosing a color scheme. I knew that i liked the Blue orange and green together. I  also knew that i liked big eyes and cute happy monsters rather than scary!  A lot of inspiration can be found by looking at various photos.
Gather supplies
I went on a mission to find anything in the appropriate colors. I was lucky enough to find a great sale at the time of my costume making. So i gathered all my yarn colors for the hat (i used a cotton yarn). I then found my fabric to make the body knowing it would be cold on Halloween i went with a blizzard fleece in a bright blue color that matched my yarn. I knew that i wanted a fuzzy belly so i looked and amazingly was able to find a matching green! The orange circles came later and that was scrap fabric that i already had. I also bought the styrofoam balls.
Sew, Glue, Crochet
I used an old teddy bear costume inside out to trace and get a pattern. cut a front a back and two arms then sewed them together. And then icut feet to look like slippers and sewed them on the bottom and lined with green fuzz. Cut a slit in the front and added a zipper then sewed on the green fuzz.
For the hat i crocheted a basic baby beanie then added yarn all over to create the \"hair\". Then i crocheted horns and the eyes and sewed them all on the hat.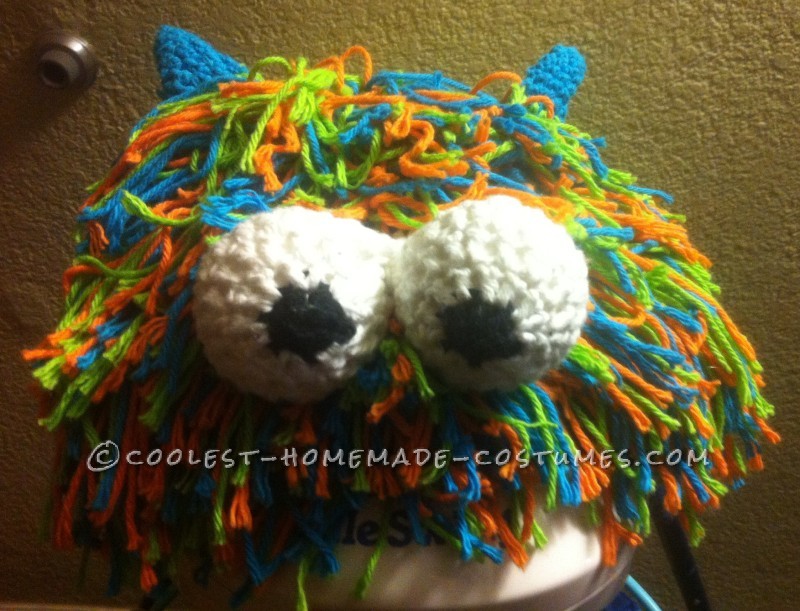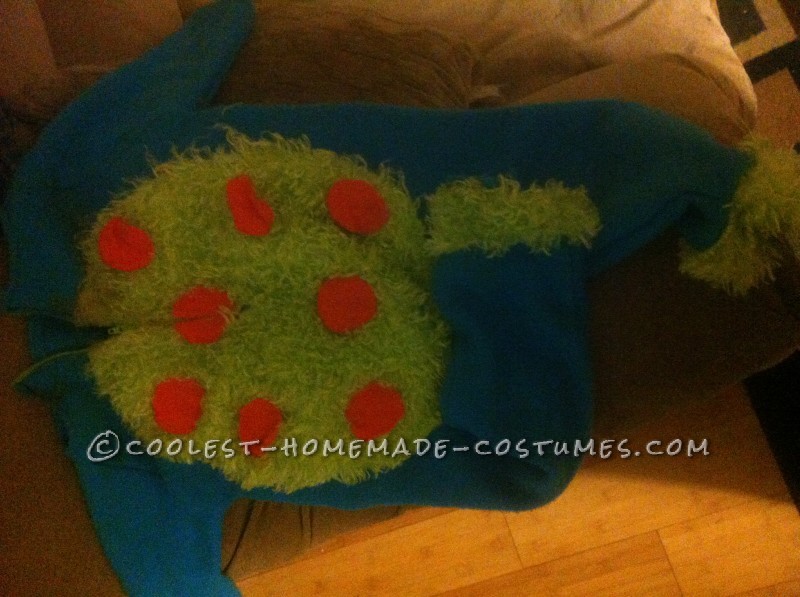 Put it to work!
The only thing left was to  head out! As we walked through the downtown area we got so many compliments anywhere from what a cute little monster to LOOK it is the Cookie Monster! Upon correcting them i was reassured that i have an incredibly adorable little monster on my hands and I love every minute of it!