My boyfriend and I wanted to recreate the craziness of celebrity couple Katy Perry and Russell Brand couple costume (before they split!). We did this shortly after the concert so we did one of her outfits from the concert and an outfit for Russell that he would have worn to her concert
For Katy's look, we took Styrofoam balls and cut them in half. We painted them and then hot-glued them to a white leotard. I purchased Sparkle tights and the Katy Perry wig to finish off the look.
For Russell's look, my boyfriend wore some of my jeans and one of he button up shirts (un-buttoned of course). We purchased a wig (which we had to curl and cut because we couldn't find one that we liked for the look). And then we finished off the look with a scarf, some man jewelry (actually it was women's lol) and some eyeliner.
I think we did a pretty good job of replicating.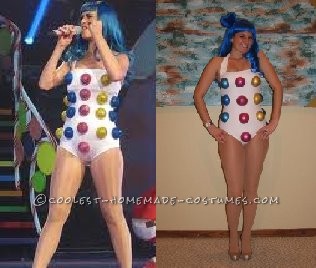 Image on left is the inspiration : Image on right is the final product
Find the proper look
The first step we did was getting everthing together before we started any crafting. Because we couldn't find a wig to fit the look of Russell we got one that was longer than we wanted and curled/cut/teased it We let the curlers sit in the wig for quite a while and used LOTS of hairspray.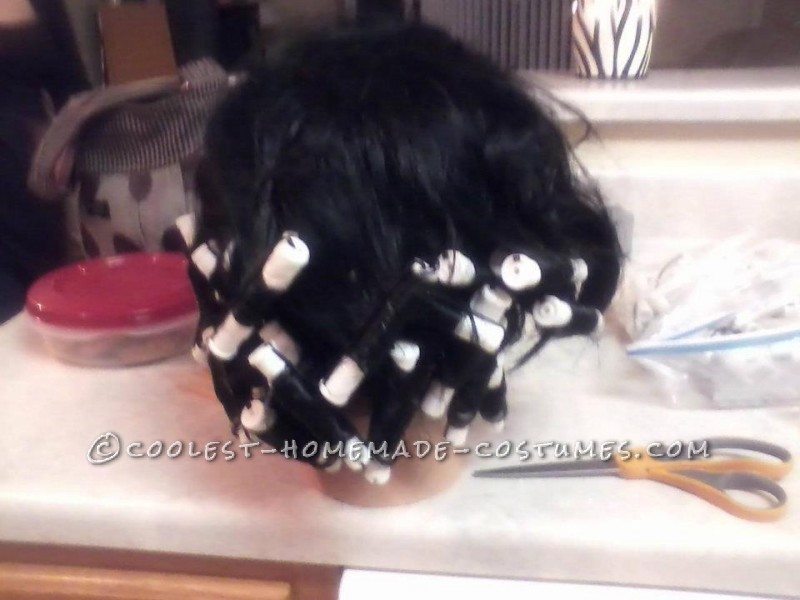 Curling Russell's wig
Begining the crafting
Next we took Styrofoam spheres from Hobby Lobby and cut them in half (harder to do than we thought it would be). Once this was done we covered them all in gesso (that way they wouldn't soak up as much paint later on). Once this was dry we painted them – first a solid color and then a glitter color to match on top – make sure you let the paint dry for quite a while between coats. I painted extras just in case of mishaps.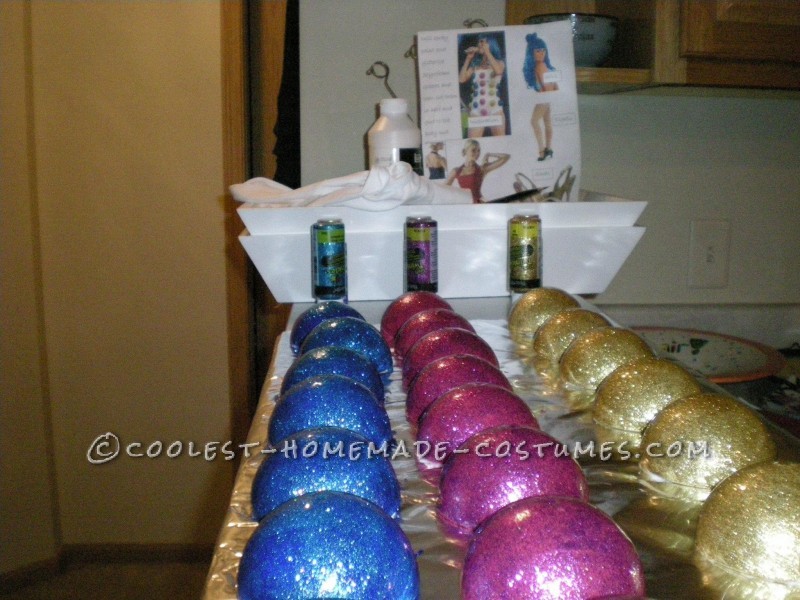 Painting the Spheres
Assembling the Costume
Next we used a pillow as a mannequin for the leotard. This way when we glued the half spheres on the leotard would already be stretched out (so they would not pop off when stretched). We used hot glue to attach the colored spheres in the pattern desired.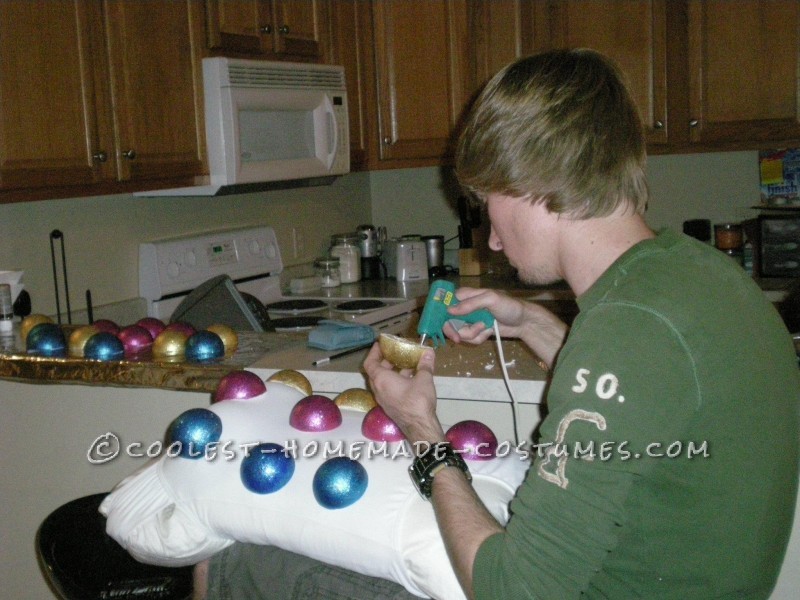 Gluing the Spheres
Admire your Good Work
Next admire your work well done!
Don't forget to take lots of pictures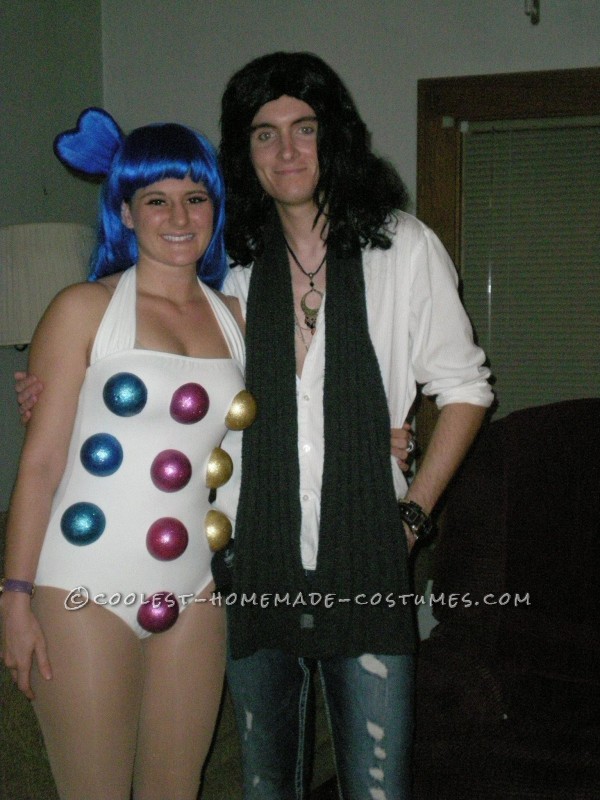 Admire the Costumes Together
ENJOY
And finally, enjoy your amazing costumes with friends!! Like ours "from" Jersey Shore, lol.
Overall everyone was blown-away with our costumes – But we were slightly unprepared to be asked to be in so many pictures, ha.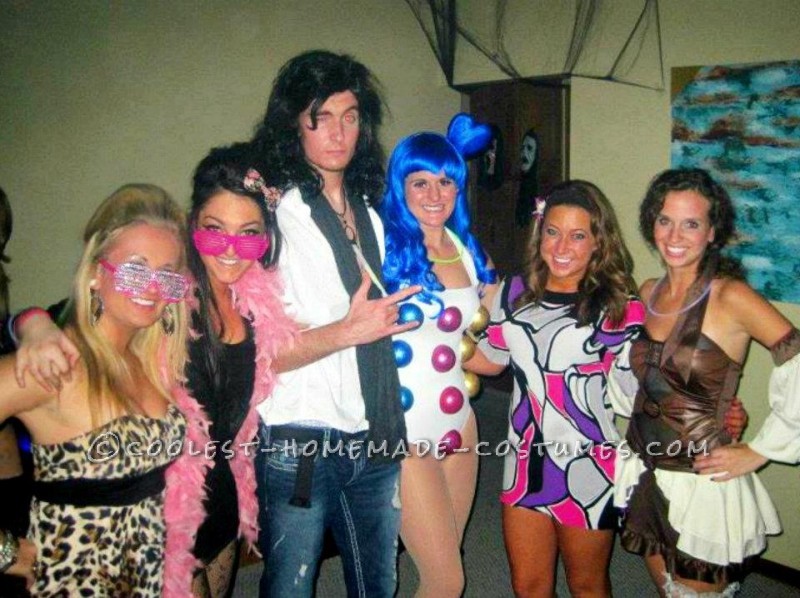 ENJOY with FRIENDS