Take a look at the coolest home made costume ideas for a Lamp Shade costume submitted to our annual Halloween Costume Contest. You'll also find loads of homemade costume ideas and DIY Halloween costume inspiration.
Costume by Melissa, Montgomery, TX.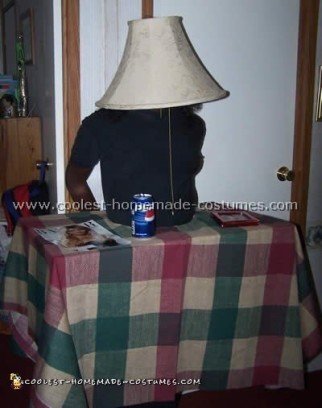 This was a big hit for a last minute costume ideal. I used a thick project poster board and cut out the center to slide around the waste. I took a cheap piece of plaid material and cut out a hole to slide over the poster board and thus created a table.
Next I added the finishing touches. A lampshade was put on the head. Glued a magazine cover soda can and picture frame on the table. Also tied an extension cord around her belt loop and draped over the back of the table. And finally I tied a pull chain for the lamp around her loop earring that was hanging down.
She won first place in her age division and also won overall for the most creative homemade costume ideas.
Total Spent: $2