Anything goes in this collection of extremely awesome alien costumes. From Creepy to cool, these Halloween ideas will seriously stun DIY costume enthusiasts. So hop about your costume spaceship and take a look at the coolest costumes and Halloween ideas below.
Go bold and mysterious with awesome homemade alien costumes this Halloween. Choose a green and slimy or metallic and shiny costume. Whatever you decide, the more unexpected, the better. So, pick an amount of eyes for your homemade costume. Glow in the dark. Or create tentacles for days. The possibilities for DIY costumes are endless.
Also, check out the alien abduction optical illusion costumes here. Practice your most scared expression to pull off this dramatic and hilarious costume.
In addition, discover the secrets behind these out-of-this-world costumes. Learn from the DIY costume tutorials how you can create your own.
So, for the most insanely cool and creative DIY costumes, check out this collection of homemade costumes.
Latest Alien Costumes
---
---

---
Featured Alien Costumes & Halloween Ideas
Halloween ideas for an Alien costume by Anthony D., Merrimack, NH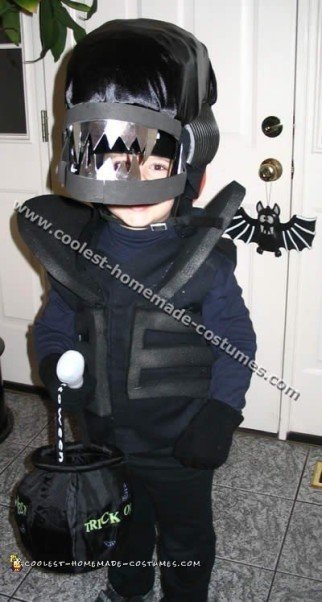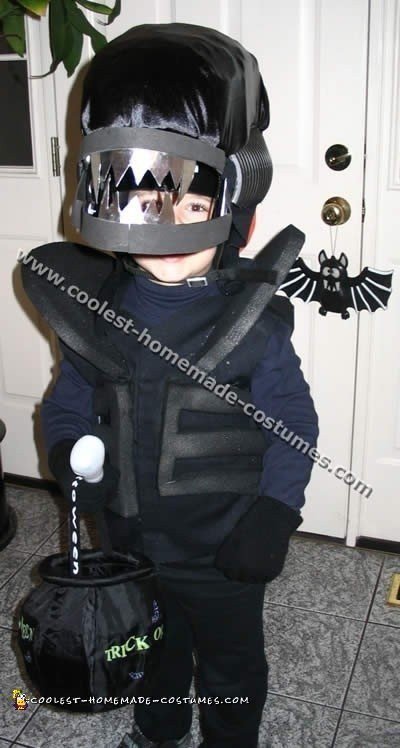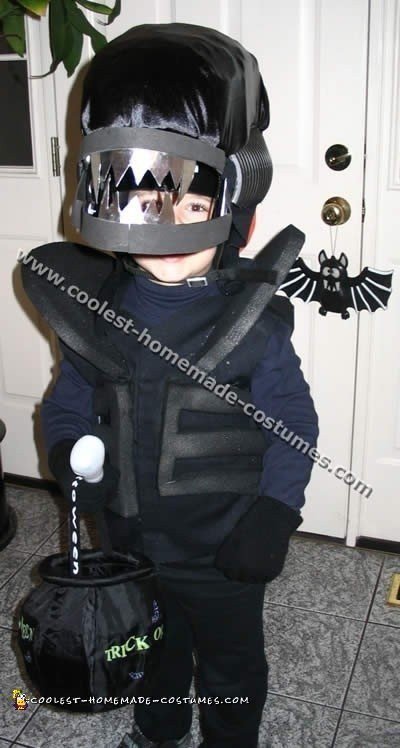 I built a metal "jaw" onto a hockey helmet and them using a large foam block sculpted it down to shape. I attached it to the helmet with a metal rod sticking out of the back of the helmet and to the front with cable ties. Then, I then covered it with lyres. In addition, I used corrugated plastic pipe.
The body and tail are foam cut to shape and painted black. Spray glued onto a black cloth vest.
It was our first home made costume. We had so many Halloween ideas but decided on this Alien costume!
Total Spent: $80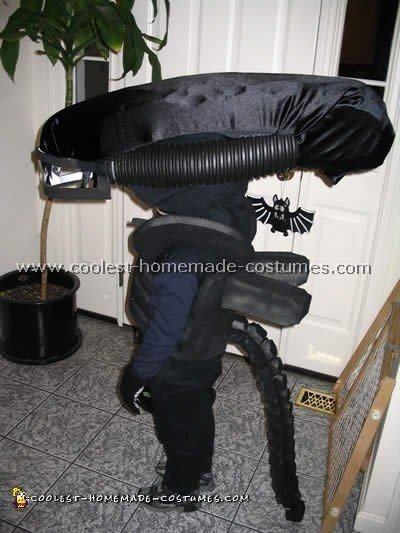 Rainbow Brite Alien
Halloween ideas for an Alien costume by Geoff K., MI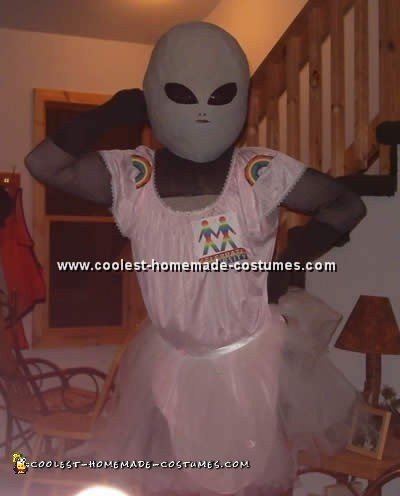 We have very easy Halloween ideas. The alien head is made from a balloon covered with paper Mache. Eye holes were cut in the mask and plastic was cut from the rounded corners of a used milk jug. Eye holes were cut in the plastic and then plastic was covered with material from a pair of black sheer nylons allowing enough vision. These nylon covered rounded pieces of plastic were taped in each cut out eye hole on the mask.
The nose was drawn on with marker and the mouth was cut out with a sharp knife. Styrofoam blocks were then glued inside the mask to keep it from bobbling around and shifting too much and to allow maximum air flow to circulate.
The head was spray painted in gray and green shades and then spray painted again in green glow-in-the-dark paint to create a spookier effect. The pink silk nighty was purchased at a local thrift shop as was the tutu.
Making the Tutu
Since the tutu was made for a child we purchased a wedding veil and sewed excess material onto the width of the tutu. 2 pair of black nylons were worn over a pair of Crock type shoes to give the effect of alien feet and 2 pair of black sheer socks were worn over the arms to create alien hands.
The rainbow logos on the shoulders are Muffler Man air fresheners trimmed to fit and the patch on the chest was printed off the internet onto heavy duty card stock and sewn on the nighty. The majority of the cost involved was the 3 cans of spray paint as everything else was either from thrift shops or recycled from household materials. Our easy Halloween ideas took first place at a local costume contest!
Total Spent: $19
Halloween Ideas: Alien and 3 Eyed Baby Costumes
Halloween ideas for an Alien costume by Annmarie K., Wonder Lake, IL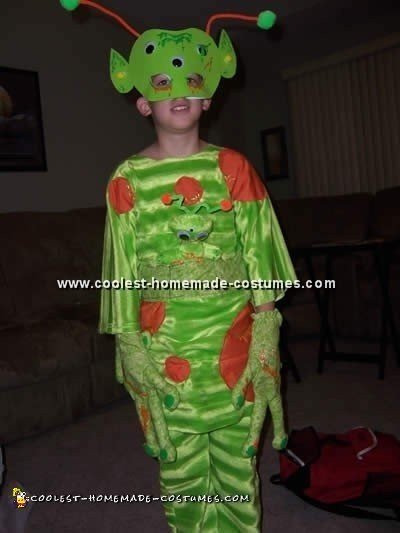 When I asked my son what he wanted to be for Halloween I was surprised he wanted to be an alien. But not just any alien. So I started hunting for Halloween ideas for an alien.
I took my boys shopping for all the materials. He picked out the materials and colors for his alien. Although he wanted to be a scary alien, the material he picked lent itself to a cute adorable alien (don't tell him I said that). The space creature had to be green with orange spots, have a hidden pocket (for stashing candy) and also his own space baby (with three eyes).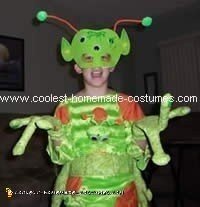 I cannot sew but every year I embark on the task of making my boys costumes. I usually have them lie on the fabric and trace around them and then sew it up.
The alien fingers were the hardest on this costume. To keep the fingers straight I put wooden skewers in the tips and then stuffed with cotton balls.
Our Halloween ideas won us the best costume again this year at the Cub Scout party.
Total Spent: $25
Shimmering Alien Costume
Halloween ideas for an Alien Costume by CoLee U., Asheboro, NC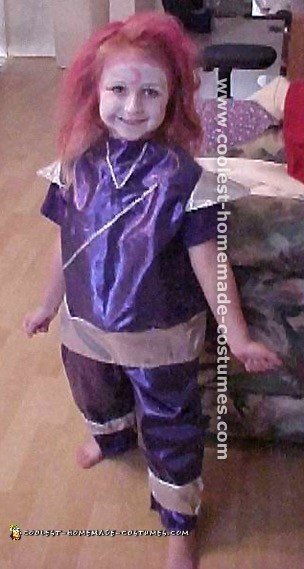 We love science fiction, and a friend of ours bought this funny headband for Kira for her birthday. I thought it would be funny to spray her hair pink and make her a purple outfit to match the antenna.
My inspiration came from Star Trek, of course. I went to Walmart, got some fabric and some flower wire and sewed her up a little costume. Everyone loved it! We hope you will love my Halloween ideas too!