Take a look at these cool homemade Cross-Dressing costumes shared with us by costume enthusiasts from around the world. Along with the funny Halloween costumes here, you'll also find loads of homemade costume ideas and DIY Halloween costume inspiration for your next costume project. Enjoy!
Latest Cross-Dressing Costumes
---
---

---
Featured Funny Halloween Costumes
Costume by Michael B., Regina, Saskatchewan, Canada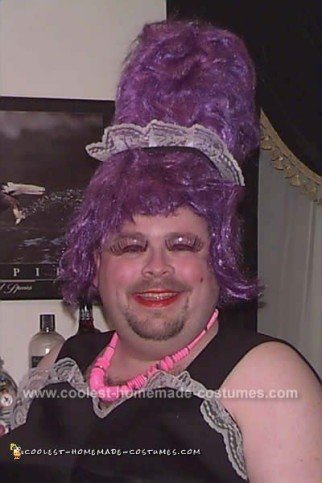 Whenever the guys at the office would come over for poker night they used to bug me because my house was always clean (I am a bachelor). I used to retort that I had a French maid coming in once a week to perform all the duties. Of course none of them believed me and a few wanted to see her to prove she was true. So one of the more funny Halloween costumes I created was this French maid costume and provided them with proof!!!
Total Spent: $20
Costume by Michael B., Regina, Saskatchewan, Canada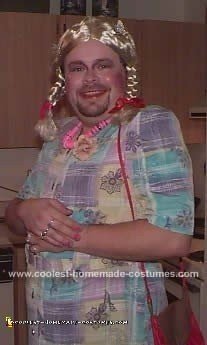 At wits end for a great costume, I visited Value Village for ideas for funny Halloween costumes. Inspiration struck once I found the wig and I headed over to the Ladies clothes to try to find something that would fit my frame. A kindly elderly lady helped me select a couple outfits and I assumed she knew it was for a costume however as I was in the dressing room a knock came on the door and there stood the elderly lady with an armful of outfits offering them over to me with a "Here dear these should fit you nicely too!"
Off to the office I went in full costume and not even remembering I had an appointment with my doctor that morning. As I checked in at the clinic and took a seat, I noticed a flurry of hushed conversations between the clerks working there. It only took a few seconds before I realized what they were talking about and rushed to the counter with a red face to explain that it was simply a costume and not the reason I was seeing the doctor.
Total Spent: $10