Last May my boyfriend said, "I think you should see other people." Just like that! Sad, but okay, I went on with my life. By the time October arrived, I had my Halloween costume: Anita Goodman, M.D.
The fun part was coming up with all my paraphernalia- deciding how many and which medicines to offer, creating labels, a name tag, a prescription pad, and more. What color dress is best to be seen under my official lab coat? Will I be able to find comfortable high heels in white?  Will the many single men at this party think I'm amusing?
After dinner with a friends, I am off to the hugely attended costume party, walking with my tray of goodies in hand. Everyone, I mean just about every set of eyes I pass, looks at my tray and me, with eyebrows arched and puzzled smiles starting.
"What?" they ask. "What are you giving away?" Husbands and wives, single ladies, single men, they all come over to see my tray, to talk, to question.
"Depends," I smile, "what do you need?" I display my various play prescription labels.  "I have Broken Heart Booster, Fountain of Youth Serum, Love Potion #9, Instant Desire, Everlasting Stamina, and Orgasmic Happiness."
At first they would look at me, their brains processing the offerings.
"I thought you were real!"  many said, with noticeable disappointment. "I thought you were giving out real stuff!"
Most told me their own story- why they did or did not need the Broken Heart Booster. Some confided that their partner does not, under any circumstance, need the Everlasting Stamina, yet then whispered in my ear to please slip them some.
Overall, I experienced a fun and highly interactive evening. I met so many more people dressed as Anita Goodman, M.D. than I anticipated.  And although I did not find my long term good man, I found plenty of friendly party interaction. I really think it's my best costume yet!
What's on the Tray?
Everlasting Stamina
Broken Heart Booster
Orgasmic Happiness (everyone seemed to want this one)
Love potion #9
Instant Desire
I used my computer and printer to make the labels.  By searching Google images for "bar-code" I quickly found some realistic graphics.  After downloading the template for the labels, I simply typed out my best medicine ideas.

Prescription Pills
What's in the pockets?
This prescription pad was created on word.  I Googled Image searched "prescription pad" and then used a real one as a model to create mine.
I pulled clear medical gloves out for show. Although some were overly enthusiastic concerning their possible use, I kept the references clean.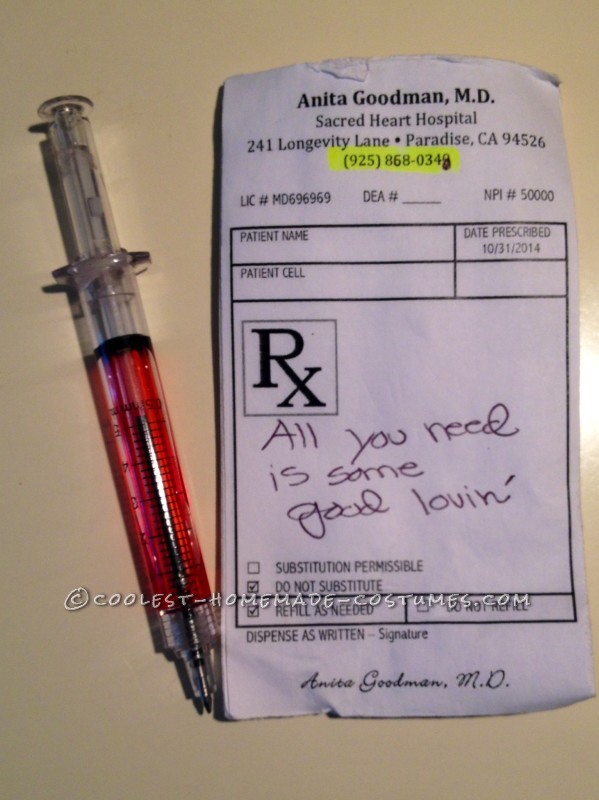 Prescription Pad and Pen