In our house we love classic 80s movies. We wouldn't be good parents if we didn't introduce our kids to such favorites as The Goonies, The Princess Bride, Spaceballs, Star Wars and Indiana Jones. My kids, 7 and 9, indulged my wish for a family costume last year when we went as the Addams Family (which turned out great. See costume we submitted on this site). This year we decided to go as the characters from Back to the Future.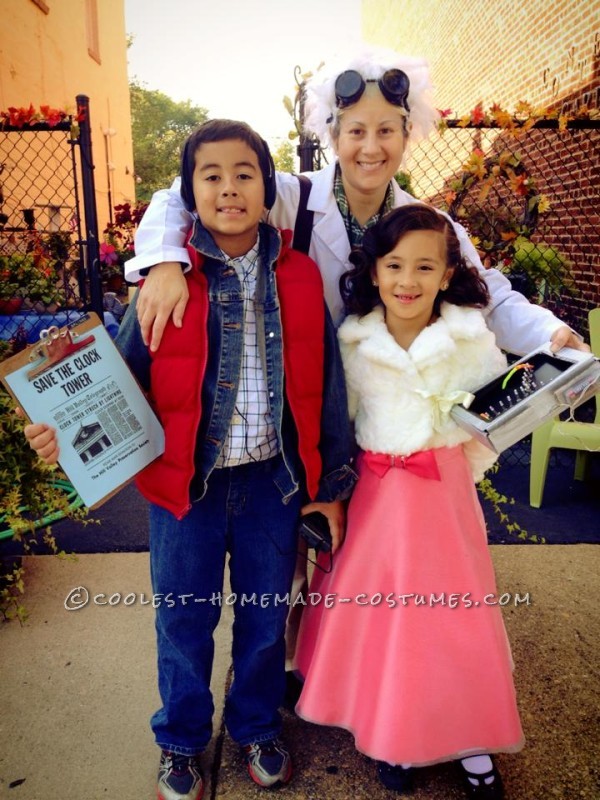 Future Boy- Marty McFly
My son would naturally be Marty. We went to a thrift store (the best thrift store in our area is Unique Thrift in Merrifield, VA). There we got the Marty essentials- red puffy vest, denim jacket, and checkered shirt. He already had a red tshirt and jeans. Accessories are important for the look, of course. I ordered a black calculator watch and a working Sony Walkman from ebay. He got such a kick out of these two gadgets and continues to use them. I had wanted to create an authentic playlist based on the movie's soundtrack, but it was too tricky figuring out how to make a mixtape because I didn't have a cassette player with a recording option. Oh well.
I decided to skip the suspenders because they wouldn't be visible anyway.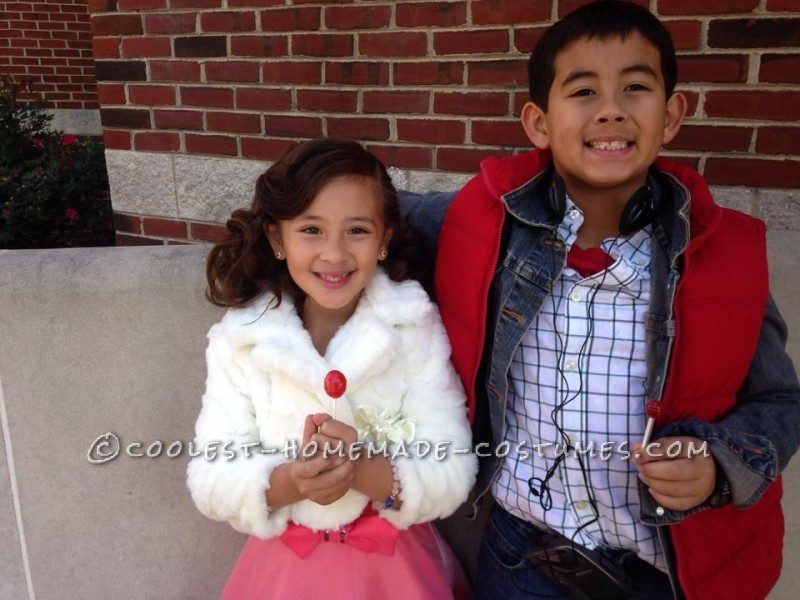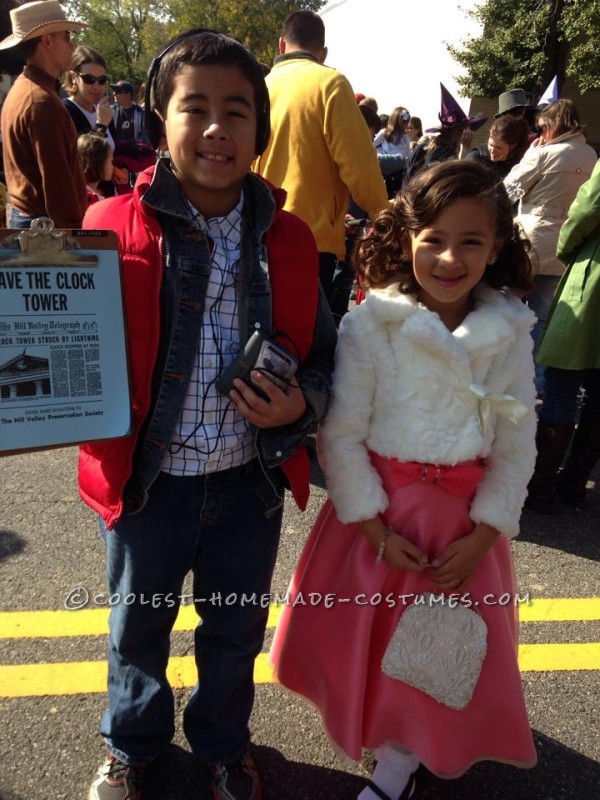 Enchantment Under the Sea- Lorraine
My daughter wanted to be the character of Lorraine dressed for the Enchantment Under the Sea dance. This was going to be fun! My mom is a great sewer, and decided that a bridesmaid pattern would work best. She chose pattern Simplicity 4070 and added thin straps.
Fabrics used were polyester organza as an overlay, polyester satin as the fashion fabric and polyester lining fabric.  To make the flap at the top of the dress which wasn\'t in the pattern, she made her own pattern based on how one would make a collar. The only other thing she added were the few sequins on the bow that she hand-sewed on.
A day before our local Halloween parade we rewatched the movie (for the tenth time in a month probably!). And I realized that for the authentic 50s look, the dress needed a crinoline. I had an adult-sized short crinoline, but not a long child-sized crinoline. We visited a few Halloween stores that day but had no luck. So I MacGyvered a workable idea- I pinned my adult crinoline to the bottom of one of her tulle ballet skirts, and together these gave the look of a full petticoat under the dress. It looked sensational!
She wore a cream-colored faux fur jacket that we found at the thrift store (what a find!), along with a bracelet and my mom's vintage beaded handbag. Ruffly bobby socks and black crocs completed the look (crocs were necessary because the parade ended on a baseball field).
To mimic Lorraine's dance scene hairdo, I did her hair in 1950's-style pin curls, using Lottabody setting lotion. I followed online tutorials for how to set the pin curls. In the movie Lorraine wears a hair ornament that looks like little pearls or sprigs of baby's breath. I recreated that by buying a string of mini fake pearls from the bridal section of Michaels Crafts, and hotgluing it to a hair comb. And using lots and lots of bobby pins and hair spray.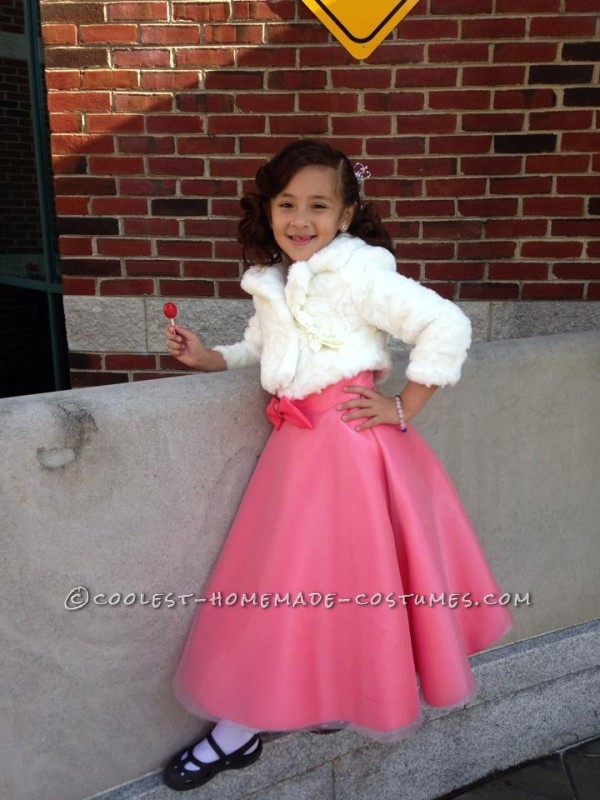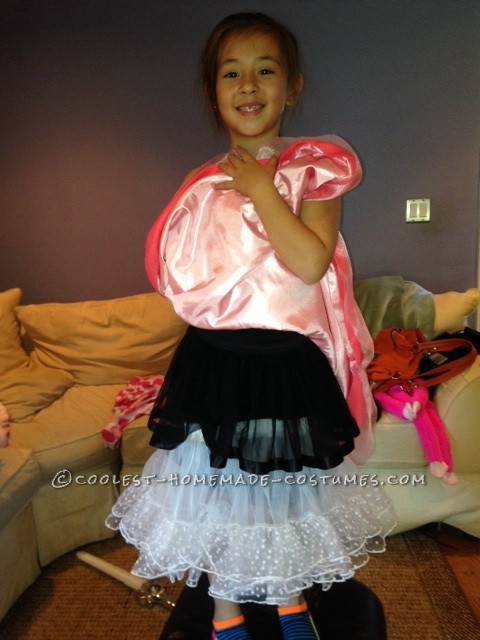 Showing jury-rigged crinoline get-up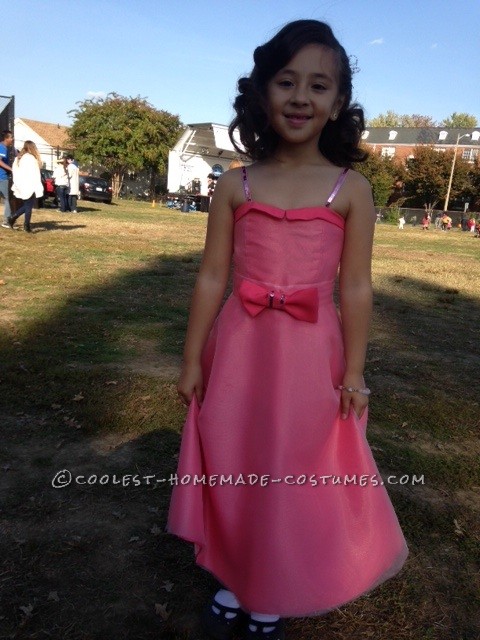 Showing top of dress
Great Scott! Doc Brown
I played Doc Brown (hot!). I wore a lab coat over a checkered shirt and khaki pants. On the back of the lab coat I pinned a radiation symbol. To the front pocket I attached a bulldog clip holding assorted post-its and papers, and inserted some pens. I wore a stop watch on a lanyard and a calculator wristwatch. I tucked my copious amounts of hair under a bald cap, and then put a white wig over that. I wasn't pleased with the wig selections I found in the stores, so I purchased a woman's shoulder-length white wig with bangs. I had to hack it up until I was happy with the length. I also teased and hairsprayed it to get it looking sufficiently crazy. The finishing touch was a pair of welding goggles which I ordered on ebay for $7. (All of the accessories I purchased- goggles, calculator watch, etc. were inexpensive, and the thrift store clothing items were $3-4 a piece, except for the girl\'s jacket, which was a little more expensive).
My husband was going to play geeky dad George but unfortunately got called away on business, so it was just us three this year.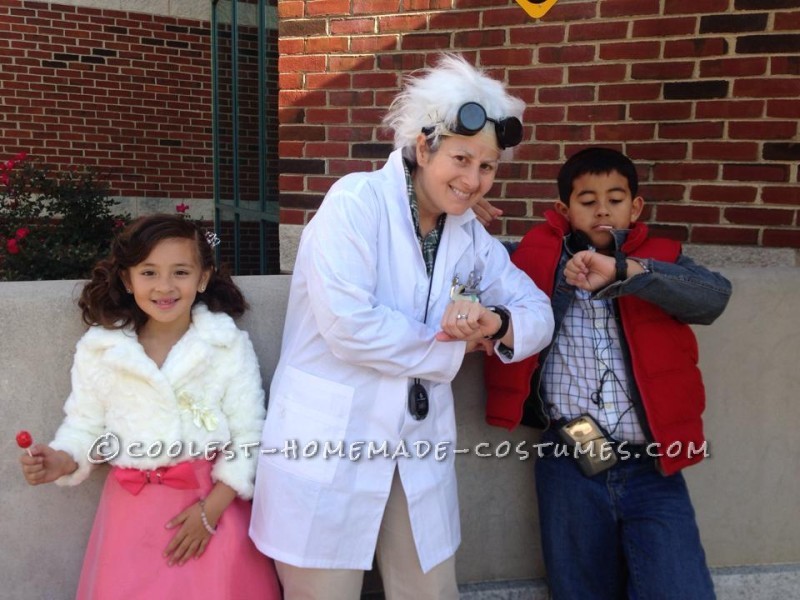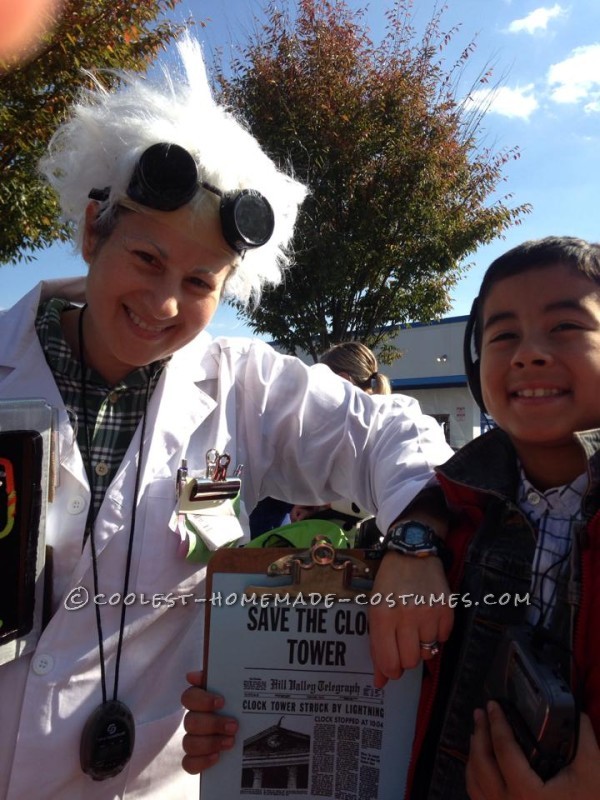 1.21 Gigawatts! Props
I made some additional props to carry while we were in the parade. My son held a clipboard holding a Save the Clock Tower sign which I printed off the internet. This was very helpful during the parade, which was packed with people in all kinds of crazy costumes. We were probably the most "normal" looking folks in the parade, but when people read the sign, the recognition on their faces as they took that in and then the Marty costume, was instantaneous.
I had a blast creating my own Flux Capacitor. I carved a window out of a small box. Then I painted the box silver and added a false bottom made of black foam board, which I cut to fit. I used battery-operated ArtSkills Poster Lights to create the shape of the Flux Capacitor, and added orange and yellow pipe cleaners as accents. It turned out simple but great.
Most adults realized who we were, although I got a couple of "Einstein" or "mad scientist" guesses. I think I may have looked too feminine to be a perfect Doc. Also, I think the more classic radiation suit from the DeLorean scene would have been more recognizable. A few kids asked us who we were meant to be. A boy asked my son, "What's wrong with the clock tower?" HA!! I told him he needed to watch the movie pronto. Many people admired my daughter's dress, and several people recognized that it was in the 1950s style, but no one told us that they recognized her as Lorraine without our saying it first. I think if we had been at a cosplay convention we would have gotten more recognition. But we were all very happy with how everything turned out.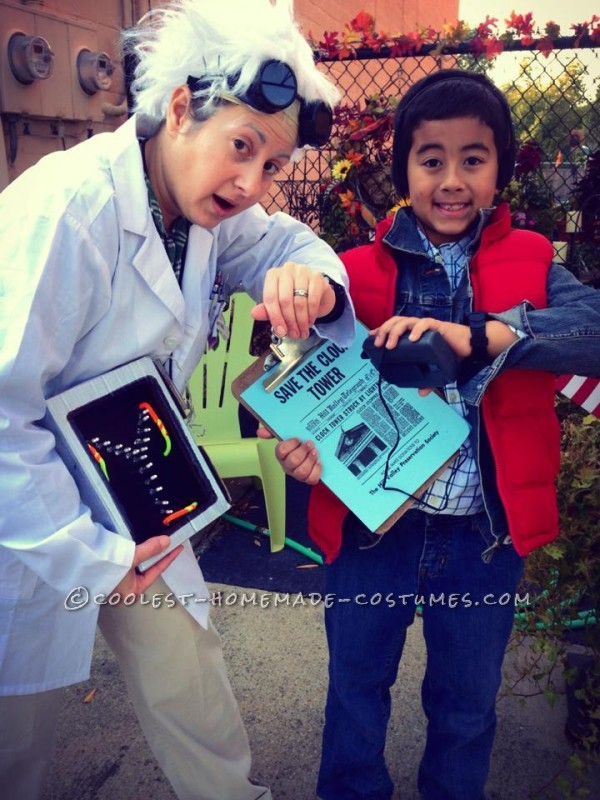 1.21 gigawatts!