I was searching for easy Halloween costume ideas and this is what I came up with. This is my daughter Rachel when she was 4 years old. We made her into a pile of leaves by buying a ton of craft leaves. We went to a thrift store and bought a pair of red sweat pants and a red turtle neck, took one of her old hats and hand sewed all of those leaves all over it until you could not see any of the clothes.
She was the hit of all of the Halloween parties she went to that year and won a ton of prizes with it too! This costume is pretty time consuming so give yourself plenty of time to sew on all of the leaves but trust me the end result is worth it!
Also would like to add I have had people ask me why I did not hot glue the leaves on. I had thought about that but we all know how rough kids are on their costumes and I just felt that they would not stay stuck to the clothes so I opted to sew them on. I was also asked where I get my easy Halloween costume ideas from.
Total Spent: $60
Costume by Gina S., Johnston, RI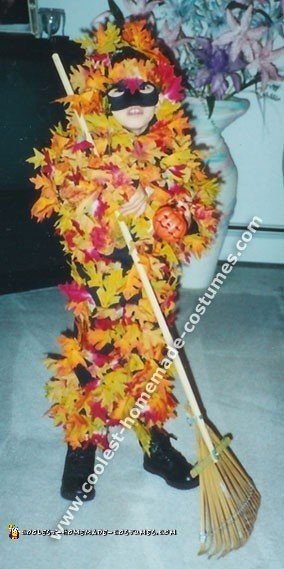 Start making this costume by purchasing a black sweat suit (consisting of a hooded sweatshirt and pants).
I also purchased a bunch of artificial leaves at the local craft store and pulled them off the stems. I hot glued them to the sweat suit, trying to glue quite a bit of leaves so that it actually looked like a pile of leaves.
I commonly use a sweatsuit when making my costumes because it is easy for the child to get around in and sit down.
I bought a mask to put on the face and had a small rake that was carried to complete the look – in case someone did not know what our creative Halloween costume was. Some of the kids thought it was a tree, which I guess could pass as a tree too.
Enjoy making your easy Halloween costume ideas!
Costume by Aubree M., Trenton, NE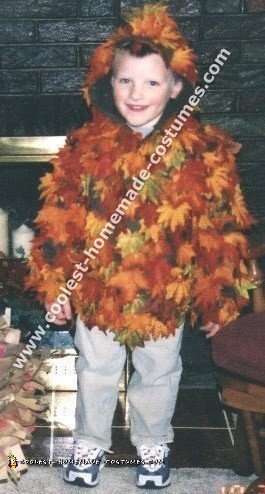 This is one of the most easy Halloween costume ideas. I used a hooded sweatshirt. I tacked the leaves on in rows with my sewing machine and he wore blue jeans.