Take a look at the coolest homemade Dunkin Donuts costume ideas submitted to our annual Halloween Costume Contest. You'll also find loads of homemade costume ideas and DIY Halloween costume inspiration.
Costume by Imelda D., Okemos, MI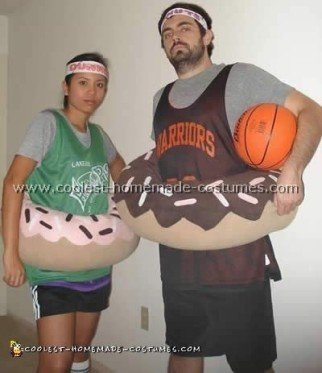 This year for Halloween my boyfriend and I were "Dunkin Donuts". We only wanted easy costumes and he loves their coffee and who doesn't love a pair of basketball playing donuts? The donuts are made of a polar-fleece material stuffed with polyfiber (which helped keep us warm for much of the night and also served as a cushy-bumper for crowded situations) and the frosting and sprinkles were cut from felt.
We hit up local thrift stores for basketball jerseys and the dollar store for athletic socks and white headbands on which we wrote "dunkin" and "donuts" on.
Needless to say our costume was a slam dunk at the Halloween party!
Total Spent: $33