Grab your joystick and get ready to eat your way through yellow dots this Halloween. This collection of homemade Pacman creative Halloween costume ideas will have you running for your craft scissors. And also possibly to the arcade.
Nothing screams 80s nostalgia costumes quite like these video game inspired DIY costumes. Take a look at the best tutorials here for a Pacman homemade costume. Another idea is to dress as the Ms. Pacman for a subtle DIY costume difference. Feel like playing the bad guy? Choose a ghost costume to chase away the protagonist.
Also, check out the clever parents who turned strollers into arcade games. It's a great way to get a non-walker into the DIY costume fun.
In addition, get your squad together for an epic group costume.
So, set your costume mouth to open for a fun trip down memory lane. Get inspired to make an awesome homemade costume from the Pacman costumes here.
Latest Pacman Costumes
---
---

---
Featured Costumes
Costume by Gus B., South Gate, CA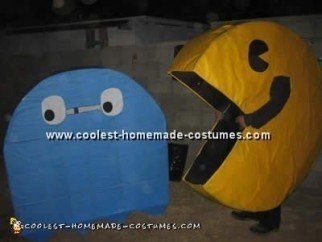 Our creative Halloween costume idea took us 10 hours to build. It's made out of mail boxes and a whole lot of duct tape. We actually had two ghosts but the red ghost wouldn't fit in the flat bed of our truck. These costumes are about 5 ft tall.
Very heavy, very hand made.
Total Spent: $85
Costume by Richard T., Harrington, DE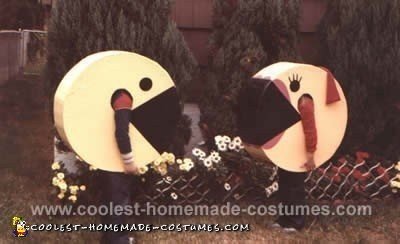 I made this Pack Man and Ms. Pack Man costume from every day items I had so it really didn't cost me any thing.
I used cardboard boxes left over from items I purchased, on-hand masking tape to join cardboard, a razor knife to cut, and left over latex wall paint.
The pattern is just a cylinder with holes cut for legs arms and a slot to see.
Total Spent: $1