When deciding on a costume for Halloween, I always try to go with something that plays off my own look.  With my naturally curly hair, and colouring, I decided it would make a great lion's mane.  But I didn't want to be just any old lion.  I wanted to be a famous lion!! So I decided to go as the MGM lion from the logo at the beginning of movies.
Becoming the Lion
I knew I could do the face painting, but the tricky part was figuring out how to make the logo around me.  I first printed off a copy of the logo large enough so that I could fit my head through the hole.  Then, I found some foam craft board from the dollar store and glued the logo onto the foam board.  I cut out the ribbon at the bottom and the signs at the top separately.  Then I was able to glue the ribbon parts on a little closer to the middle, so the sign wouldn't be so wide.  And I used wooden skewers to attach the Metro Goldwyn Mayer to the top and make it look like it was hovering.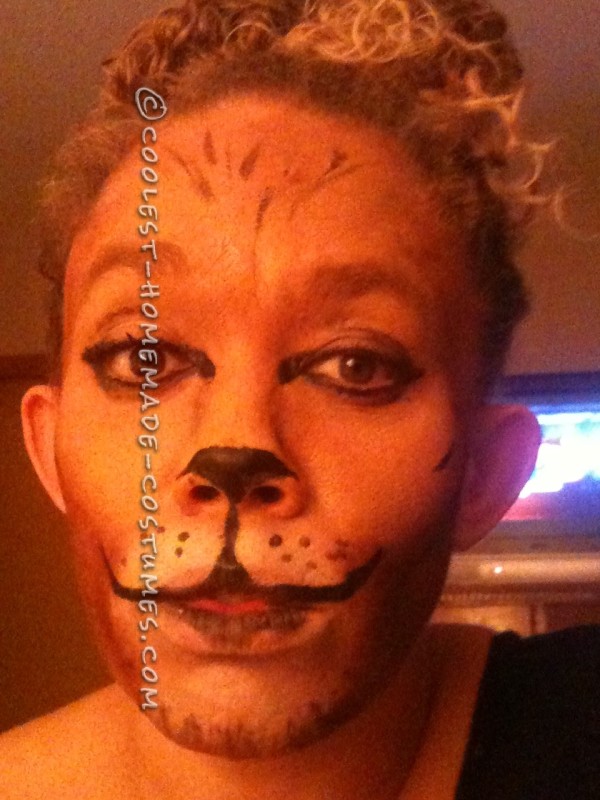 Hovering with a Harness
The next part was to figure out how to attach it to myself. I wanted it to be sturdy when it was on, but I also knew that I'd need to be able to take it on and off easily and quickly, so I could get in and out of the car on the way to the party.  I finally created a harness.  I glued Velcro strips to the back of the sign and then cut strips of material out of a cloth shopping bag to serve as straps, and sewed Velcro strips to the end of the harness straps.  In the end, I could put the whole sign on by wrapping the straps over my shoulders and across my back and onto the sign with the Velcro.  It worked like a charm!  With the lion face paint and a couple of lion ears attached to a hairband, I became the MGM Lion!!  Roar!
Reactions
It was great to hear peoples reactions and to see their faces light up as they recognized who I was.  I heard kids saying, "Hey, that's the lion from the beginning of all the movies!"  People came up to me all night asking to take my picture.  It worked out so well and it was so fun to wear!! Great Halloween!!! Roar!!!