Our 3-year-old daughter, Sofia, loves the movie Monster's Inc. When it is bedtime she hides under the covers and waits for her dad to come into her room and pops her head out and yells, "BOO!" She calls him Kitty, a.k.a Sully, and me Mike Wazowski. People even say she looks like the little girl Boo from the movie. For Halloween I decided to make our costumes and dress up as our respective characters. I figured this was a once in a lifetime opportunity to be the characters that she loves so much and actually calls us by their names.
I have never sewed in my life and did have a clue what I was doing, but I was determined to sew a Sully costume for my husband and a Boo costume for my daughter. I borrowed a sewing machine from my friend, thanks Kaley, and decided to start with Boo's costume.
Read steps 1, 2 and 3
We loved our costumes and Sofia was sooooo excited. People stopped us on the street to tell us how great we looked. People we didn't even know wanted to take pictures with us. Our friends and family could not believe that I had made all the costumes and that it was my first time sewing. They said we looked great! I had a great time making them and loved seeing us dressed up in something that I had made with such love. It was my first time making our costumes and I know it definitely will not be my last.
Boo Costume
Materials:
Shiny purple cloth
Jumper dress sewing pattern
a salad bowl
hat (I used a Styrofoam cowboy hat from dollar store)
two Styrofoam balls
Wire hanger
1 mop head
pillow stuffing
grey cloth
thick grey felt
Glue gun
Velcro
I cut the purple cloth dress out 4 times and made it so I could stuff the dress with cushion/pillow stuffing. (two layers) As I stuffed the dress I sewed the lines going across the dress to resemble Boo's monster costume. I sewed grey long sleeves onto a shirt to resemble the octopus arms that Boo has. The monster head is a salad bowl with the material hot glued onto it. To make sure the hat did not move or fall off of Sofia's head I cut the rim off a cowboy hat and hot glued inside. I took a wire hanger and cut two pieces off to make antennas. I wrapped them with the same material I used for the "octopus arms" and them glued to styrafoam balls onto the ends. With a black sharpie I drew to eyeballs onto the balls. I cut a replacement mop in half and glued it onto the top of the hat to be her monster hair. The teeth that go around the hood of the costume are made out of thick felt and glued onto the inside of the hood (salad bowl)
In order for Sofia to be able to take the hat off during trick or treating I extended the purple fabric on the back of the costume and put Velcro on it so it would not fall onto the ground nor get lost in the fun.
She loved her costume so much and screamed, "Boo!" every chance she got.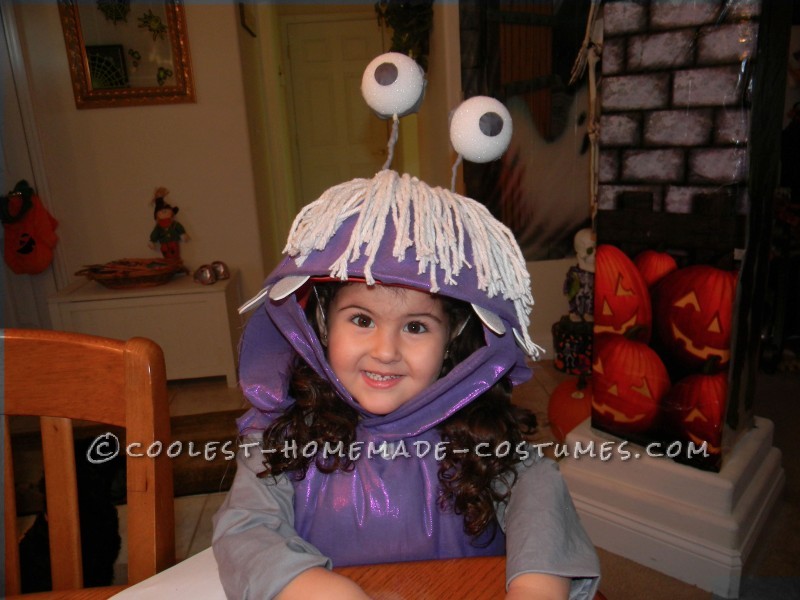 Sully Costume
Materials:
40 yards of blue fuzzy fabric
Pillow stuffing
button snaps
devil horns headband
blue face paint
fuzzy eyebrows
blue fabric spray paint
Big Fuzzy Slippers
black electrical tape
For Sully I bought a sewing pattern for a Lion costume 40 yards of blue fuzzy fabric. I opened the pattern and sat there for what felt like hours trying to figure out what the directions where saying. I decided to just try it out and began with the arm. When I sewed the first arm I screamed I was so excited. What seems like such a simple thing was a huge accomplishment to me because I really had no idea what I was doing. I continued to make the pieces of the Sully and hassled my husband 1,000 times to keep trying it on to make sure it fit as I sewed them together. The horns are devil horns, which I covered with the grey material. I used a sewing pattern for a kangaroo costume to make the tail. The tail was removable so my husband could sit down and it was stuffed with cushion stuffing. The spikes where foam pieces that I hot glued on so they would stay in place. I even found big fluffy slippers and made "nails" out of black electrical tape. I painted his face blue and stuck big fuzzy blue eyebrows on him. He looked great and was totally excited to play the role of "KITTY" (a.k.a. Sully)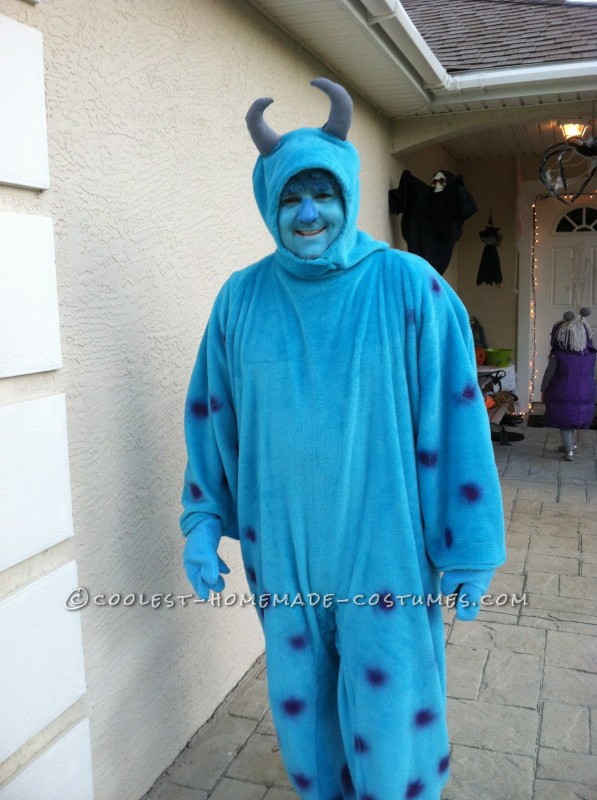 Mike Wazowski
Materials:
Large Yoga ball
Cling Wrap
Newspaper
Paper maché (Flour and water)
Paint (lime green, white, black and grey)
two used toilet paper rolls
regular size balloon
Long sleeve shirt
tights or yoga pants
plastic builders hat
Mike Wazowski was a team effort. I started with a huge Yoga ball, which I covered with Cling wrap. I mixed flour and water to make paper mache and essentially made a huge piñata. Everyday, for about a month, I came home from work I added another layer to Mike in order to insure that it would be thick enough to be worn. My stepson and daughter really enjoyed helping with this process. His eye looked weird to me because it had no dimension. I decided to make another piñata using a regular balloon as a mold. I cut it so it would fit onto my big Mike piñata and hot glued it on. I added dimension to his eyebrow by adding globs of paper maché and simply shaping it to look like an eyebrow. Once the piñata was dry I painted the face onto it and cut out a hole for my head and one for each arm. The hat was a spray painted builders hat from the local dollar store. I made the iconic Monsters Inc. emblem in Word and glued it on. His horns are made out of toilet paper rolls, which I cut and shaped into cones and later painted. They were hot glued onto the top of Mike.
Since I could not find a shirt and pants that where the exact same green I decided to use and old white shirt from lovely husbands collection and purchased a pair of white spandex tights. I bought lime green clothes dye at Michael's and dyed the shirt and pants together. They were the perfect color for Mike.