I absolutely LOVE Halloween.  I love it so much that my wedding was on October 30th!  This year for our third anniversary we wanted a fun couples costume.  I had just been to Disney for the Not So Scary Halloween Party and was inspired by the disney characters.  My husband's only request was that he didn't have to wear face paint.  I created his Mike Wazowski costume from an M&M pattern using fleece and felt.  He used a hard hat from his job and we printed the Monsters Inc logo for the front.  We dyed his clothes green to wear underneath.
My costume was more complicated.  The dress was easy- but the headpiece required a little more thought.  I used felt to create the snakes.  I stuffed them with pillow stuffing and wires to make them bend.  I put googley eyes and red tongues on them with fabric glue.  I then took a baseball hat and cut off the brim.  I covered it in swirly purple fabric.  Then I hand sewed the snakes on the hat.  Since Celia only has one eye, I used a mask to create the eye.  I used paint pens to color on the eye.  Then I used felt to create her three eyelashes.
We were thrilled with our costume.  So many people asked where we bought them!  They were amazed when I said that I made them myself.
Monsters Inc. was a HUGE hit!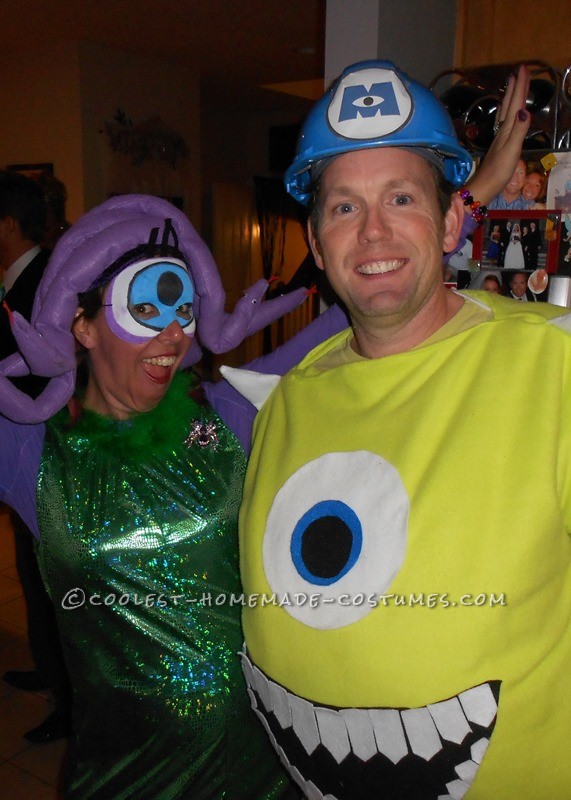 My Googley Bear!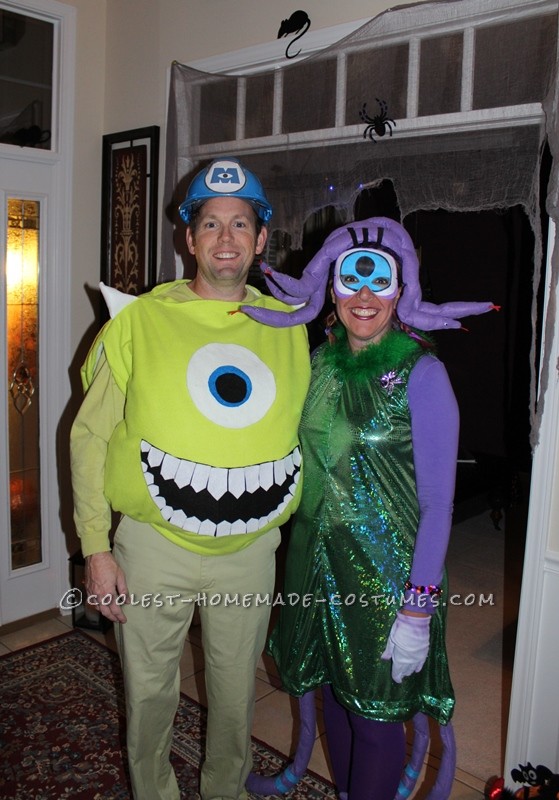 Monsters Inc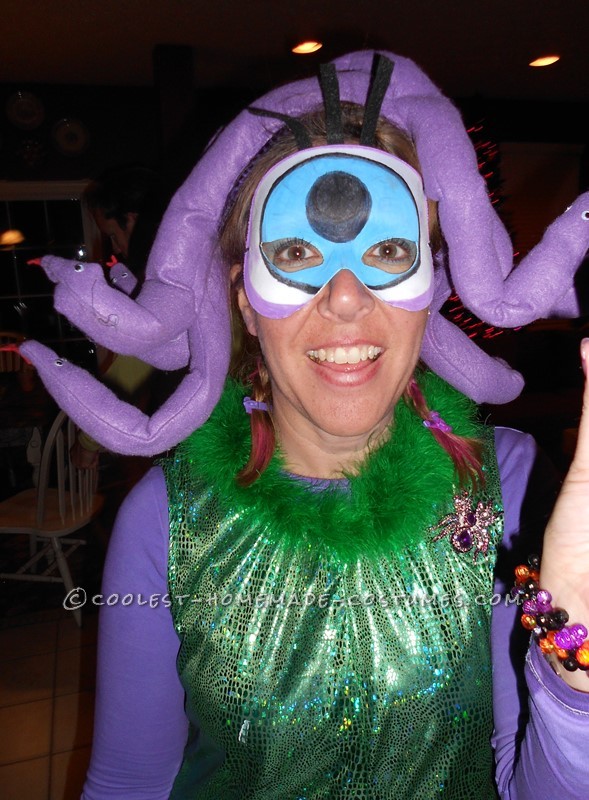 Celia's Snakes up Close
Creating Mike Wazowski
The first step in making all my costumes is to have my dog Milo inspect the fabric.  He always has to come and lay down on all of my projects.

Milo loves Mike Wazowski
Mike's eye
I created the costume using a pattern for an M&M costume.  I used green fleece for the body.  I cut Mike's eye out of felt and glued it on with fabric glue.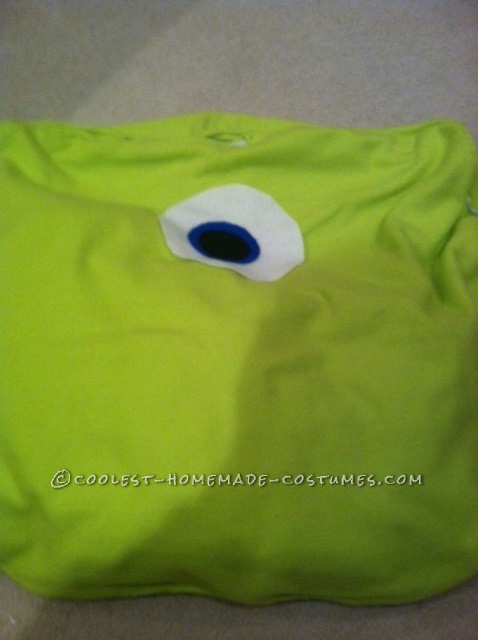 I've got my eye on you!
Mike's Mouth
I cut the mouth out of felt.  I then glued the entire thing onto the body using fabric glue.  I sewed a liner in the costume and used pillow stuffing to make Mike's body full and round.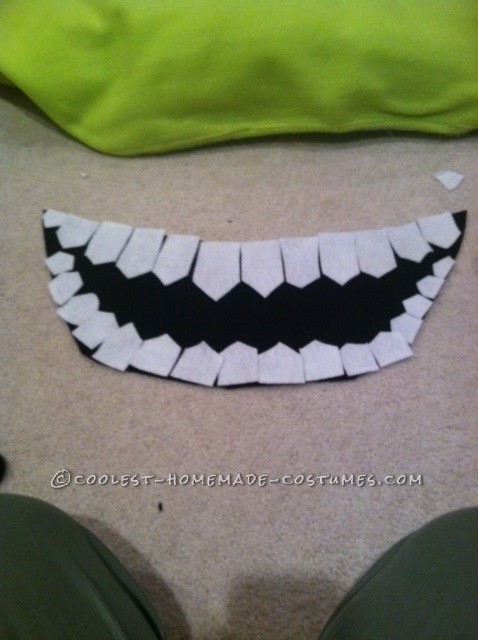 Smile!
Celia Mae and Milo
Once again my dog Milo had to inspect the fabric for my creation.  For Celia Mae I used purple felt to create her snake legs and the snakes on her head.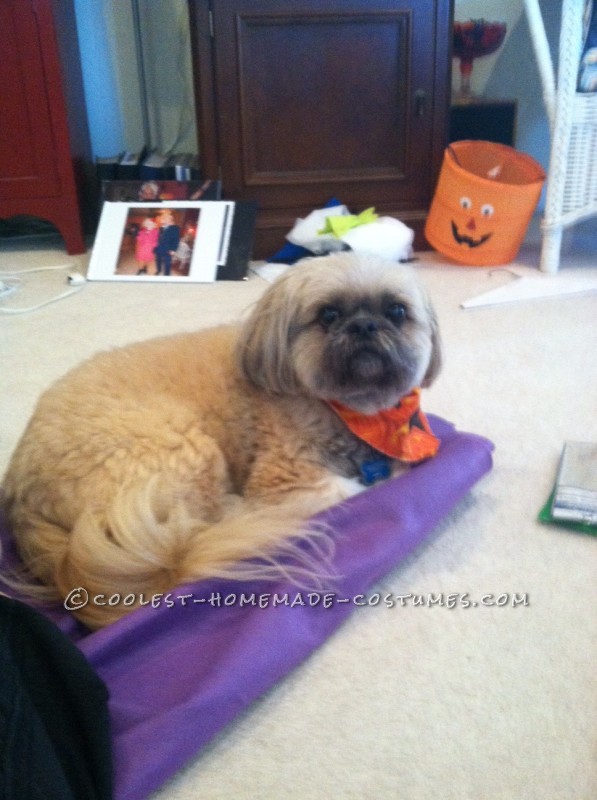 Milo loves Halloween costumes!
Lots o Legs
To create Celia Mae's snakish legs, I used felt.  I stuffed them with pillow stuffing and long wire to make them bend.  I then cut out felt stripes to glue around the bottoms.  I sewed the legs to the back of the dress.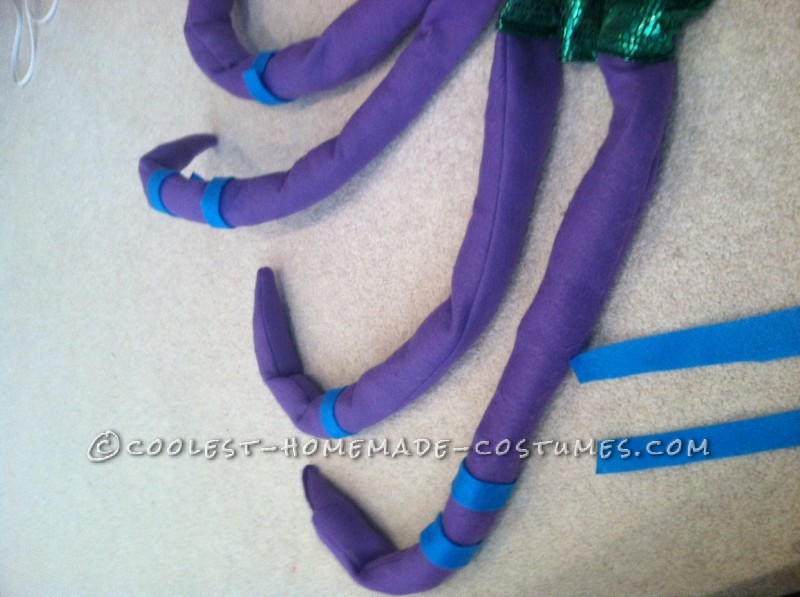 The Dress
For Celia's dress I used a fun fabric I found in the Halloween isle at Joanne Fabrics.  I used a simple dress pattern.  I then sewed the legs to the back of the dress.  I used a feather boa for the neck and sewed it on by hand.