It's a tale as old as costume time. Are you a stickler for the original animated version? Or do you prefer the newer, live action film? Either way, both provide tons of homemade costume inspiration. Take a look at this magical collection of Beauty and the Beast costumes below.
Be the Belle of your Halloween costume ball by trying one of the gorgeous homemade costumes here. Check out the DIY costume versions of her regular clothes as well as her glamorous yellow gown. Even if you don't sew, you can create a beautiful homemade costume from the tutorials here.
Also, for a scarier DIY costume idea, view the fantastically ferocious Beast costumes.
In addition, you will see the coolest DIY costumes for the supporting cast. Browse through Lumiere costumes, Cogsworth costumes and adorable Chip costumes.
So, leave your provincial life behind as you enter this collection of Beauty and the Beast costumes. Get inspired to create your own homemade costume this Halloween.
Take a look at these cool homemade NAME costumes shared with us by costume enthusiasts from around the world. Along with the costumes here, you'll also find loads of homemade costume ideas and DIY Halloween costume inspiration for your next costume project. Enjoy!
Latest Beauty and the Beast Costumes
---
---

---
Featured Costumes
Beauty and the Beast Costume submitted by: Marisa P., Hendersonville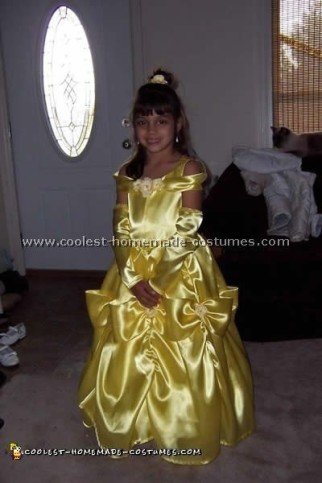 For this Halloween, my daughter wanted to be Belle. I purchased the costume pattern from the store. The fabric was yellow satin that was on sale for a $1.00 a yard.
I used and old petticoat that she had from a previous costume to fluff the dress out. I used stick on flowers instead of buttons for more appeal.
The costume took about 4 days to make.
Total Spent: $23
Cool Beauty and the Beast Costume – Teacup
James S., Birmingham, England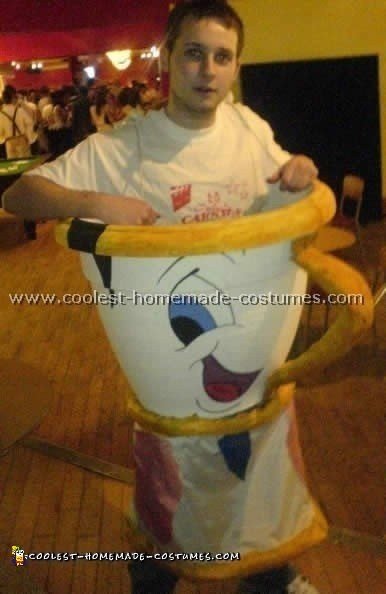 As always I left it to the last minute. The Beauty and Beast costume was still wet when I left the house! I used a large plastic plant-pot painted white and gold with the face of the character drawn and painted on afterwards. I'm a bit of a novice when it comes to using craft-store material so I have to make do with what I can find.
The handle was made out of papier-mache formed around a wrapping-paper tube. I had a little trouble attaching it as like I said I'm a bit of a novice. In the end I threaded string through both ends and then through the pot itself. Making sure it was nice and tight to prevent it moving too much.
Finally I made the base of the cup using material from a silk store. I sewed newspaper into the golden edges then sewed them onto main cup base. Finally attaching leaf shaped colored material for the detail and putting it all together! I'd recommend using braces or something similar as the string I used was a bit painful! Got me a lot of attention though! Was well worth the effort.
Total Spent: $25