Our family loves to dress up in costumes and I am always up for a creative challenge. When my son asked to be Sauron, The Dark Lord, from The Lord of the Rings, I said "sure, no problem…what does he look like?" Then I saw the picture…oh, no. What had I agreed to?!
I created two slide shows of the process step by step but here is a brief written description.
My designing journey for this project, began with a lot of Internet surfing and data collecting. He had some pretty severe armor and I needed to really research how things fit together. After gathering lots of pictures I began to hunt for possible materials.
Chest Armor
I saw a "Watchmen" costume and thought it would be a good base for the chest armor. It was on sale so I didn't mind cutting it up. I wasn't too concerned with the details, I was more focused on the larger shapes and overall design. I just began building on top of the chest, using a variety of materials…cardboard, aluminum foil, craft foam sheets and lots and lots of duck tape!
I formed the raised areas and spikes out of aluminum foil covered in duck tape. Once I had the chest armor base where I wanted it, I added elastic straps that wrapped and tied around the back. I drizzled hot glue to add detail…bolts, decoration, etc…
The original costume had a brown cape that looked good with the new additions so I decided to leave it attached and added a piece of black fabric as a second layer of cape. I cut the bottom edges so they looked torn and frayed. The two layers added some movement as he walked.
Gauntlets and Leg Armor
I still had the gloves from the "Watchmen" costume, so I cut off the fingers and added spikes made out of tinfoil and duck tape. I used scraps of the craft foam sheets and cardboard that I had left over for the gauntlets and leg armor…forming them to fit my son. I covered them all in duck tape, added sculptural details, hot glue texture and some black elastic straps.
Helmet and Weapon – "Mace"
So, a spiked, metal helmet? Hmmm…. How was I going to make this happen.
I began with craft foam sheets and formed them over a sand bucket. I just kept building, designing as I went. It wasn't looking too good and at one point, my son was seriously thinking he might have to come up with another costume option! I had faith that I would figure it all out and just kept going.
Same steps…aluminum foil, cardboard, craft foam sheets, hot glue and duck tape. Logan tried it on frequently to make sure everything fit and was in the right place. Sure enough it all came together.
Logan already had a Nerf Mace, so I painted it with spray paint and acrylics. Then I wrapped fabric and faux leather straps around the base.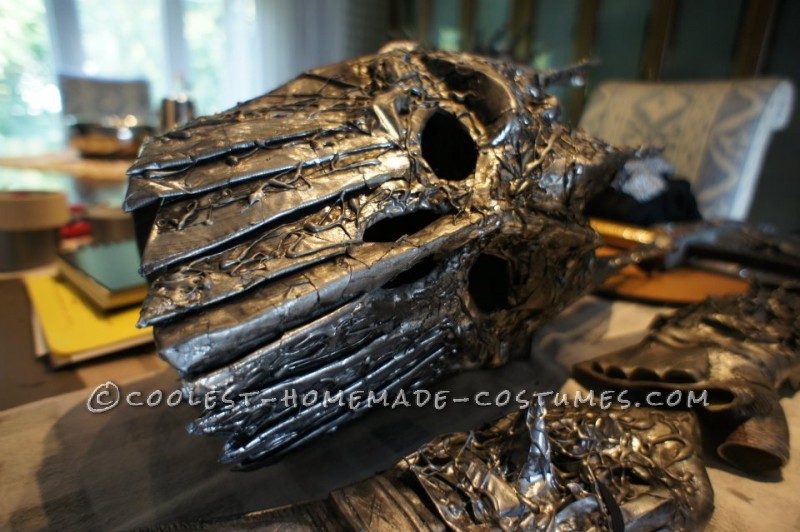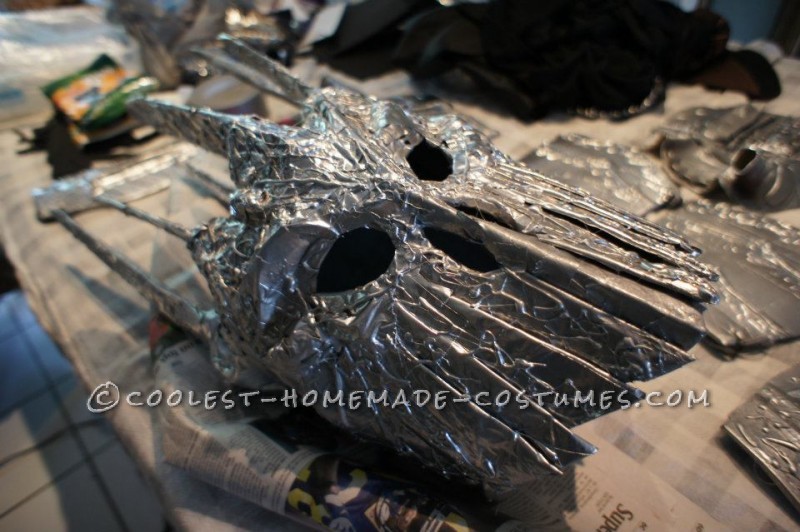 New Armor and Cod Piece
This year, I added 3 new pieces to the costume because my son grew so much. While still awesome, the existing costume now looked sparse and unfinished! Also the armor needed a little TLC due to wear and tear.
There was a lot of open space below the chest pieces because my son had grown a few inches since the last time he wore the costume. I decided to add a cod piece around his waist to fill in that area and add more drama to the over all costume. While hunting for materials to use, I found $1 foam nurses hats at my local craft store. I used them as the folded top of the cod piece and attached them to more craft foam sheets. Same as the other pieces I used aluminum foil, cardboard, hot glue and duck tape. I added some elastic straps to tie around his waist.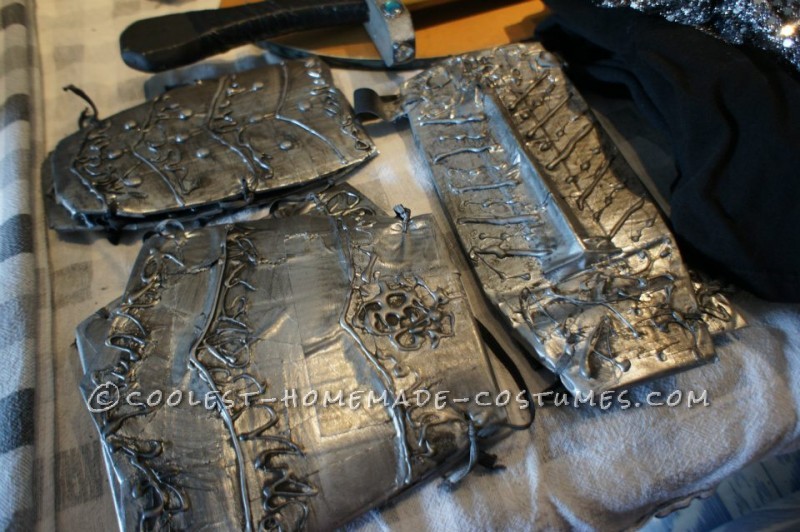 Boot Covers, Paint and Clothes
I found some tall, black, pirate costume boot covers and used them as my base. More duck tape, cardboard and hot glue. I covered all of the pieces with a light coat of metallic silver spray paint.
To age the pieces and make them look "battle worn" I painted a wash of watered down black and brown acrylic paint over all pieces, making sure to get in all of the nooks and crannies. I wiped away and access to highlight raised areas.
Underneath, he wore black sweat pants and a long sleeves black tee shirt. I added some sparkly, metal-looking fabric scraps to the sleeves and the neck to look like chain maile. I also attached some of that same fabric to a ribbon belt to lay behind the cod piece. He just tied it around his waist.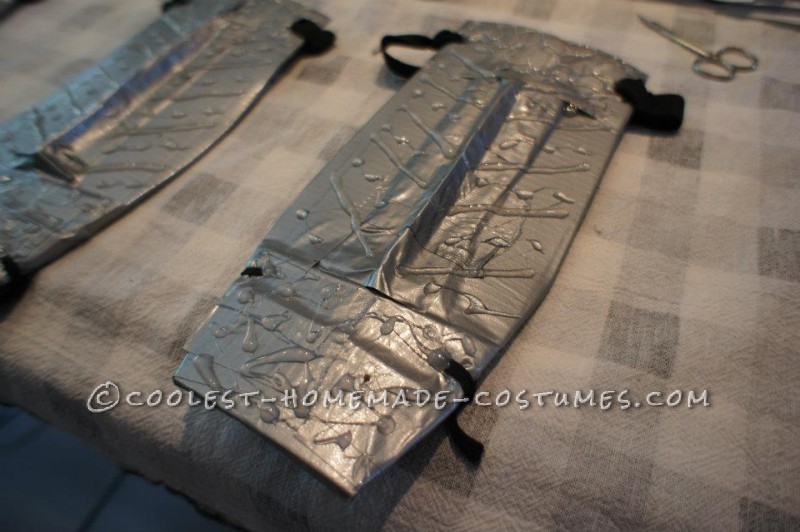 End Result
We all loved how the costume came out…especially Logan. Which was a good thing because he had a very special 13th Birthday surprise coming up. Three day passes to the NY ComicCon!
The NY ComicCon was a whirlwind of adventure and fun! Logan couldn't take two steps without having to stop for pictures! He even got to try out the new (then unreleased) LOTR Lego video game…dressed as Sauron! The Lego people took lots of pictures of that.
One of the highlights was meeting Sean Astin (Sam) from The Lord of the Rings!
Another major highlights was entering a cosplay contest for the creators of comic book series New-Gen. There were about 40 very creative, adult, costumed "cosplayers". Logan, as Sauron, won 1st place!!
It was an epic time in the city.
There was another ComicCon in our home state of Rhode Island and Logan and two of his best buddies decided to go as a team. I whipped up a super quick Witch King costume for one and the other was a Nasgul. While a lot smaller than the NY ComicCon, they still had a blast!
He also showed off the costume at King Richard's Faire, a Renaissance Fair in Carver, Massachusetts. We celebrated his Birthday there with a gang of costumed loved ones. He marched in the King's parade and people were yelling "Sauron!" Or "The Dark Lord!". He was also knighted by the King. It was a grand day in the Realm!
Another chance to transform into Sauron was Halloween. The costume scored Logan lots of extra candy! Some people even said they were going into their "private stash"!
In the end, it was totally worth the fleeting doubt I had at the start. I have already begun working on Logan's new request…a hint…he is from The Fellowship of the Ring and he is on fire!
Wish me luck and stay tuned for pictures of my newest project!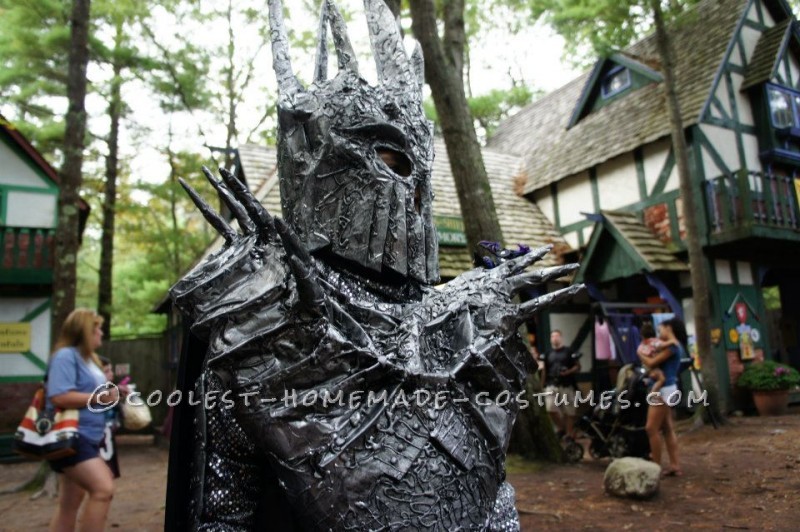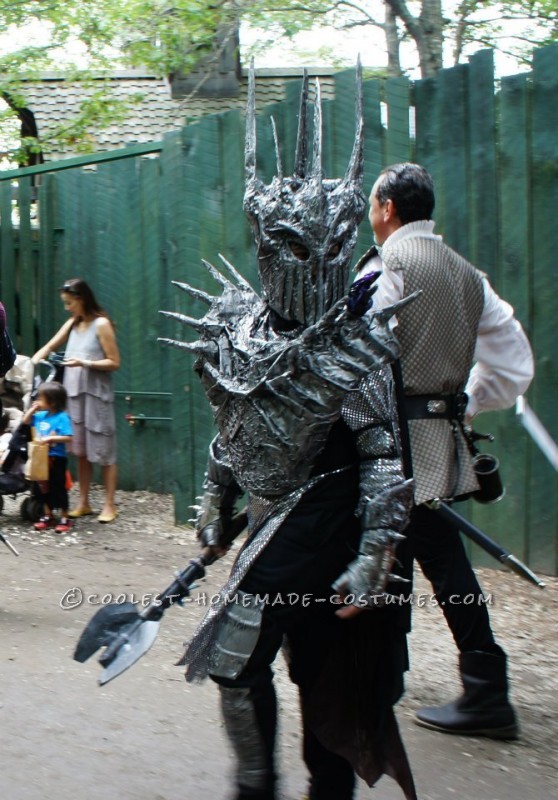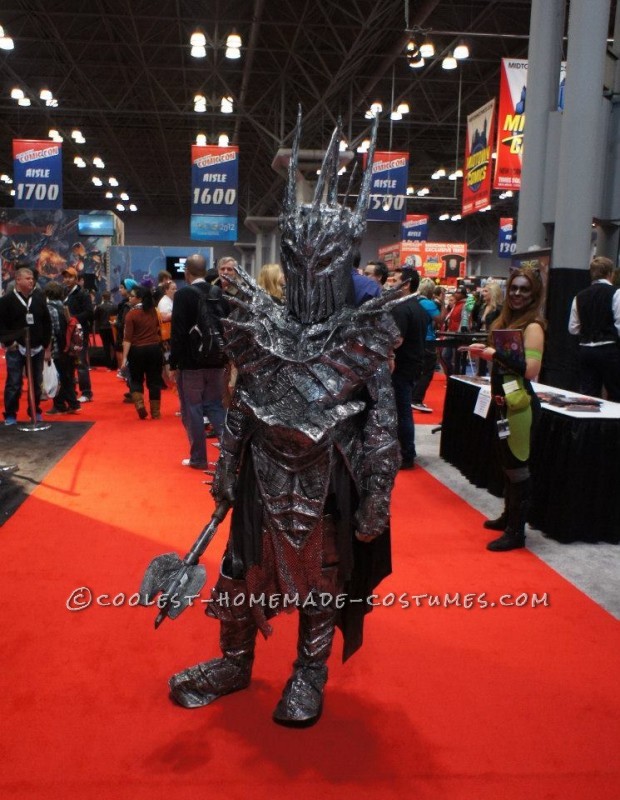 Detailed videos of how this costume was made: