My costume this year has been quite an experience. It took me a couple months to plan, source materials, and build. I've worn it to two parties so far with pretty awesome results. Some people were not even aware that it was a costume. I found it very easy to freak people out by staying quite still until they got up close to me.
Design and inspiration
I always try to come up with a costume concept that had never been done before. My costume this year is based on the Simpson's Treehouse of Horrors III episode from 1992. The episode opens with  the Simpson family skeleton couch gag , and features the Evil Krusty doll that Homer give to Bart for his birthday.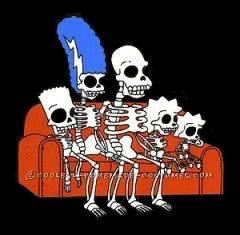 Making the Couch
The couch for this costume is made of blue Styrofoam and some fabric I picked up from the thrift store. There is a spot in the top of the couch for me to fit so that it looks like I'm sitting on top of the couch. I ended up building a base with wheels because the costume got a little awkward to carry around even though it is quite light weight.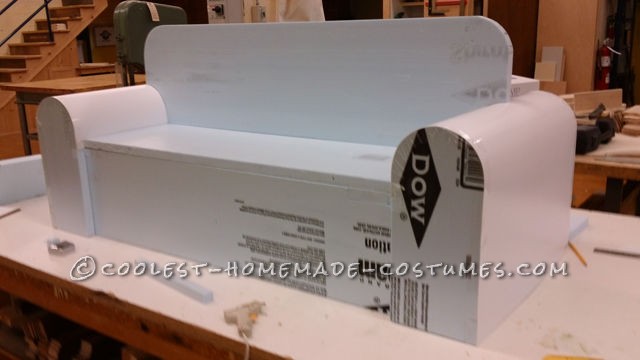 The Mask
I purchased an Animotion mask online because I loved the way the mouth could open and close. I simply had to re-paint it and add some hair to make it look like Krusty.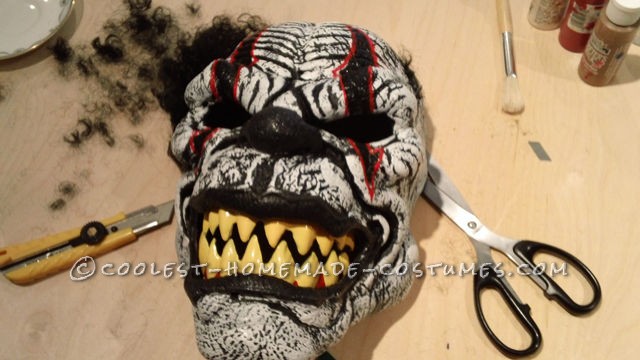 Skeletons
The skeletons were purchased online at the skeleton factory for the unbelievable price of $60 shipped. The skulls are carved from laminated blue foam and coated with 3 layers of white primer mixed half and half with drywall compound. The finished product was spray painted to match the skeletons.