For our second year attending and supporting the local Annual Jacob Soley Jr. Memorial benefit for a needy child we needed to go big. Last year when we attended as first timers it inspired us to be "the Ghost with the most" as Beetlejuice would say, for this year. After looking through our DVD's, yes we still support DVD's, we came up with Beetlejuice and Lydia as bride and groom. I was very surprised my Husband Clark was on board usually my goal is to make him someone or something that he gets to wear normal clothes for and no makeup, but as I said we needed to go big! We knew if we planned this right it was going to be the talk of the party. Last minute, week of the benefit, our good friend Steve needed a costume and the Halloween matchy dork I am I decided he was going to be part of our theme. In 3 days we part together the shrunken head hunter from the waiting room. I would like to thank my parents because they are the ones that put the love of making your halloween costumes in my life! I will be added three steps for each costume.
Andria and Clark Dilatush, Steve Barclay
Lydia and Beetlejuice……..Shrunken head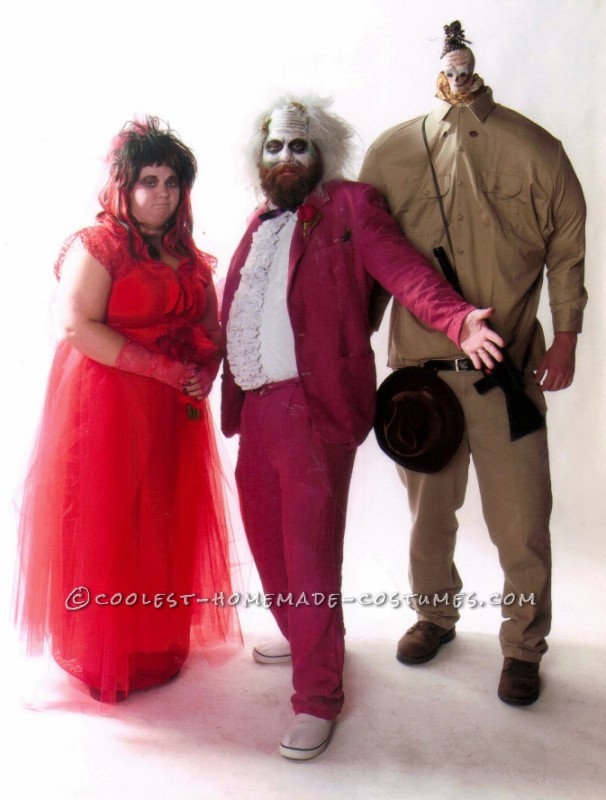 Make my millenium
Lydia easiest and my costume
Lydia was the simple part for me. I'm a huge clearence shopper and a red dress that I could enhance to make into the red full ballroom gown looking dress was my first step. After a week of searching rack after rack I found a long red cotton dress with ruffle accent in the front that I knew would work, $6. From there to the fabric store I went red tulle for yards would help me get that full ballroom gown big skirt I needed with a little lace statement under the tulle and some how on the top? Black rocker wig with red accent found at walmart. a little Jersey teasing and hairspray got the Lydia look I was going for. I know my way around a sewing machine so the tulle and lace skirt took me one night of cutting and sewing onto an elastic waist band. the lace accent at the top I needed a few days on that but finally just started pinning till I gave myself cap sleeves with the lace, done! Next step Beetlejuice!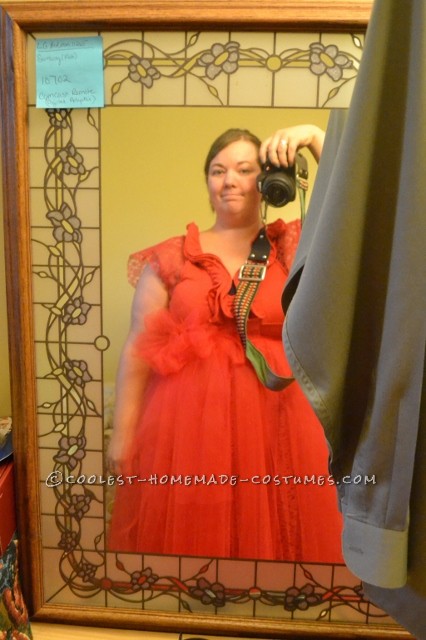 Lydia
The Ghost with the Most
Know Beetlejuice! I knew it was going to be hard to find that awesome crushed velvet maroon suit he wears so I went with, if you can't buy it dye it! Local thirft store here I come! I had in mind light colors to dye and fabric that is dye-able. After I got all the materials needed for for the suit, jacket, pants and dye next was trying it out to make sure my great(sometimes not so great) idea can happen. No problems dying till we got to he washing part the dye did stain my washer a little but by know no maroon trace left. Suit check! next that awesome old school tux shirt no luck on that local so when we decied that Clark would look better with a wig instead of his short hair with white spray we went online to a halloween store and found his wig and also scored with insta-tux that just buttons to your dress shirt. All the main pieces check! Know the fun part getting that suit dirty and dead looking, to the muddy backyard for some rubbing in dirt and little moss and fake bugs as good as dead. did a little makeup on the wig and his face Beetlejucie, Beetlejuice…………..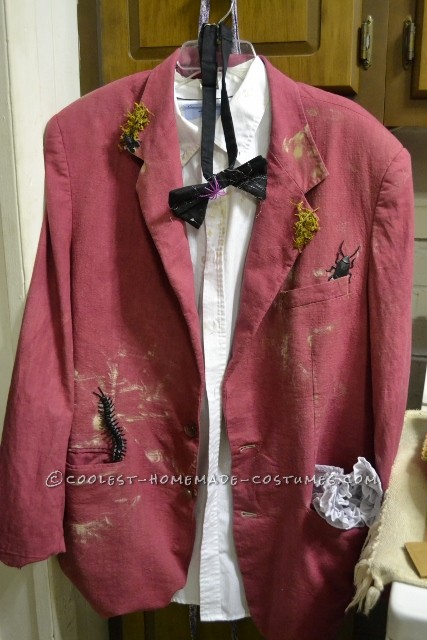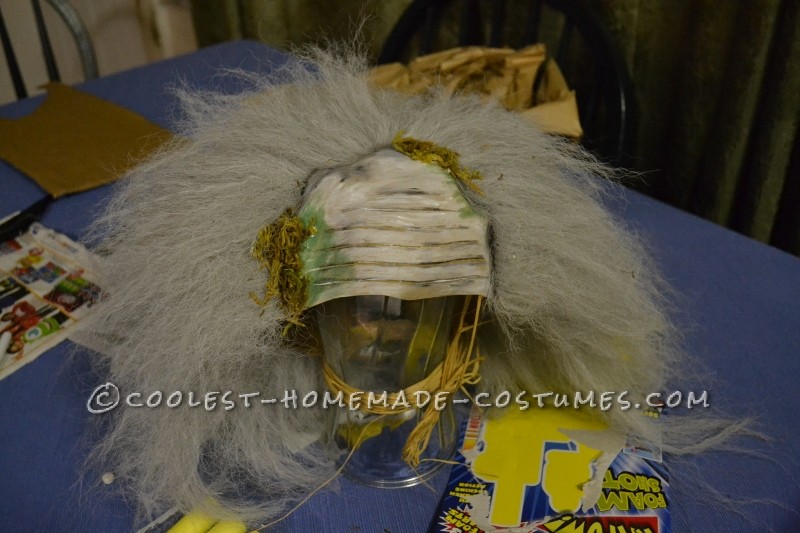 This look looks good on you, Shrunken Head
Now for the last minute best add on, Shrunken head hunter from waiting room! I feel that Steve's character added that special spice we needed. Mission number 3, shrunken head! Not as easy as you would think especially being around Halloween time? So I got Steve on board for this costume I told him you get the outfit I'll take care of the head. My artisy, crafty self looked in the halloween stores and craft stores picking up materials here and there that I thought might help me along the way. I ended up using a paper skeleton from a craft store painted it, glued googly and some fake play hair from the $1 store to give it that shrunken head look, done. Now how to attach????? Well if Steve gets the oversized shirt so we can stuff his shoulders then we need it to be above his head, why not attach it to a headband so he can wear it? Yep we are getting there! The night before I check in with Steve, his Mom(awesome Mom) helped him widen the sleeves so he can stuff the shoulders and still use his hands, check! But typical boy wanted a rifle to go with his costume, a little $1 store gun, card board and black duct tape we got you a rifle! I told you I'm crafty! The night of Steve comes over our house to get this costume together, first we have to stuff panyhose and yes he felt like a creep buying. after some time of adjusting and figuring out how to work the stockings around his neck so it looks like he has a set of legs on his shoulders and ready to rob a 7-11(the top part on his head for extra support) we put the shirt on and so this boy can see he needs some eye holes. Snip an done. Finally we place the head on his head and notice it needs a little more securing, nothing a little duck tape won't fix. There we have it the third wheel!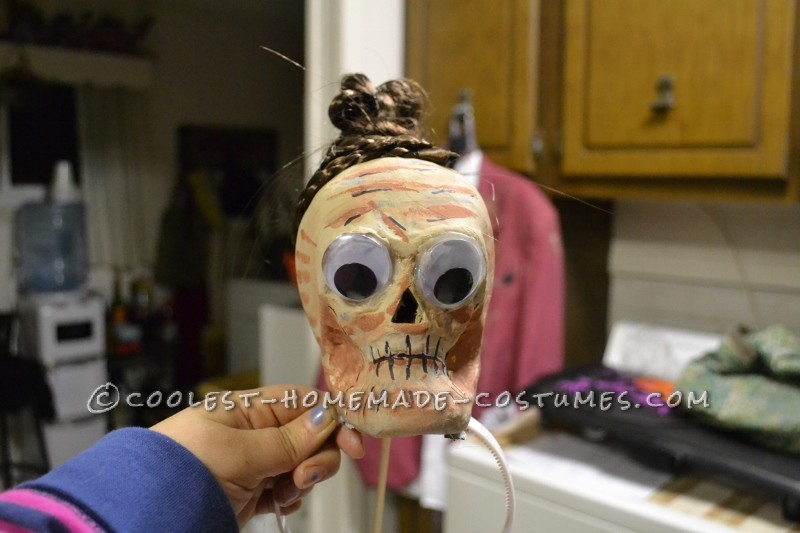 Its Party time!
We head out to the benefit ready to show off our costumes and like we had hoped they were a hit! Everyone knew who we were and loved how good we looked it all payed off! A lot more work then just ordering your costume but a hell of a better feeling. I have to admit with how good Beetlejuice and Shrunken Head looked I felt a little simple in my Lydia costume but walking in with them I was part of the team. All night long everyone wanted pictures with us. Big Hit!
Thank you for letting me tell my awesome halloween costume story, Andria Dilatush