My son has a love of, or more like a passion for, Cosmo, the Cougar mascot for Brigham Young University. For years anything even remotely Cougar-related has sent my son into blissful hysterics. After finally meeting his hero in person at a BYU basketball game, Ethan asked (more like begged, pleaded, etc.) if I would make him his own Cougar mascot costume. At first the task seemed a little daunting, but I was up for the challenge! I was pleasantly surprised to discover that it was not only possible to make a mini-mascot costume for my little sports fanatic, but also easier and more affordable than I had expected.
I loved every second of the creative process, from designing the costume, to carving the head out of foam and covering it with faux fur. The one negative that I can think of is that carving foam is messy!! My sewing room looked like a snow storm had blown through! My husband said that I looked like I was caught in the middle of the storm! I had foam in my hair, up my nose, in my ears and covering my clothes. I wish I would have taken a picture of that!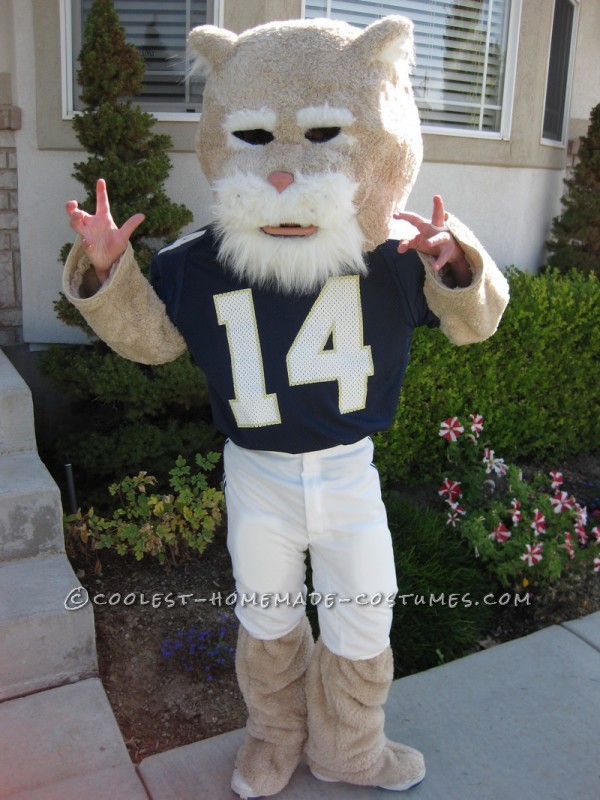 Little Cougar
For the Mascot Head (requires little to no sewing):
I believe every child should be able to realize their dreams and explore their passions. This is how I helped my son realize his:
1. I drew a rough sketch of what I wanted the cougar head to look like.
2. Using a 2" thick piece of foam I drew 8, 2 dimensional profile shapes based on the sketch I had drawn.
3. With a sharp (older) kitchen knife I carved out each foam piece. Using spray adhesive I glued each profile piece together. This formed a rough sphere like shape. I carved the shape using the kitchen knife until I had achieved the shape I wanted, again based on the original sketch. I made sure that the eye and mouth holes were big enough to allow for proper ventilation.
4. I molded the lips, teeth, tongue and nose out of air-dry clay, painted them with acrylic paint and hot glued them to the foam head.
5. Cutting several small pieces out of an old 'furry' blanket, and some remnant faux fur pieces,  I used spray adhesive and a hot glue gun to attach the fur to the head a piece at a time. I made the ears separately out of foam, and covered them with fur. I hand stitched them in place after furring. (may also hot glue the ears on)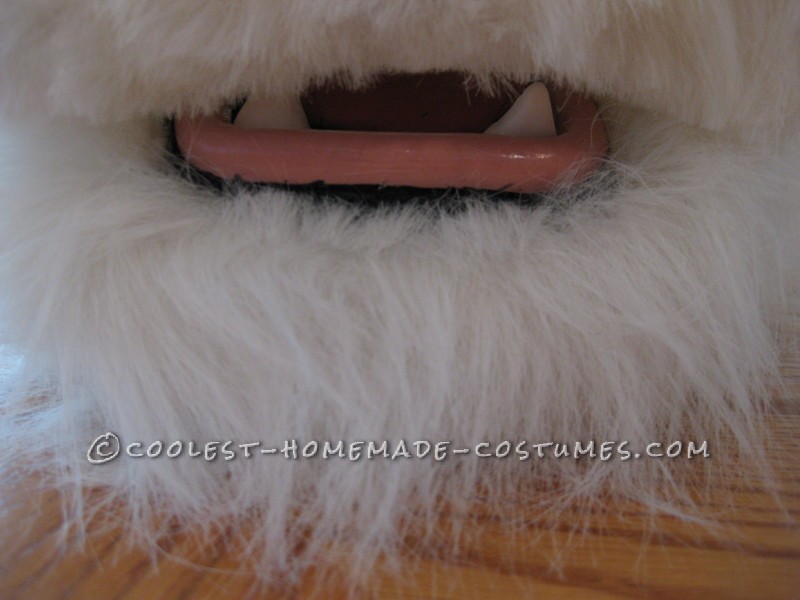 adding the molded clay pieces and faux fur pieces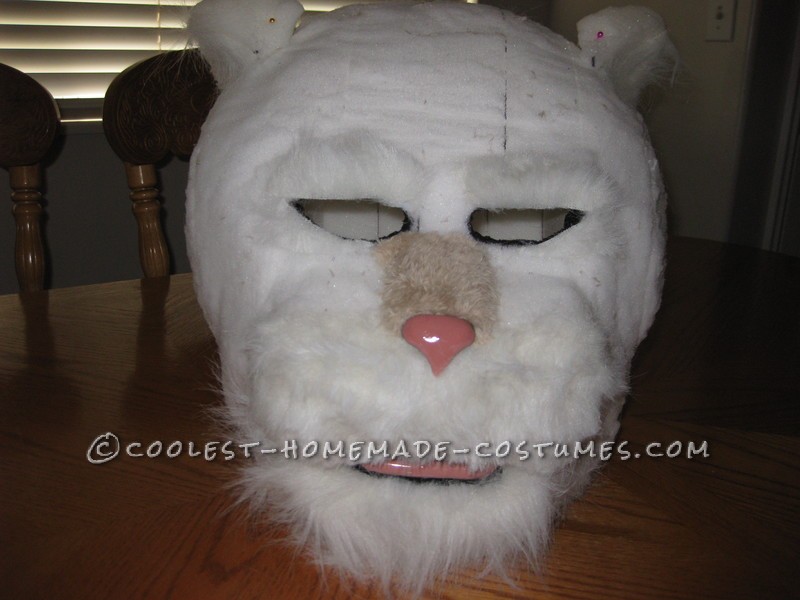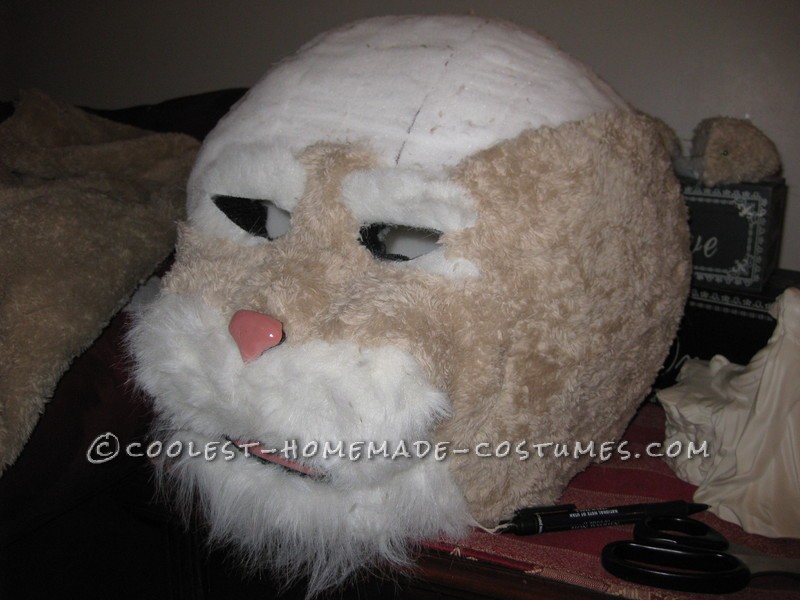 Adding faux fur pieces
For the Mascot Body:
1. Using the same furry blanket for fabric, I made basic one piece pajamas. My son had an old football jersey and pants that he put on over the furry PJ's. I cut the shoulder pads out of the remaining foam.
Reaction to this costume
The reaction to this mini-mascot costume has been more than amazing. Trick or Treating was a joyful, yet elongated event – due to the fact that everyone kept stopping my son asking if they could have their picture taken with "Little Cosmo". In hopes of attracting the attention of his hero, the real Cosmo, my son wore his costume to a BYU football game. Everyone went crazy vying for the attention of "Little Cosmo". Ethan reveled in being the center of attention and felt especially proud when the varsity cheerleaders asked to have their photo taken with him! The crowning event was when Cosmo himself hopped the bleachers, making a bee-line for his namesake. Big Cosmo picked up "Little Cosmo" and lifted him above his head to the uproar of the crowd. I have never known such unadulterated joy emanating from my son before!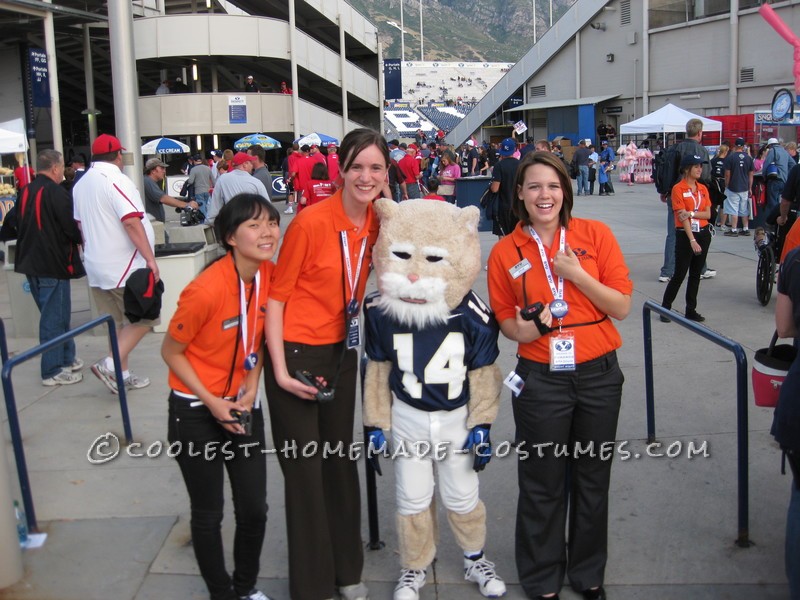 Event staff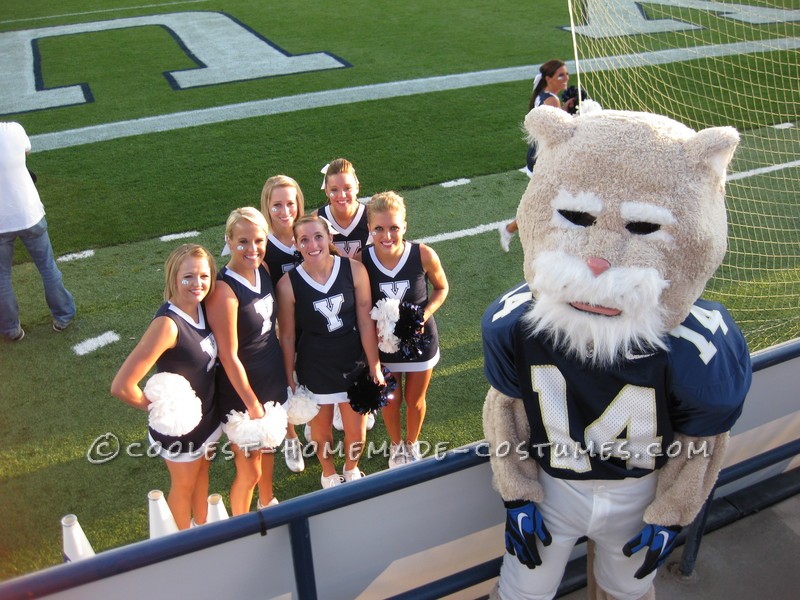 Cherleaders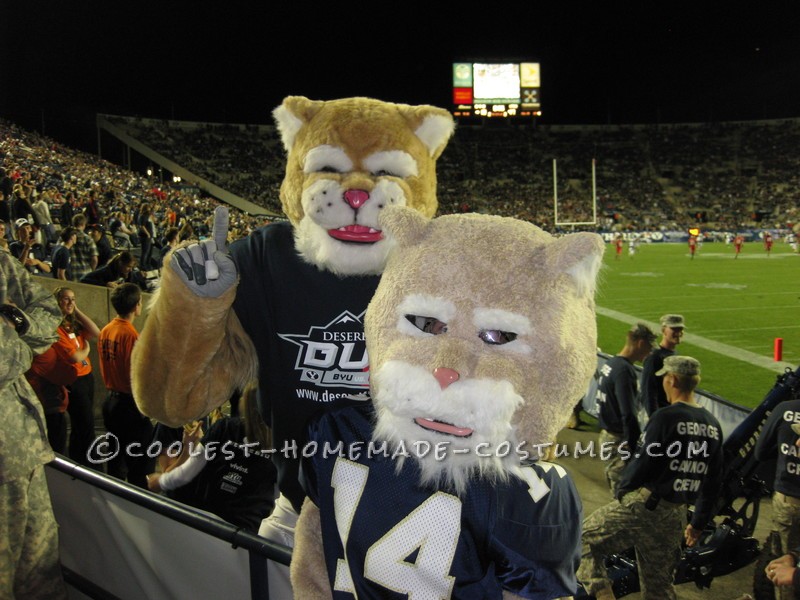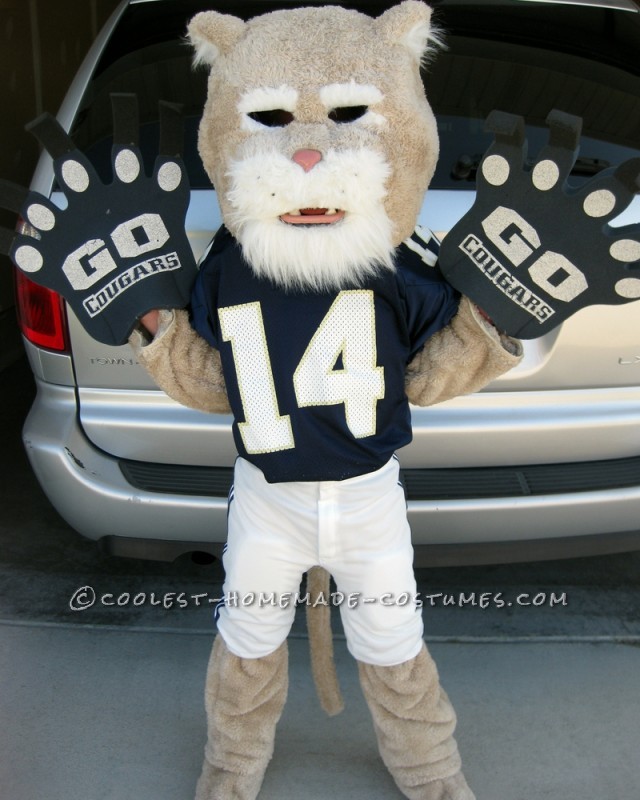 I love being a Cougar!!