This Popcorn Costume project was easy and fun to create and after it's few hours of glory, I didn't have the heart to throw it away, so I just hung it up as a ceiling lampshade in one of our rooms. And, it can be easily taken down and used again next year.
The hardest part of making this popcorn costume was deciding upon an idea. Every year, several weeks in advance, I sit with each of my girls and we start scouring the Web together for costume ideas. If they don't have an idea in advance, then we just browse around until one appeals to them and if they do already know what they want to be, then it's a bit easier.
Shira decided on a Popcorn costume. I have seen many popcorn costumes online, but I wanted to stick to a tight budget and set aside a few hours on a Saturday to construct it together with her and my other daughters. To me, the whole idea of making a costume is not just the final costume, but the process and letting them take part from the first stage of brainstorming all the way to the finishing touches.
What was so great about this popcorn costume was that it was really easy, cost less than $20 I'd say, and not only looked like real popcorn, it also smelled like butter-flavored popcorn!
This is what you'll need for the Popcorn costume:
Laundry basket
Red and white vinyl tape
Popcorn
Expanding Polyurethane foam
An old baseball cap
Elastic cord
Red shirt
White pants
Red gloves
Red bowtie
Popcorn Costume Box
I started off with a plastic white laundry basket I found that had a fitting lid. you could probably find similar baskets or even a cardboard box would do. The lighter, the better.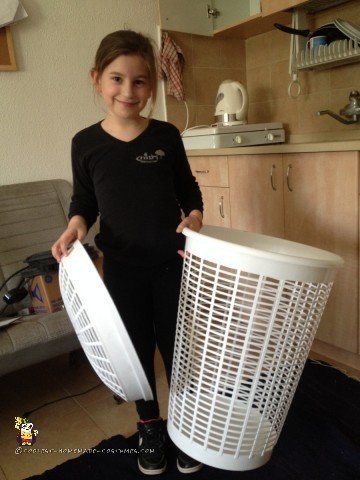 I then cut the bottom part of the basket so it would be easy for my daughter to walk in.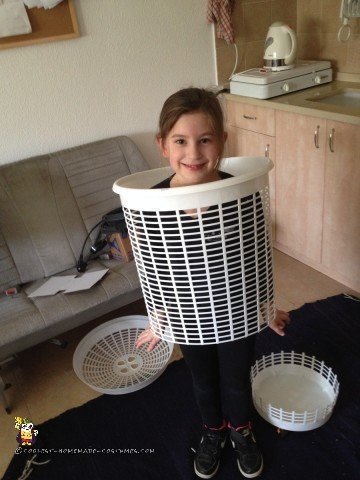 I also cut out holes for the arms so she would have a decent amount of room to maneuver in and cut a hole in the lid so she could get her head in and out without a problem. I taped the lid to the basket and made sure to put extra tape so the lid wouldn't come off once we started adding the foam and popcorn to the popcorn costume.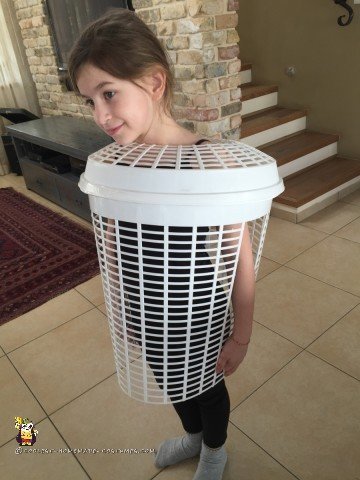 Then we took red and white vinyl tape and covered the basket with strips so that it would resemble the popcorn box.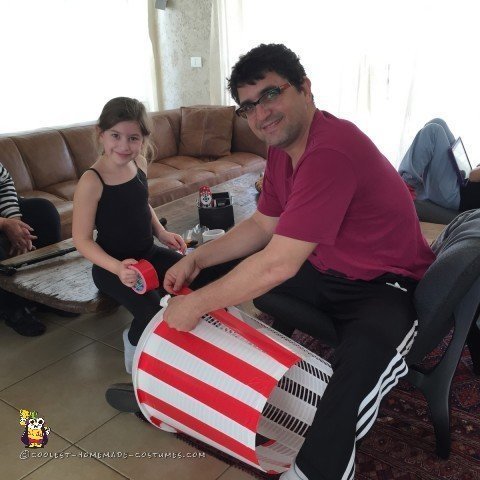 Within about 15 minutes the basket was looking much more like like a popcorn box! I didn't bother trimming the ends of the vinyl tape as the whole top section would be covered with foam and popcorn.
To make the hat, I was planning to use the part I cut out of the lid, but obviously the flat lid wouldn't stay on the head once it had the foam and popcorn added to it. So I cut out the visor of an old baseball cap and hot-glued it to the lid as you'll see in a later photo. It came out well and sat snug on her head, although I could have planned better while thinking of the head piece.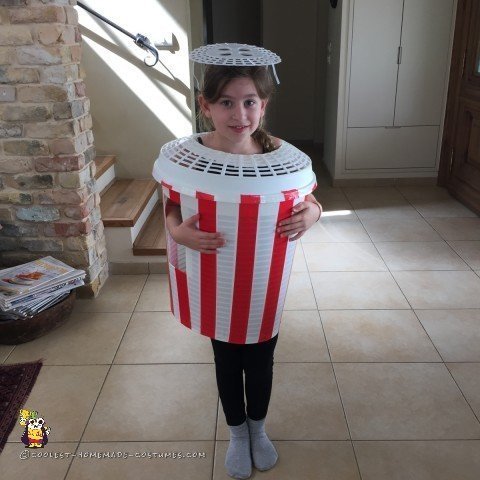 Adding the Popcorn
The next stage was to pop a box-full of microwave popping corn. We used about six bags of butter-flavored popcorn which also filled the house with an irresistible aroma. And later, the popcorn costume also smelled like popcorn which was awesome!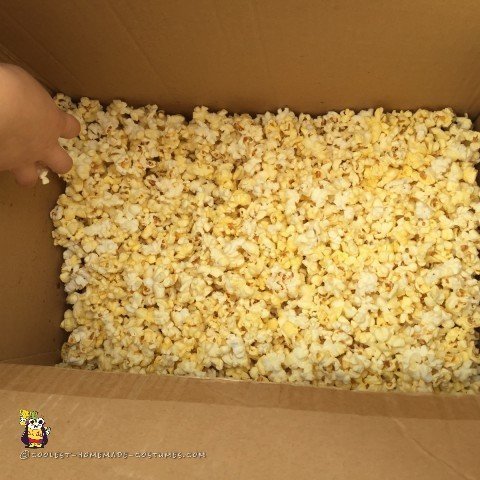 The only problem was that we all kept eating the popcorn (especially grandma!). So we ended up popping a few more bags.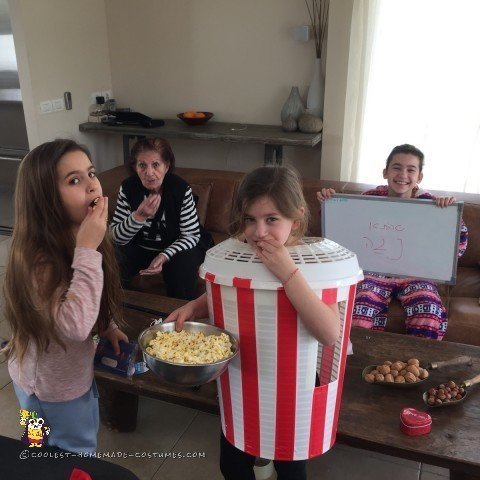 Then we set out to the yard and put the polyurethane foam in action. It looked like vanilla-flavored whipped cream and we were so excited about reaching this stage that we didn't take a moment to think of putting on latex gloves! After we had finished, it took quite a bit of scrubbing to peel the dried foam off.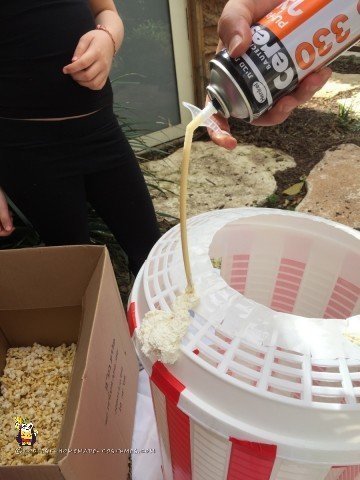 I applied on the whip-cream foam and the girls stuck on the popcorn. We had so many laughs during this part of making the popcorn costume!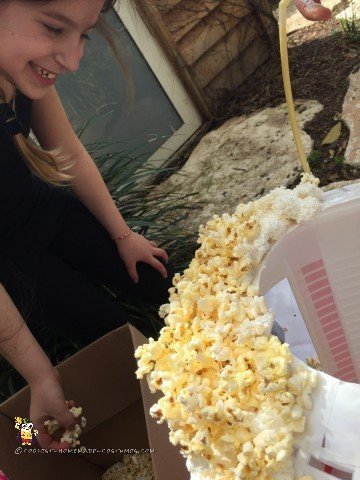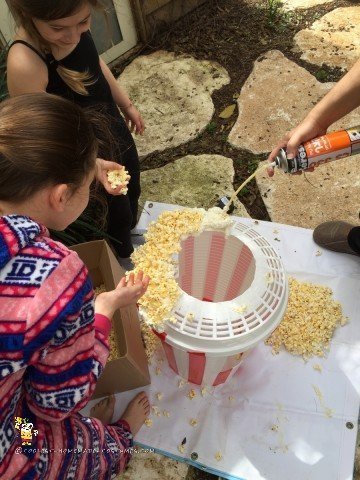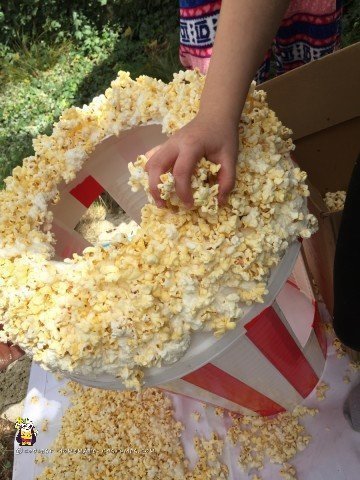 Once we had finished, the costume really started to look like a box full of popcorn!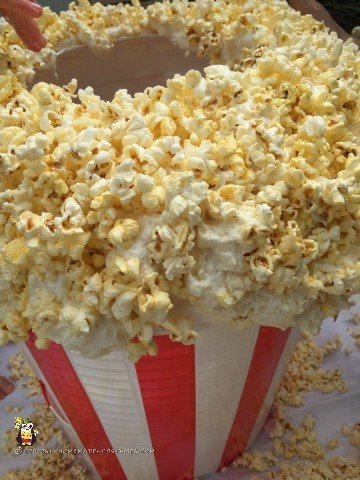 Popcorn Costume Headpiece
The next part was making the headpiece. As I mentioned earlier, I started off with applying the foam to the lid and the girls covered it with popcorn. During the stage, you also need to remember to attach elastic string before you add the foam so that it'll server as a chinstrap.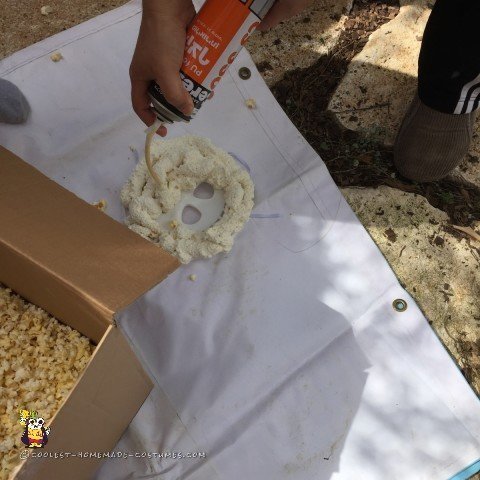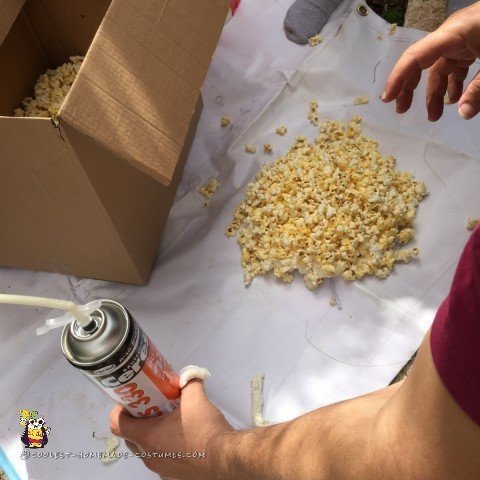 I then took a cap, cut the visor, tightened it around my daughter's head so it would be the right size, and hot-glued it to the lid. Then we covered it with some more foam and popcorn.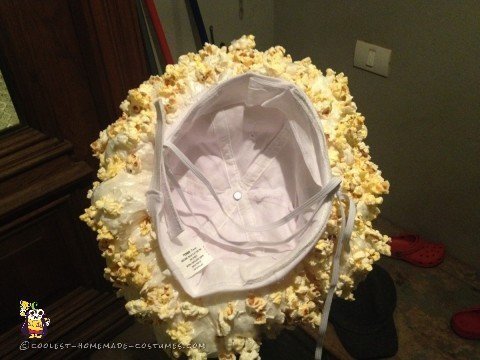 Popcorn Costume Final Touches
My daughter chose red and white clothes including red gloves and a red Orville Redenbacher bow tie.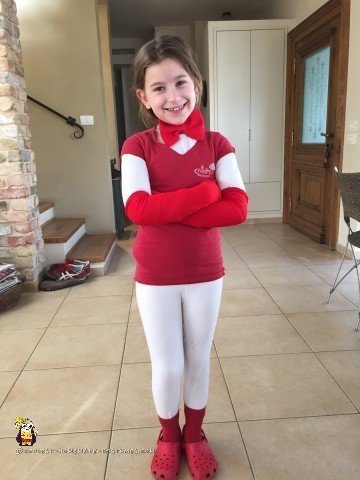 Our family name is Shippony, so I printed out two labels on white A4 paper that read in Hebrew: "Shipopcorn".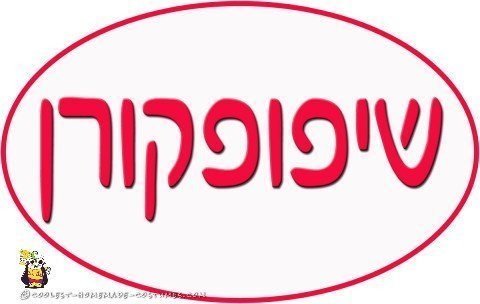 I then laminated it and attached it to the box both on front and back. And the popcorn costume was ready to go. On the day she wore it to school, she was so excited!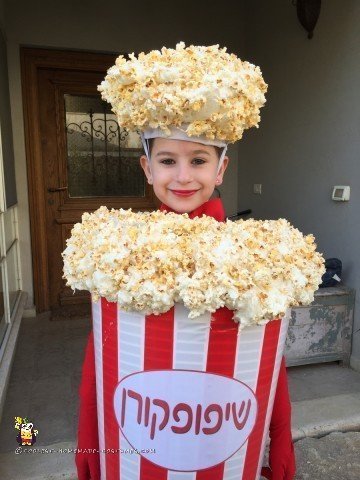 And when she put it on, we discovered that she could actually hide her head by lifting the box with her arms, and then POP up. This was a really nice and unplanned revelation.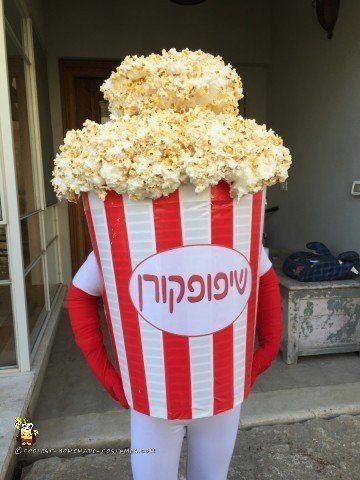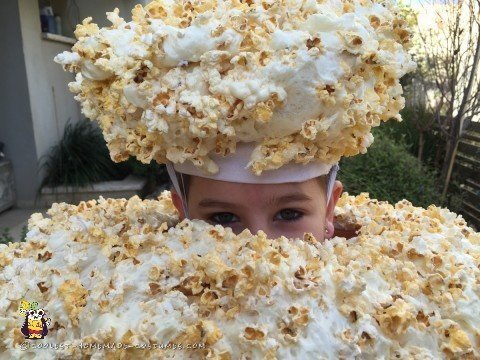 Of course, many photos were taken with her sister that wore an alien abduction costume we also created that same weekend.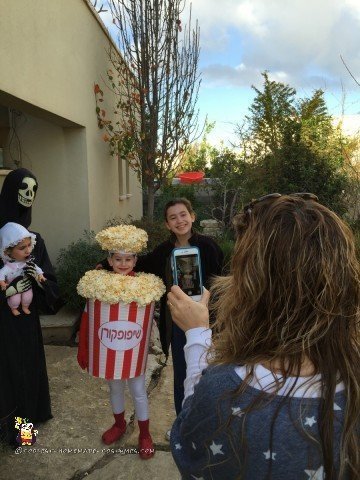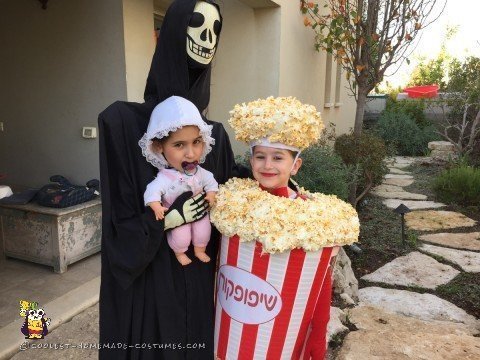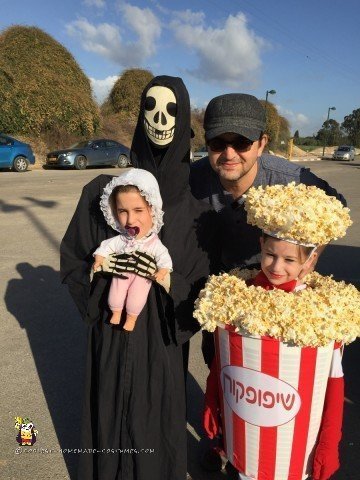 My daughter's popcorn costume won first prize at school and was very well received. But once the costume had it's moment of glory, I didn't have the heart to throw it out. So after it stood in the garage for a few weeks, I decided to turn it upside down and transform it into a ceiling lampshade in one of the rooms.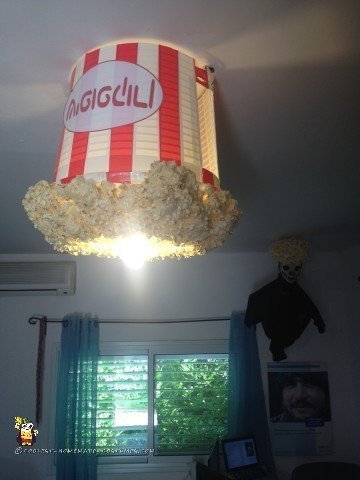 Now we can use the popcorn costume for next year or the years to come just by taking it off the hooks. So far, there hasn't been any crumbling and we use a low-voltage spiral bulb that doesn't heat up – otherwise the lampshade may pop :-) And, the room still smells like butter-flavored popcorn!
Thanks for taking the time to read and if you have any questions just ask below.