This vacuum cleaner costume was the idea of my five year old daughter. She'd done the cat, princess, frog and pumpkin so we were ready for original Halloween costumes this time.
My husband started with an empty box, free from the grocery store and cut it down to fit her. He then wrapped it in some black vinyl, attached some parts from old vacuums we had in the garage (handle, hose and attachment, caddy with brushes). The red Hoover emblem was a piece of red sticky-backed felt.
The feet (power head) were two pieces of 4″ foam hollowed out, one on each foot for movement. We decorated them with more red felt displaying 12 amps and aluminum foil for a headlight. While trick or treating so many people asked her to clean their houses for fun!
Total Spent: $10
Original Halloween costume by Krista H., Houston, TX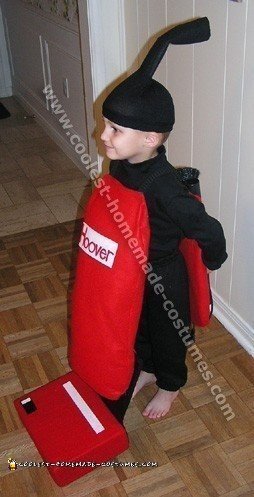 It's fun to make original Halloween costumes! I used black track pants and a black turtleneck as the base for the costume. The handle was made from a bent, empty paper towel roll that was wrapped in black, sticky backed felt. It was sewn onto a black hat.
The lower part of the vacuum was made with felt and a large rectangular piece of foam. I wrapped the foam in the red felt and then glue-gunned it on the bottom. I used a piece of black sticky backed felt on the bottom to cover up the seams.
The 'body' of the vacuum was made from a large piece of red felt that was cut and sewn like a pillowcase. I stuffed it with loose cotton batting before sewing it up. The back was made in a similar fashion only using a smaller 'pillowcase' and less batting. I attached both pieces with a piece of black elastic band so that it rested comfortably on the shoulders.
Using self-stick Velcro strips I attached a long, narrow piece of black felt to both the underside of the front piece and the bottom piece of the costume. The bottom piece was attached so that the back of it was slightly elevated to make walking easier.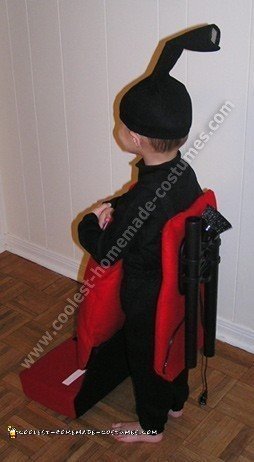 A piece of white felt and red felt letters made the nameplate and white and black felt were used to make the finishing details on the bottom piece.
To complete the project, I sewed the accessories component of my vacuum cleaner and an old electrical cord to the back of the costume to give it an authentic look. My son enjoyed going around saying, "I suck!" to everyone! My son loves original Halloween costumes and everyone loved this one!
Total Spent: $25