Take a look at these homemade Twiddle Dee and Twiddle Dum costume ideas submitted to our annual Halloween Costume Contest. You'll also find loads of homemade costume ideas and DIY Halloween costume inspiration.
Alice in Wonderland costume by LeRae K., Batavia, IL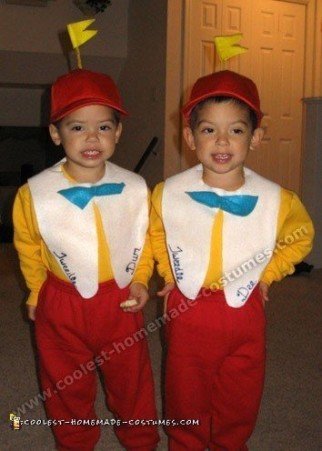 For twin boys (age 3), you need a costume that they will WANT to wear and will be comfortable in for the night of Trick or Treating. I thought sweatshirt and pants would be perfect for this costume. Adding some "accessories" turned these basic clothes into an easy and cheap Alice in Wonderland costume.
Introducing – Tweedle Dee and Tweedle Dum. A gold/yellow sweatshirt, red sweatpants was the basis of this costume. I purchased some white felt to cut and make a collar around their neck. I tacked it down on both sides and added a small piece of Velcro around the back to hold in place.
A "peacock blue" color piece of felt was turned into a bowtie tacked onto the white felt collar. Blue fabric paint was used to write out "Tweedle Dee" and "Tweedle Dum" on the collar.
I purchased a red baseball cap (adjustable Velcro back). I attached a yellow pipe cleaner (which I cut in half to use on both hats) with a piece of yellow felt cut into a flag by wrapping it around the "button" on top of the cap. Dark shoes were worn to complete the costume.
This costume could cost you pennies if you already had the sweats outfit. The hat was $2; pieces of felt and pipe cleaner totaled $2. In total, I think I spent around $10, which includes purchasing the sweats.
Time spent making this Alice in Wonderland costume was only about 30-45 minutes. They were so comfortable that they didn't even realize they were wearing a costume. Best of all, they can wear the sweats afterward.
Total Spent: $10