The original Mr Potato Head came with accessories to stick into real potatoes. Due to rotting potatoes and food safety laws, that changed into the lovable brown plastic lumps we know today. These homemade Mr Potato Head costumes evoke the fun of playing with this classic toy.
There are many DIY costume options when creating the brown potato body. Some are rounded, others are more like sacks and still others are more dress-like. Included with all these unique takes on Mr Potato Head, are instructions on how to make them yourself.
In addition, personalize your Mr Potato Head costumes with whichever accessories you like. Just like selecting features for the real Mr. Potato Head, you can chose your favorite eyes, lips and nose. Even more than that, people here have also created adorable Mrs. Potato Head costumes as well.
Check these homemade costumes out and get inspired to create your own fabulous creations!
Latest Mr Potato Head Costumes
---
---

---
Featured Costumes
Costume by Marianne H., Medford, OR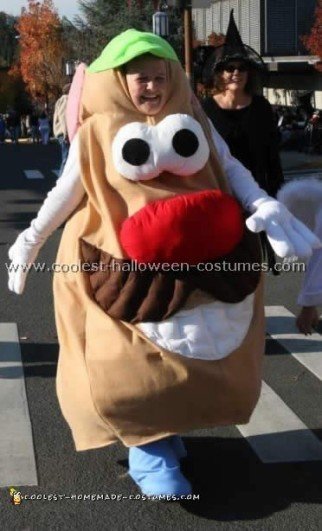 I work at an elementary school so I wanted to make a costume that was funny and not scary or inappropriate. This one was a total winner! All of the kids and parents really enjoyed it. Mr. Potato Head is a classic character that we all remember. I had looked online for some other attempts but none of them (even the manufactured ones) had the authentic look I was after.
I created an under stuffing layer that was separate from the over "potato" layer to create Mr. Potato Head's classic curves. I started with a pumpkin pattern and basically extended it and tweaked the shape to give me the pear shape I was after. The potato is made from felt and most of his features (eyes, nose, mustache, teeth and ears) were made from plain cotton and stuffing. I took clown shoes and covered them with stuffing and blue fabric to get the big blue shoes Mr. Potato Head has. It was basically a little sewing, a lot of stuffing and some hot glue!
The total time invested was probably 8-10 hours but the laughs and reactions I got made it totally worth it! I went to the parade in our town and literally felt like the Disneyland characters must feel – parents asked for their kids to get their picture taken with me. My only complaint was that it was plenty warm but again it was totally worth it. Someone suggested it would've been fun to make the pieces detach with Velcro and make other features. I agree – but if you're going to do that I think you really need to make the flap in the back to store the extra pieces like Mr. Potato head really has and I'm just not sure I'm that good of a sewer.
Thanks for looking; this website was one of the ones I looked at when I was planning my costume so I thought I'd share it here. PS-I was walking into the wind in the picture I attached so my ears were blowing back a bit but I think this picture was the best one from top to bottom.
Total Spent: $50
Mr Potato Head Costume by Julie D., NM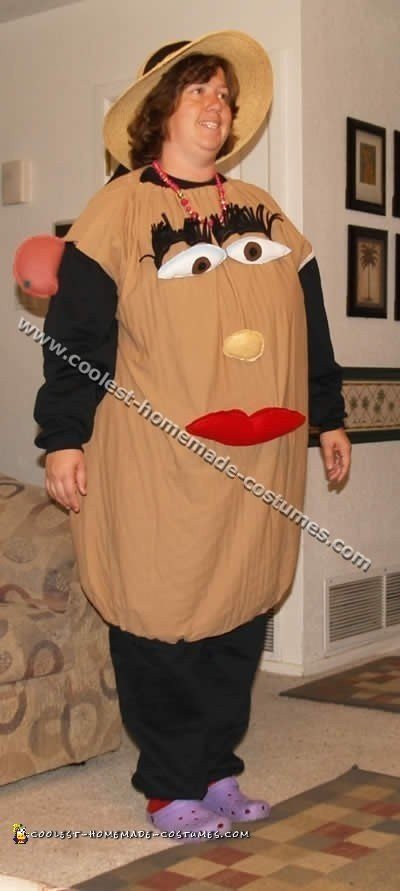 I work with kids from birth to three and we always throw a big Halloween party. I have to come up with something great. I think I got the idea for Mr. Potato Head off this sight (and later realized I was Mrs. Potato Head several years ago!)
I started with a pair of black sweats. For the body I made a big sack out of brown polyester (from the $1 fabric at Wal-Mart!). I cut arm holes and made an elastic casing on the top and bottom to keep the form. I made two sets of eyes and two pair of lips out of felt. I sewed two pieces together and then cut a slit in the back of each piece. I stuffed them with batting and then hand sewed the piece back together. (This was much easier than sewing and turning. Thanks to my MIL for this tip!). I then hot glued Velcro hook to the spare parts. (I sewed the Velcro loops on the costume.).
The nose (also felt) was attached to the costume. I made ears and pinned them to the sleeves of the sweat shirt. I topped it off with a straw hat. I carried a bucket (actually the bucket that my kids' Mr. Potato Head came in!) with "spare parts" from the toy as well as my extra eyes extra lips and my other head pieces (including a coonskin hat and a tiara). This was a lot of fun!
Total Spent: $10
Mr Potato Head Costume by Jody B., Saskatoon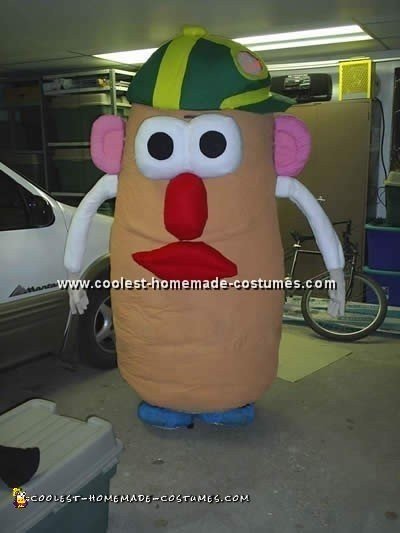 I had the idea for this Mr. Potato head for awhile. I like picking toys that have been around for awhile or that have been popular. Like in the past I had done a Furby.
I mainly use chicken wire for the body and for support hula hoops really come in handy. I used foam and lots and lots of glue sticks. I really enjoy the challenge and already can't wait for next year.
Total Spent: $100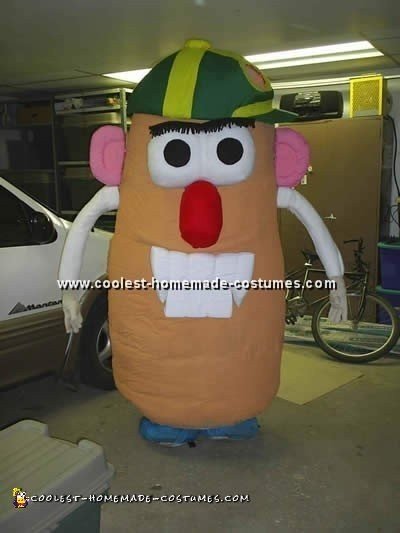 Mr Potato Head Costume by Trina M., Duncan, OK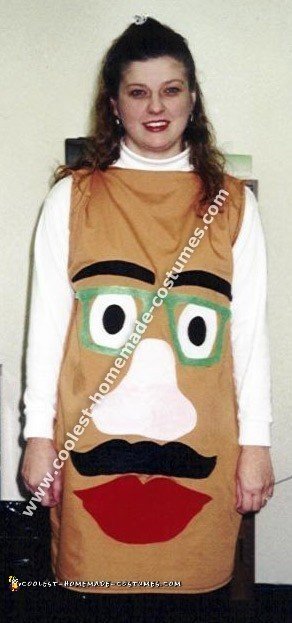 I came up with this Mr. Potato Head costume while I was pregnant. It is sometimes hard to make a costume when you have a nice size belly. I decided to take advantage of my round figure and make a potato head costume.
I took some brown material and made a simple Potato Head body. I left an opening for my head and for my arms. Since I was kind of round, I also made the Mr. Potato Head costume wider around the middle.
I then looked in some clipart files and found pictures for the face parts. I enlarged them on a copier and traced them onto felt. I then used fusible web to attach to the body.