Take a look at these homemade Mike Wazowski costume ideas submitted to our annual Halloween Costume Contest. You'll also find loads of homemade costume ideas and DIY Halloween costume inspiration.
Costume by Nadine S., Phoenix, AZ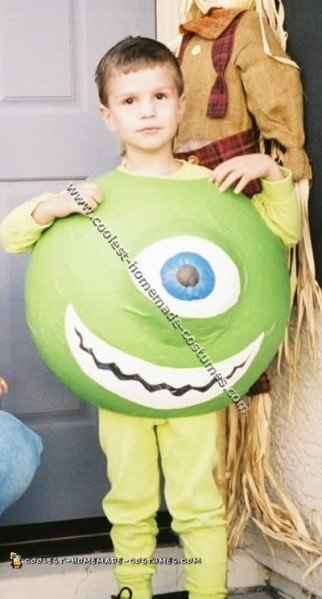 My son loves Monsters Inc and he wanted a Monster Inc. costume so he decided to be Mike Wazowski for Halloween. To make Mike's body I used a large air-filled rubber ball that I got at Wal-Mart for less than two dollars. To create the eye I duct taped a Styrofoam ball cut in half to the rubber ball. I found the Styrofoam ball at a craft store and cut it with a bread knife. Then I covered ball including the Styrofoam "eye" with paper mache.
I used a lot of newspaper and glue until there was no longer any give when I pushed on the ball. I paper mached for days. After the paper mache dried I popped the ball with a steak knife and cut the hole for my sons head, arms and body with a small saw. Then I painted it with craft paint and dyed a pair of long johns green to match.
The costume was time consuming but a lot of fun to make and it was a big hit.
Total Spent: $60