I have always LOVED Halloween. I especially love making my costumes, and coming up with complex ideas that will really wow the people I run into.
As I was brainstorming for what to be for Halloween, I decided I wanted to be a puppet. I thought the clothing and makeup would be so much fun to execute but I needed to decide what kind if puppet to be!
I decided a marionette puppet (with strings on the arms and legs and wooden crossbars above the head) would be the most challenging, but also the most impressive. And boy, was I right…it was a HUGE hit! I had people grabbing the crossbars all night trying to move my arms and legs – very funny!
How to Control the Puppet
The first step in my marionette journey was how to make the contraption that would hold up the crossbars, and ultimately make the whole outfit come to life and look real.
I bought dowel rods for the crossbars, and super glued them together, and reinforced that with string around the joint. I decided I could attach sting to the four ends of the crossbars and then tie that to my arms and legs at my elbow and knee joints.  I kept the string on the wooden bars by putting a hot glue barrier around it so it would not slide off.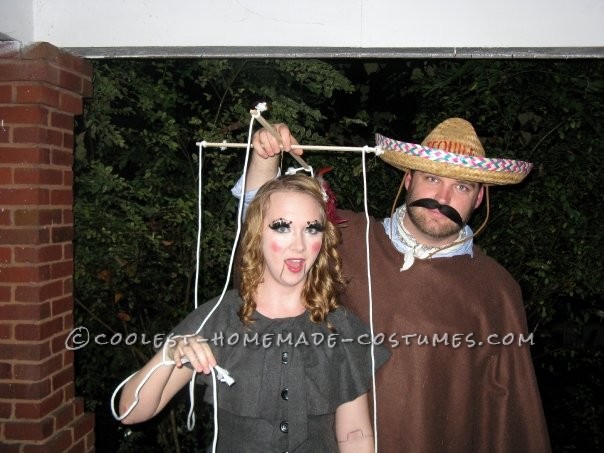 My now-husband controls me for the first and last time!
Suspended in the Air
The next question was "How do I keep this thing above my head, suspended in the air?" Lucky for me, my roommate at the time is a customer, so she and I rigged up a coat hanger that we would sow into the inside of my costume in the small of my back, and the metal stuck straight up out of my costume and we attached it to the crossbar joint on the bottom by drilling a small hole in the bottom of the dowel rod and gluing the coat hanger end inside of it.
I also triple bobby-pinned the metal piece running up to the rod to the back of my head to hold it in place.  This did make things interested when people pulled on the crossbars, since my head went with them, but it didn't hurt and it was quite funny.


Crossbars successfully suspended above my head!
Clothing Fit for a Puppet
The next step was deciding on the clothing. I wanted to look as authentic to a puppet as possible, so I definitely wanted a big headpiece/fascinator, and I wanted something a textured skirt and a jacket of some sort. I also wanted tall socks and Mary Jane-like shoes.
I actually went out twice for Halloween this year, so you can see I switched up the outfits a bit.
Whenever I am going to sew something inside of my clothes, I try to go cheap and find something at Forever 21 or H&M. For the black costume, I found a velvet cropped jacket at a thrift store that buttoned up tight around me (which was important in keeping that secured and above my head). I found the polka dot skirt at Forever 21 and bought a crinoline to put underneath so it would stick out dramatically. I made my fascinator with feathers and a comb I bought at Michael's.
For the second outfit with grey jacket, I found the skirt and the grey jacket at Forever 21. The jacket was perfect because it had an older style to it, and the skirt was great because it has roses around the bottom. I also beefed up the fascinator a bit with more black feathers. The socks I wore for both costumes were from Target.


Outfit #2
Final Touches
The last piece of the outfit was hair and makeup. I wanted to look like a puppet that had come to life, so I didn't want a powder white face or anything like that – I just wanted over exaggerated makeup.  I curled my hair in ringlets much like you would see on puppets. I put big, rosy cheeks on with cream blush and layered powder blush over top of it. I bought fake feathered eyelashes at Sephora (BEST place for eyelashes!) and they were perfect and very false/doll-looking. I topped it off with lots of eyeliner and red lips.
The final touch was having my roommate draw "puppet joints" on my elbows and knees to look super authentic.
The only other thing to keep in mind is that you can't exactly ride in a car with this over your head, so I had to hold my jacket in my hand until I got to my destination, and then put my jacket on and pin the coat hanger to my head once I got out of the car.
Happy puppetting!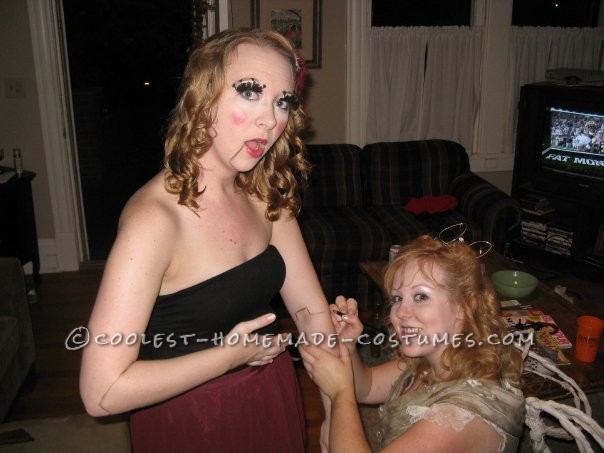 Drawing on my puppet joints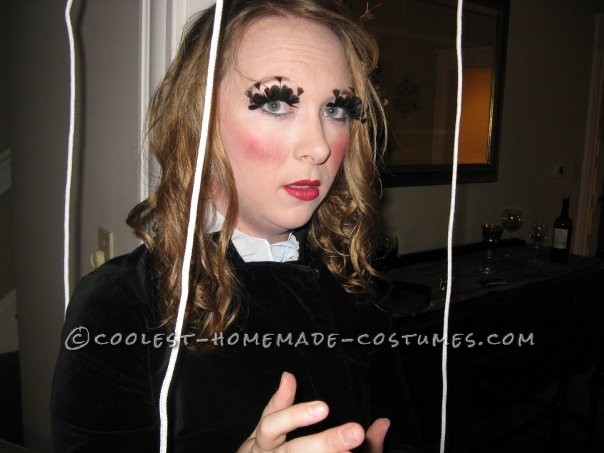 Makeup!