Take a look at these homemade Luau costumes submitted to our annual Halloween Costume Contest. You'll also find loads of homemade costume ideas and DIY Halloween costume inspiration.
Costume by Yasmine G., Imperial Beach, CA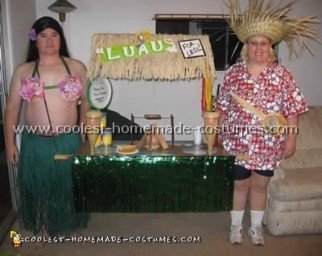 This website is the best as we are always looking for people who will actually appreciate our hard work that we do every year on our Halloween costumes! This year we chose Luau costumes (since we love Hawaii and our backyard is decorated in a very tropical way) and picked the title "Luaus for less". We were a discount Luau!
My husband was the "hula girl", (poor baby always has to dress as a woman) and I was the Hawaiian musician guy and we were attached to the "Luau" which was all made from scratch. We made the entire body of the costume using an old piece of kitchen panel for the base along with assorted pieces of wood and dowels cardboard raffia and an old hula skirt for the sign–along with a lot of glue screws and patience!
The MENU for the evening included–Roast "Pig" (an acrylic covered hot dog 'roasting' over the real wood fire pit (which was the base of a solar light so it flickered like a real fire) "Fresh" Pineapple (canned pineapple chunks) and Hawaiian Punch (painted red empty Hawaiian punch bottle and cups). The props included two solar tiki lights that really lit up and flickered along with pictures of exotic beach locales glued to the plywood platform.
My husband really did a great job putting this costume together with about 20 hours of work put in over a few days to get this finished in time for Halloween. I know that whenever I have a specific idea in my head for a costume my brilliant husband will be able to make it come to life! We hope you enjoy our entry!
Total Spent: $40
Costume by Yee W., St. Catharines, CA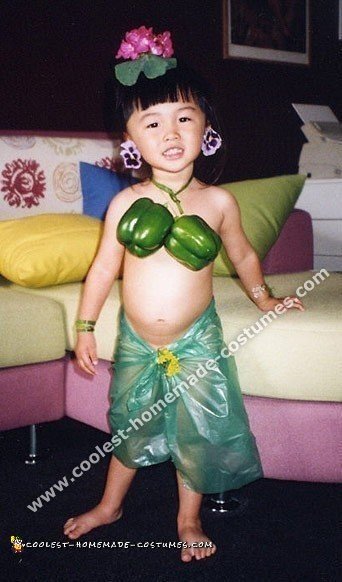 The costume I made is simple and fantastic. It cost me nothing! It took me a few minutes to complete but looks nice and fashionable.
I had the idea because my daughter loves dancing and singing. She is pretty and natural. So, I wanted something that matched her.
For her hairstyle, I used a cabbage peel with a bunch of flowers on her head. Then, she wore a purple morning glory on both ears. The necklace was made from green onion. Both hands have different accessories; right wrist has green onion and left has parsley.
At last, I brought two sweet green peppers, which became her top and I wrapped a sheet of recycle bag around her hip with ribbon. I also added some Chinese bak-choy into the ribbon.
Plants need water and light while my children need love and a caring environment.