Enjoy this collection of the most adorably fierce lion costume ideas! Learn how to create the most majestic manes for your little one this Halloween. You'll also find loads of homemade costume ideas and DIY Halloween costume inspiration.
Latest Lion Costume Ideas
---
---

---
Featured Costumes
Lion costume by Susie L., Glendale, Arizona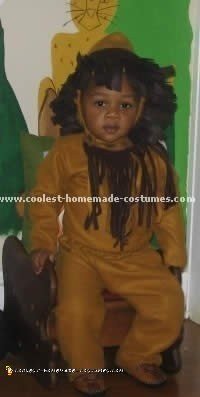 Luckily, I had most of this lion costume already. I had made it for my first son as a cougar costume but I wanted my second son to have something different for his first Halloween.
I hemmed a strip of tan fabric and made two buttonholes large enough for the ears to fit through. Then I looped fuzzy brown yarn (25 cents at a thrift store) around my hand, slid it off and machine stitched it in two rows along the strip of fabric. After I'd filled the whole strip with the loops of yarn I fitted the mane over the ears of the cougar costume and secured it with several safety pins.
On a smaller scrap of tan fabric I sewed more loops of yarn then clipped them to make the tuft on the end of the tail. It is also secured with safety pins. My son got a different costume without permanently changing the cougar costume!
Total Spent: $0.25
Lion Costume With a Golden Mane
Lion costume by Leslie J., Washington, DC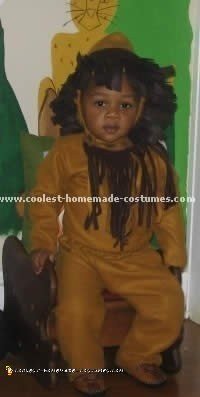 For my son's first adventure with trick-or-treating I decided to make him a lion costume. His room has two murals of African animals so I thought this was perfect. I purchased tan fleece for the pants, top and hood and brown felt for the mane around the head. In addition, I also purchased fleece for the mane around the neck.
I made a hood out of the tan felt with straps that attached with Velcro to go under his chin. I cut a piece of brown felt into short wide strips for the mane around the head but didn't cut it completely apart to make it easy to sew on. For the mane around the neck I cut long strips of fleece into different lengths and sewed them on.
This lion costume is very quick and easy. For weeks after Halloween he would get the hood put it on and walk around.
Total Spent: $15
Lion costume by Diana W., Rocklin, CA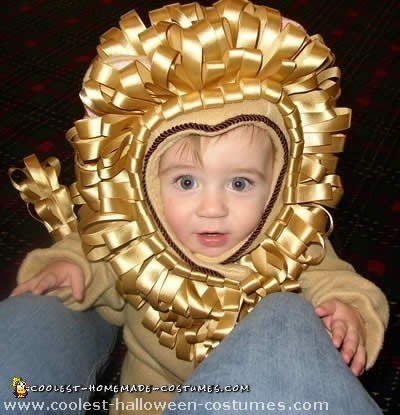 I made this lion costume for my oldest son (pictured with the blue eyes) for his first Halloween in 2004. His "love" was (and still is) a lion so I thought it'd be fun to make his costume a lion as well. I used a pattern, tan fleece and five 5-1/2 yards of ribbon. (Yes you read that right.)
I sewed and glued on yards and yards of ribbon but I think the final product was worth the effort. My youngest son (with the brown eyes) was the perfect size to wear the costume this year but I didn't think he'd wear the hat. I had to put it on for at least one picture!
Total Spent: $30
Fierce Lion Costume
Lion costume by Crystal H., Cottontown, TN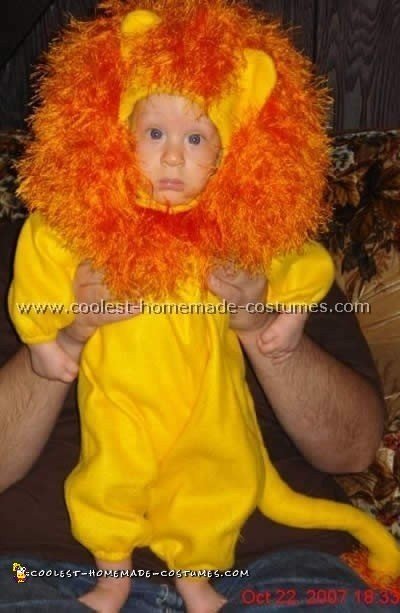 I made my son this Lion costume for his first Halloween using a Simplicity pattern #3594. Instead of putting bands on the sleeves I put elastic because that was easier. Also I used the "eyelash" type of yarn for the mane which gave it more of a "fur" look.
I was expecting it to be more difficult to make than it really was and if I can do it anyone can!
Total Spent: $20
The Cowardly Lion
Lion costume by Melea K., Greenville, TX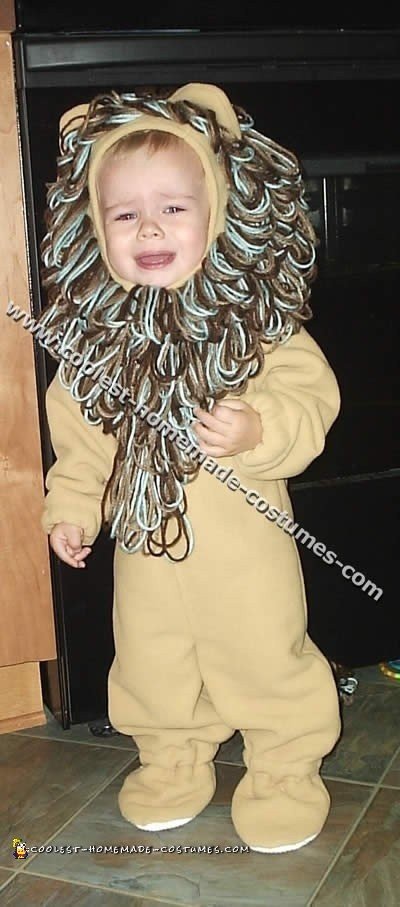 I made the very furry lion costume but decided to make a back up in case it was a bit warmer and the fur one would be too hot. This one was very easy even for a beginner.
First, I bought polar fleece material that was on sale for $4, a pattern that was on sale for $2, a zipper and multicolored yarn. I already had the thread, elastic, Velcro and felt from the last costume. But, even if you don't have those are cheap items.
Next, I sewed the costume from the Simplicity Costumes for kids 3594. I changed the mane on the lion just a bit. I wanted the mane to come down further to hide the zipper since I couldn't seem to sew it on there neatly and I wanted the mane to cover more of the forehead.
This pattern is great; it shows you how to make the mane very easily and quickly. There is a tail from the Tom Arma pattern because I liked that one better than the one in the Simplicity but the tip is made with the same yarn. It's just a pom pom hand stitched on.
This lion costume only took me about three hours to make and most of that time was spent trying to sew the zipper and removing the feet and putting them back on.
I didn't measure my son's legs and the costume ended up being too long so I had to shorten it. I did add non skid soles to this costume since it will be worn indoors while passing out candy and we have tile. Also, I attached the hood so that he can't pull it off.
This pattern can also be changed in so many ways – into a lamb, dog, bear, I even thought about a unicorn for a little girl. Use your imagination and have fun!
Total Spent: $12
Adorable Lion Cub
Lion costume by Melea K., Greenville, TX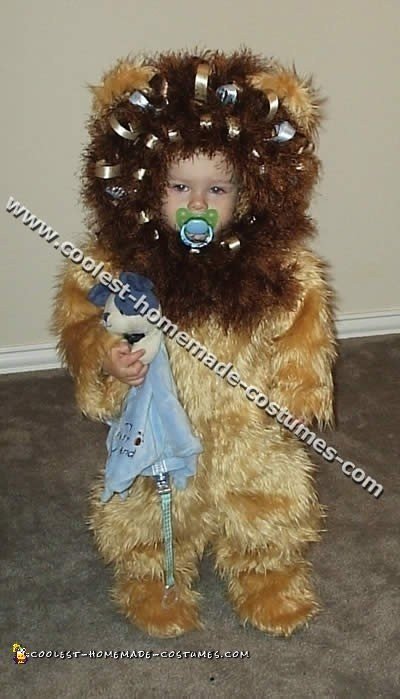 I came up with the idea for a lion costume after seeing the Tom Arma costumes. After I told my 14 month old son that a lion says "roar!" and he copied I knew that was what his costume would be. I couldn't believe the prices for the costumes so I decided I could make one cheaper. Actually I didn't because after buying the pattern, material, thread, Velcro, elastic, felt, ribbon and fur yarn, it came to around $45.
I sewed the material and followed the pattern pretty closely. Very easy considering it was my first time. Then, I glued the ears on, glued the ribbons on and filled in with the fur yarn. I didn't know how to make the mane so I did the best I could. I made pom poms but didn't cut the ends (left them looped) and glued them on around the ribbons. After doing all that I hand sewed each one on to make sure it stayed.
The hood is tucked into the costume and the fur does a great job of hiding that so it blends all in. The front has Velcro. There is a tail in the back with the same ribbons and fur yarn. The feet are felt. I could have gotten out a lot cheaper if I would have had most of the things already but I had to start from scratch for this lion costume. I say that if you can't find a costume you love for your child just make it. It might not come out perfect but it was made by love and you never know you might do better than you thought you would!
Total Spent: $45
Queen of the Jungle
Lion costume by Heather C., Lake Dallas, TX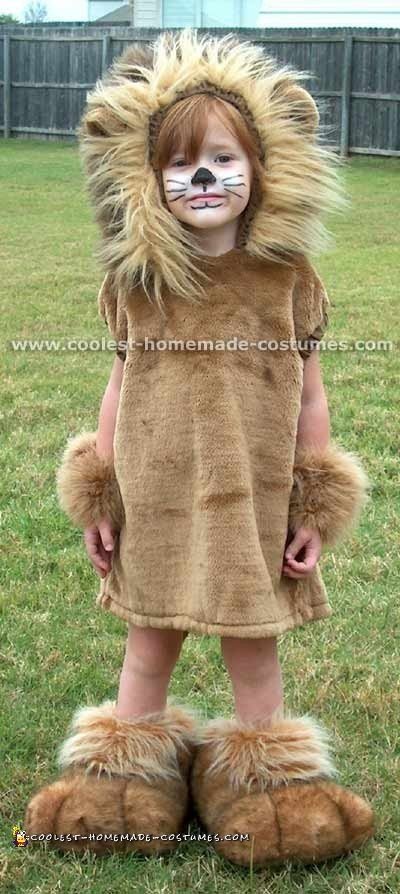 One day, I was just browsing through the costumes at the local thrift shop. I came across a short lion costume (no legs, no arms, just a body with tail and hood). It was only $6, so I bought it. Originally, I had planned to just allow my daughter to use it as a costume for her dress-up trunk. However, she wore it so much, so I began concocting a Halloween surprise.
We began looking for some beige or brownish gloves, but nothing fit her 4-year-old hands. We then went to the fabric section to look for fake fur. Nothing looked good.
Then we saw it: the perfect solution! Marabou. And, it was tan marabou! We snagged it…cheaply- $2.
Next on our list: lion feet. We couldn't decide how to go. Use the marabou? Dye shoes? Walking through the shoes section of a large store, we came upon the perfect solution: Huge men's-sized slippers that looked like lion feet! $5.
The last thing we needed was something to tie it all together: face paint. For $2, I picked up white face paint and a black eyeliner pencil.
The costume doesn't take long to put together, once you have all the materials. I had her dress with a sleeveless shirt and short shorts, as Halloween here was pretty warm.
First, we put the lion costume on with the hood back. I then stuffed her slip-on sandals inside the slippers and had her stick her foot inside. This provided some support for her feet.
After she was stable, I cut the marabou in half and wrapped one piece around each wrist. I secured the marabou with butterfly clips (hair clips). Right before we walked out the door, I applied the white base on her inner cheeks, then the black eyeliner (nose and whiskers).
We went to numerous trick or treat'ing events, and my daughter seemed to be the most 'awwwww'-inspiring child people had ever seen. Our local paper even put her picture with her lion costume on the front page!
Majestic Mane
Lion costume by Emily M., Lakewood, WA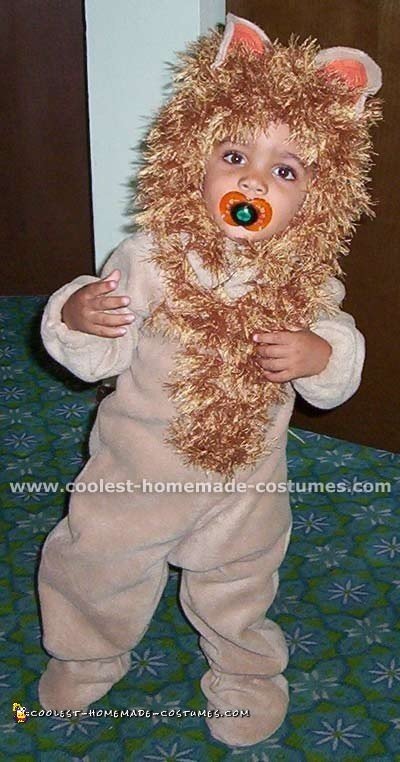 I came up with this costume idea last year when my grandson was 1-year old and too small for a standard costume. I figured this year he could probably pull it off so I made it and I am so glad I did because he looks so cute.