Take a look at these cool homemade Leprechaun costume ideas shared with us by costume enthusiasts from around the world. Along with the costumes here, you'll also find loads of homemade costume ideas and DIY Halloween costume inspiration for your next costume project. Enjoy!
Latest Leprechaun Costumes
---
---

---
Featured Costumes
Costume by Brenda S., Charlotte, NC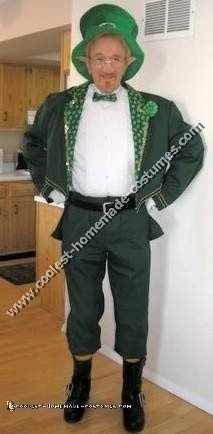 This Leprechaun costume is created with Kelley green trigger fabric. The edges are trimmed with green braided trim. Lapel is made from shamrock fabric and trimmed with gold sequins trim. Matching shamrock bow tie blends with the fabric of the lapel. I put elastic band on bow tie. Knickers have front fly zipper and front pockets. Hat was purchased.
Total Spent: $25
Costume by Diana K., Lake George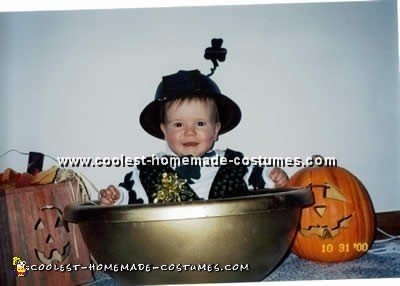 This was my son's first Halloween costume – a Leprechaun costume and it was the cutest!! The costume was put together using green sweatpants and a white turtleneck. I made the vest and added some clovers on it along with a pair of gold slip on shoes. We put him in the "Pot O' Gold" and pushed him around the parade.
The LUCKY Leprechaun won a trophy for this original costume!
Total Spent: $15
Costume by Debbie C., Flagstaff, AZ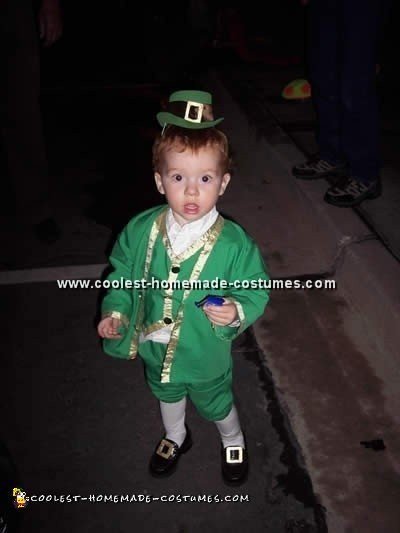 I got the idea for a leprechaun costume when my redheaded son put a green bowl on his head pretending it was a hat. He looked too cute! I looked for costume but there was nothing but cheap ugly costumes online.
I went to the fabric store and got a $.99 boys suit pattern (easy) and some green fabric and gold thread to sew around the edges. I got a few gold buttons and that really added to the look. I cut the pants to be knickers and got a pair of white tights. I had him wear a white colored shirt underneath. He also wore his Sunday shoes and I made the buckle by cutting some cardboard into the shape I wanted and then glued gold fabric scraps that I had over them. I just used masking tape and stuck them on.
The hat was a hard thing to find but I knew it was needed. I finally decided to get a teddy bear hat from Michaels and painted it green with acrylic paint. It took a lot of coats because the hat was felt and would just soak up the paint (primer would have been a good idea.) I got some elastic and attached it to both sides of the hat. The band around the hat is a piece of brown velvet ribbon that I had (so is the belt) and I made the buckles the same way that I made the ones for the shoe.
It turned out great but unfortunately he was not feeling well and was not in the mood to be shown off in his leprechaun costume.
Total Spent: $18