My son is crazy about bugs. We gave him ideas for insect costumes and he decided to be a fly. When my husband suggested that he be a swatted fly the idea really took off.
My son picked out all of the fabric for the costume. The front is silver metallic sewed with a zigzag stitch on a diagonal. I didn't like the square feel to the costume so I trimmed it into a "v". The wings had to be a bit more creative since they had to be able to be "smashed".
I used screening (like for your screen door). I cut holes in it and added red fabric paint to resemble blood. The fly swatter is made out of a needlepoint canvas and wire. The wings and the swatter were Velcrod on the back of the outfit to make traveling easier.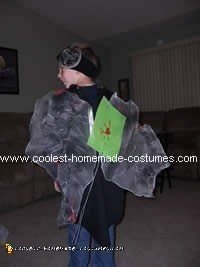 On suggestion, take the time to double fold up the edges on the screening. The edges can be very sharp if you do not. Also make sure the wings are bent and very deformed. We had such a fun time with this costume and everyone who saw it just laughed. My son won most creative costume in a costume contest with his swatted fly.
Total Spent: $10
Ideas for Insect Costume by Carole R., Rochester, PA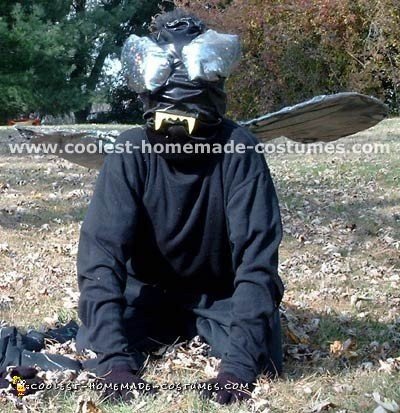 I needed to come up with a different idea for a costume for an older child. It gets harder every year to come up with a cool costume for an older boy (I like to dress my children up in very original costumes).
I saw a commercial for the movie the fly and the costume took off from there. This is a very simple costume. I used an adult size black turtleneck, a pair of black sweatpants, magic gloves and black boots.
The mask consists of a shiny black mesh material. The eyes and wings of the mask were constructed from a holographic iridescent fabric; both fabrics are available at any fabric store during the Halloween season. I also purchased some yellow fun foam, a strip of fake black fur and a bag of fluff filling.
This can be a no sew costume. I measured the black material around my sons head hot glued it together. I hot glued the strip of fur to cover the seam; this gives the fly a Mohawk look.
The eyes were traced on hard cardboard then cut out. A layer of fluff was added and the material was glued over everything. The eyes were positioned and then hot glued onto the mask.
I had my son try this on at this point and we determined where to cut the slit for his mouth. I traced a fang pattern on paper and then cut that out of fun foam. The fangs were glued above the slit to hide the mouth opening.
The wings were shaped from wire and material was glued to the wing shapes. The wings were then sewn to the back of the turtleneck. The wings actually moved when he did.
My son really liked his costume as he wears glasses and he was able to wear his glasses under the mask comfortably. The eyes give the illusion that he is looking through them. This costume won first place in our town costume parade for the scariest.
This costume took about 8 hours to make I divided it up in a weeks time as I had a newborn baby to take care of. It's one of the coolest ideas for insect costumes.
Ideas for Insect Costume by Lynda M., Dublin, Ireland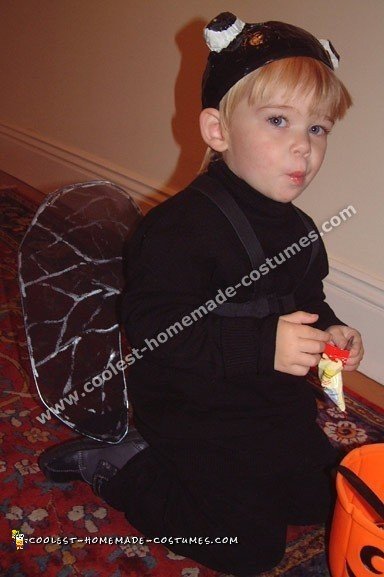 Eoin had just turned 2 years of age and was a bit nervous of Halloween and all the 'scary stuff' so the outfit was a bit of a compromise. I had intended adding black cloth to the "flies' head" and painting his face, but on the day/night in question he did not agree.
The flies' head was made of papier-mache. To get his head size I blew up a balloon to fit inside his Bob the Builder helmet. Then Eoin and I covered the balloon with papier-mache and left it to dry out. I then cut it to the appropriate size.
We then made two papier-mache balls and cello-taped them to the head and put more paper over to make sure they were well secured and left it to dry further. Then we painted it and finished with a coat of clear varnish to seal the paint in case it rained on the night.
The "wings" were wire hangers re-shaped with black nylon pop socks stretched over and stitched in place. Then I used a silvery nail polish to paint on the wings. The wings were stitched on to wide black tape, which was stitched in a "harness shape" and tied with Velcro.
Only clothing required was black polo and trousers.
VERY CHEAP, fun to do and something he could participate in the making of. This is one of those really cool ideas for insect costumes!