Love to dress up but would rather not be center stage? We get it. It's not easy for everyone to be the in the eye of the Halloween paparazzi spotlight. Instead, take your love of homemade costumes and drag your willing – or unwilling – group with you! While they may be reluctant at first, after viewing this incredibly awesome group costumes, they will clamor to join you in the fun.
You can go traditionally scary, bizarrely unique or downright hilarious.
The greatest part is that you don't need to spend a lot of time or money to make the most memorable entrance into your Halloween party this year.
So get your family together, whip your co-workers into gear or wake up your college roommates and start checking out the coolest compilation of group costumes for Halloween. Happy costuming! Remember to share your awesome creation with us here….
---
Latest Group Costumes
---
Popular Group Halloween Costume Categories
---
All Group Costume Sub-Categories
---
---

---
Top-10 Lists – Group Halloween Costume Ideas
---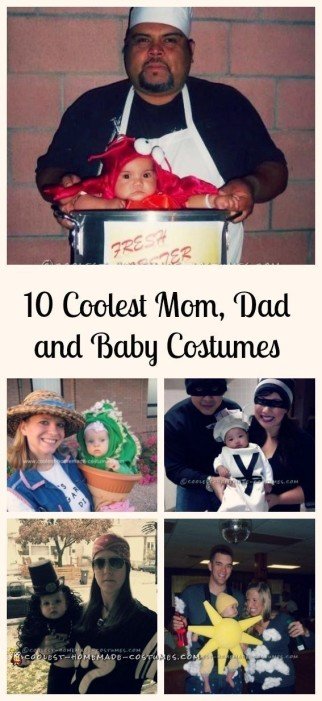 With these cool baby costume ideas, your mini-me will be the star of your Halloween theme. Using these ideas, you can make your little ones the sunshine on a cloudy day or serve them up on a bed of spaghetti and meatballs. Or you can plant them in a portable garden pot. Maybe you'll fly … Read more
---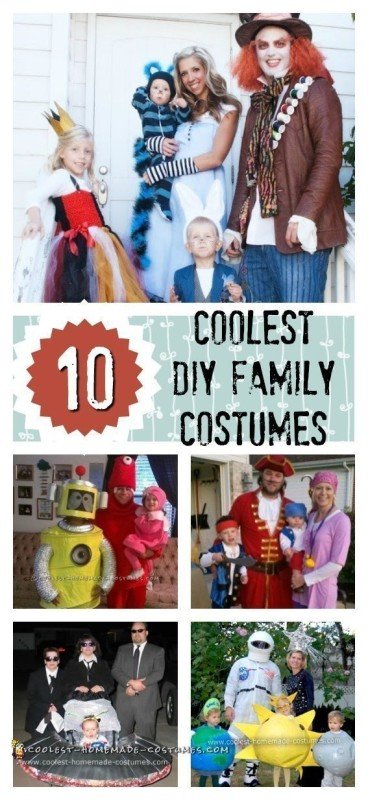 These family costume ideas will have you making an unforgettable entrance at any costume party or event throughout the year, but especially at Halloween. It's both FUN and rewarding to work together as a family, and share the memories of preparing and presenting a creative group effort to the world. So, if you plan to … Read more
---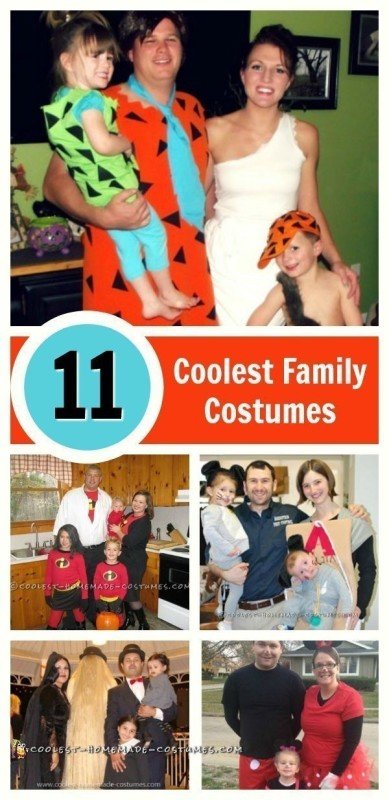 Don't let a tight budget ruin your fun. These family Halloween costume ideas make it easy to strut your stuff in style with a few dollars and some creative recycling. Who knew a few boxes, tape, and wrapping paper could be turned into an amazing life-sized Tetris game. Or that a small quantity of fabric, felt … Read more
---

Girl groups looking for last-minute sexy Halloween costume ideas will find lots of inspiration from this section. Boy groups looking for sexy girl groups will also probably enjoy browsing through this collection … Read more
---

If you're planning a group costume, take a look at these prize-winning group Halloween costumes. They all won prizes in real contests and they're sure to give you a few ideas and inspiration as you plan your won group costume … Read more
---

So, you and your squad can't agree on a costume. Instead of arguing, bring everyone together with the awesome Halloween group costumes on this page! Unique, hilarious and sexy in an understated way, your only decision will be which photo to post on Instagram … Read more
---
Featured Group Halloween Costume Ideas
Tetris Group Costume
Submitted by Chris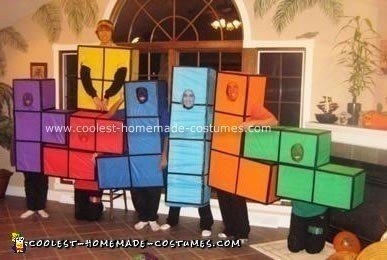 Coming off a not so hot year of costumes, we wanted to go big! We wanted to make a big impression at our high school, as it does not have walls and as we walked through the halls, students could see us from all over and caused quite a stir.
Although not all the Tetris Group Costumes were made to the same scale, we quick threw them together and had a blast doing it! The structure is thin, easily cut-able cardboard. We painted it all white to get rid of the Dairy Queen logo's found on most of the boxes. We covered each one in a plastic table cloth of the correct color (RIP Factory Card Outlet) and then used electrical tape to box in the boxes.
Like I said, we caused quite the stir and with almost minimal effort. We each wore a bandanna of our piece's color, painted our faces to match our color, and wore a shirt of the color underneath, that way when we had to take off the box aspect, we could still be recognized. Also, we puffy painted sweat pants with the same design on each front saying TETRIS and the piece on the pant leg, as a reminder of this great time as we approach college and go separate ways.
This was the cheapest costume I've ever encountered, about $1.50 each for the costume itself! A great time was had by all!
---
Variety Six-Pack Group Costume
Me and 5 of my close friends wanted to be a 6-pack of beer cans for Halloween, but we couldn't agree on which beer to be, so we ended up deciding to be a "variety 6-pack". We were Coors Light, Budweiser, Guinness, Fosters, Bud Light Lime, and Killian's Irish Red.
We sewed tube top dresses out of a T-shirt material fabric and decorated the front with fabric paint. On the back we wrote "enjoy responsibly". We wore necklaces with pop-tabs and bought matching cans to drink that night. The whole process took about 3 hours per dress, but since we all did our own it wasn't bad. The total cost of each dress was only $25!
Our Homemade Variety Six-Pack Costume was absolutely a hit! It was comfortable to wear, and really cute for a group of 21 year old girls! A few of us even wore them individually to different parties and they still worked out great!
---
Smurfs Group Halloween Costume Ideas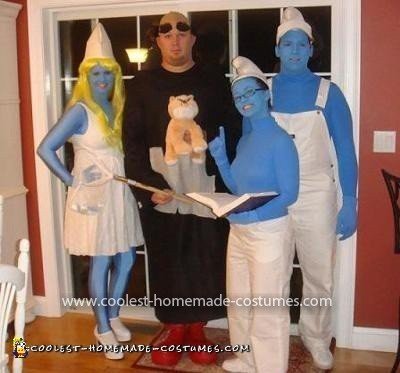 The tights for all 3 Smurfs were bought online. Color medium blue. We used a grease facepaint, but had to mix two shades of blue to match the tights. The Smurf hats were bought. Smurfette's shoes were platform disco shoes from the Halloween store, the dress she owned. Brainy was carrying around a real nice Webster's dictionary. Handy had the pencil in his ear and a square. We didn't think carrying around a saw was very practical.
What I think sets us apart from other Smurf groups is my addition of Gargamel. I sewed some gray fabric on a black Snuggie that I pinned in the back. I wore red plastic clown shoes, and two pairs of red socks. The outer socks I stuffed and rolled down to the top of the shoe to make it look more like his boots. I surprisingly could not find a wig suitable for Gargamel's hair, so I hot glued some cut up fake beard pieces to a bald cap. I carried around fishing net with some of my daughter's Smurf toys in it. And I drew some sinister eyebrows on an orange cat Webkinz I found at Toys-R-Us.
The only thing I think our group could have used was a Papa Smurf. He backed out on our Homemade Smurfs Group Costume last minute.
---
Double Dare Group Costume
Group Halloween Costume Ideas Submitted by Shannon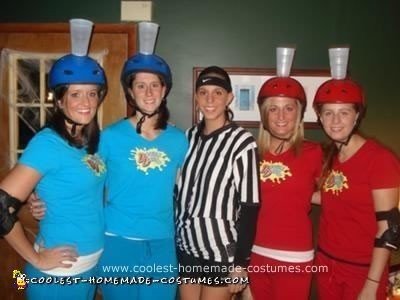 Our idea for this year was to be one of our favorite TV shows from growing up. And that was Nickelodeon's Double Dare! We had 5 people in our group, so one was the referee of the night and two of us were on the "blue" team and two on the "red" team.
First we bought matching red and blue t-shirts and sweatpants (from Wal-Mart). Next we bought the special paper that you can print out on a standard computer printer and then iron onto clothing, and once it was printed then we ironed on the Double Dare logo directly to the t-shirts. (logo downloaded from Google images)
Other accessories:
– elbow pads and knee pads.
– helmets (spray painted our respective colors)
– plastic goggles (from school science labs)
– plastic cups on top of the helmets (representing one of the famous games they played on the show)
Our referee for the night would blow her whistle randomly during the party which meant it was time for a PHYSICAL CHALLENGE!
It was a blast, and the Homemade Double Dare Group Costume were a huge hit at the party!
---
Pac Man and Ghost Costumes
Group Halloween Costume Ideas Submitted by Janice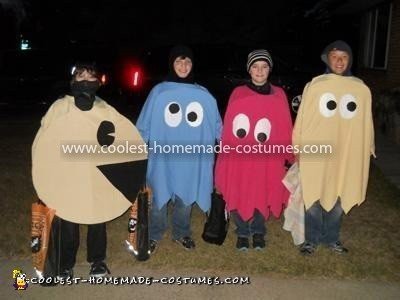 These 4 Kid's Pac Man and Ghost Costumes were made with old bed sheets, an old pair of jeans, felt, some cardboard "frames" and a couple of different types of tape: packing tape and heavy-duty double-sided tape. Nothing was measured; they were all just sized on each child. The total cost of this group costume was a little over $40 with the greatest expense being the industrial strength Velcro.
The frame of each costume is a basic sandwich board. Cut out 2 u-shaped frames for each ghost and 2 circles for Pac-Man. Be sure they are short enough that the knees are exposed and narrow enough that the kids can hold a bag for trick or treating. Attach the 2 pieces of cardboard at the top with a couple of wide strips of heavy duty material (denim). Keep in mind the strips need to be wide enough apart that the costume can fit over a child's head, yet not fall off their shoulders.
Attach the denim strips with a staple gun and reinforce with packing tape to be sure they don't come apart. Attach large strips of Velcro a couple of inches from the bottom of each side in a similar manner to keep the costume tight against the body instead of lifting up and away.
You will need bed sheets all queen-sized or larger and after turning the material inside out, find the centre of the sheet and cut a slit to fit over the child's head. For the ghosts, mark the material loosely underneath the "sleeve" to allow for a warm jacket (we're in Canada) and also mark the desired length. Stitch the front and back together with a straight line from the two marked spots, armpit to desired length of bottom seam. You can definitely use fabric glue if you don't have access to a sewing machine.
Cut off the excess material a few inches from the stitching and turn the whole thing right-side out. Fit it over the child and frame and cut the sleeve length and zigzag edges while the child is wearing it. Each ghost costume will have two pieces: the sandwich board and the material.
The Pac-Man costume is one piece as the material has to be attached to the cardboard to reveal the round shape. After fitting the sheet over the child's head, pin the material under the armpit and cut straight up from the edge of the sheet at the floor to this marked point, then trim the length so it is easier to work with. Secure the material to the top of each circle with a small piece of double-sided tape.
Next, open up the boards and lay them flat on the floor with the material at the bottom. Secure the material to the cardboard with double- sided tape up to the marked point of the armpit, folding and tucking along the Velcro; trim excess material.
The final step is to attach eyes and Pac-man's mouth with spray adhesive. We had so much fun coming up with these group Halloween costume ideas!
---
Lego Men Group Halloween Costume Ideas
Group Halloween Costume Ideas Submitted by Ross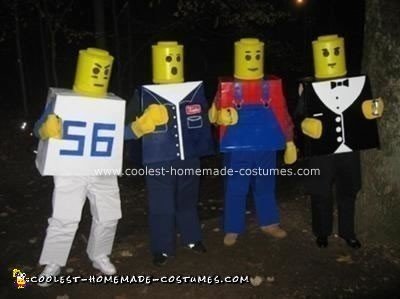 Growing up everyone played with Legos, what better way to admire our childhood toys than to be them. It was a glorious time. A lot of work went into this Homemade Lego Men Group Costume but they turned out to be awesome!
Lots of cardboard, some paint,some conduit tube, yellow neopreem for the hands and tons of patience.
One is a mechanic, another is a Farmer. One is a James Bond and the other is a football player. They were horrible to walk in but we had a blast!
---
Paratroopers Group Costume
Group Halloween Costume Ideas Submitted by Chakira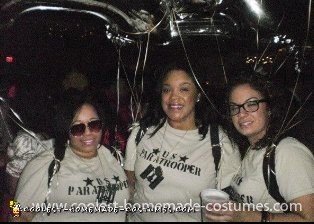 * T-shirt: $2.50 at ac more, black fabric paint, stencil
* Pants $23 army cargos at target
* Dollar store – kids army toy guns, whistles, binoculars, helmets
* Sunglasses aviators
* Black back packs
* Bumber zero balloons 11.99 @iparty
Fold the balloon while inflated along the crease and secure with tape tie three strings on each side of balloon and attach it to the back pack straps at desired length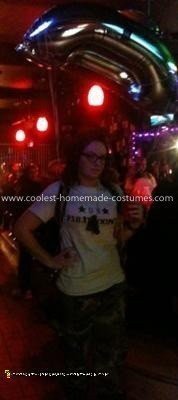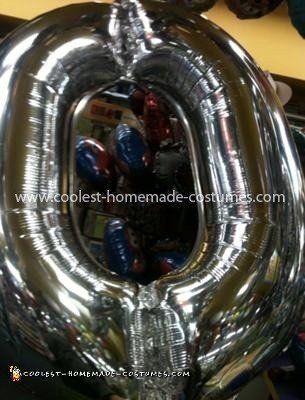 ---