I dreamed up the idea to do a huge group costume one night while my roommate "Big Greg" and myself were watching the Reno 911 movie. It was probably September of 2009, and I had an idea of each friend who would play the best character roll. So I sent out a group text to all eight people and said that I would make all the costumes if everyone would agree to give me $30, and to meet up at my friend Katy's house on the night of Halloween to get ready together. Surprisingly enough, everyone agreed!
So then I set out to find all the supplies.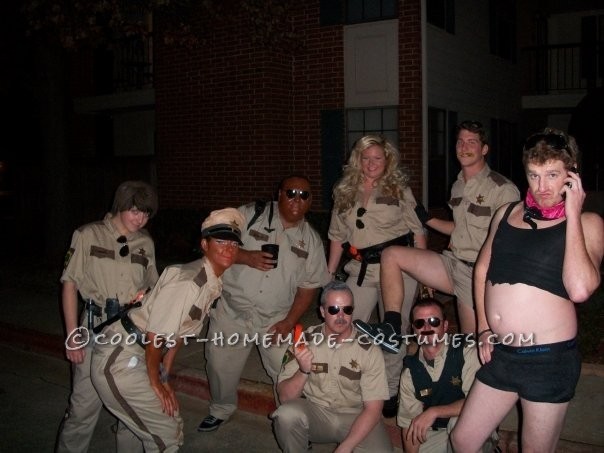 Homemade Group Costume – Reno 911 Sheriff's Department, and Terry
Finding the Supplies
I worked at Dollar General in high school, so I knew that they carried khaki pants for about $8 a piece, so I text everyone and got their pant sizes. I was able to find all the pants at two different Dollar Generals, so that part was easy. The khaki shirts proved to be a much more challenging thing to find. I went to three Dollar Generals and probably four different Wal-Marts. I eventually found them at a Wal-Mart about 30 minutes south of where I lived at the time. Finally!
Then the next step was brown fabric for the stripes down the legs, the shoulder stripes, and the pocket covers. Hobby Lobby carried that, so this was an easy errand. I also got gold spray paint for the name tags there as well. Now to start the process of making the costumes.
Making the Costumes/Some Fun Details from the Night
This proved to be pretty easy, if time consuming. I started out by cutting out all the stripes and pocket covers, then pinning everything together. Luckily, I have a sewing machine and know how to work it fairly well. I'm no professional seamstress, but I can sew a straight line. My friend Ashley came over to help with this part, thank goodness! That helped speed up the process a bit. Then I had my friend Jay come over to measure him for his "Dangle" shorts. This was pretty hilarious because I wanted them to be just short and tight enough for him to not show any of his "family jewels"! Obviously I made them a little too tight, because the night of Halloween one of the legs ripped and he was in quite a precarious situation. He had to be really careful not to move the wrong way, haha!
Once I got all the shirts and pants finished, I cut pieces out of a cereal box for the name tags. I spray painted all the square name badges with gold and when they dried, I used a sharpie to write all the names on them. Okay Greg, let's head to Katy's house to get ready!
Time to Head to Katy's
On the way to Katy's, my roommate and myself stopped at the Spirit Halloween to get fake cop guns and belts to put the final touch on our costumes. We also had to stop at Wal-Mart for a couple things and while Big Greg was getting his stuff, I decided to stay in character (Trudy, the creepy one). I was talking to people and just being silly when the undercover shoplifting guy at Wal-Mart happened to walk by. Not knowing that's who he was, I reached out and barely touched his arm. He totally called some other security guy over and was questioning why I was there. I tried to tell him that I was waiting on my roommate and was just being silly, but he kicked me out of Wal-Mart! I went outside to wait for Greg and he followed me out and said I had to completely leave the premises! I couldn't believe it and thought it was so funny that I had been creepy enough to get kicked out of Wal-Mart, of all places! This actually made my night even better. On to getting ready.
Getting Ready/A Few More "Funnies" From Our Night
My friend Katy thought of the one thing I didn't and went to get felt to make the patches with, so when we showed up at her house, she had made patches for all of us. She also bought the "Raineesha Williams" wig and hat, and brown body paint for her and Big Greg, as they were both going as black characters. Now looking back, I realize that this might have been a little bit inappropriate, but I was 22 at the time and that didn't even cross my mind. I don't think it offended anyone though, because we did end up one of the winners of the costume contest!
Katy is also a very slender and fit person, so she wore two sets of tights under her khakis and we stuffed them with poly-fill to give her a "Raineesha worthy" booty. She also wore really long fake nails, so every time she had to go to the bathroom, I had to go with her so that I could readjust her backside and button her pants for her! This made for a really funny memory and lots of strange looks in the bathroom!
Another surprise when we got to Katy's to get ready, was that she had convinced another friend to go as Terry from the movie. I don't know if you're familiar with Reno 911, but Terry is a homosexual guy who is always on roller skates and gets called into the sheriff's department regularly for harassing people. I happened to have a pair of quad roller skates that I had worn for a "roller disco" costume the year before, and Katy had some shorts from a spring break in South Padre Island that he was all too glad to wear for the night! He totally stayed in character and in roller skates all night! I don't think he ever even fell down.
By the time we all were ready to head out, Katy's house looked like a tornado went through. Stuff everywhere, brown paint all over the bathrooms and other random streaks on corners and walls, not to mention the brown streaks left in her car from the ride to the bar. We had a great time and lots of laughs while we were getting ready though, so I guess the mess was worth it. To the bar.
Our Night Out
We went to a club in Bricktown, Oklahoma City because they had the biggest prize amounts we could find. None of us are club people, but made a sacrifice for the sake of a big pay off. On our walk from the parking garage to the bar, you wouldn't believe how many laughs and "Reno 911's!" we got. We even had to stop and strike a pose about four times, so that people could get pictures of us. Everyone seemed to think the costumes were as hilarious as we did!
We ended up winning second place for $600, the first place prize was $1000 and went to a guy who made a huge Transformers costume. It was an awesome costume, but I will say that we thought ours was better. We might have been a bit biased though. We had and excellent night with lots of laughs; and even made our money back, along with our drinks and cabs paid for! An all around awesome Halloween!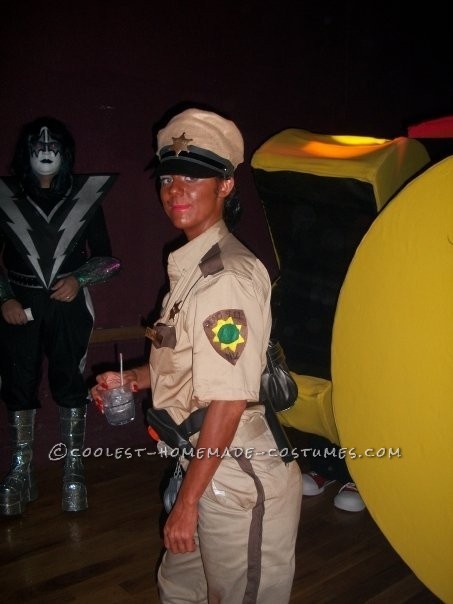 Deputy Raineesha Williams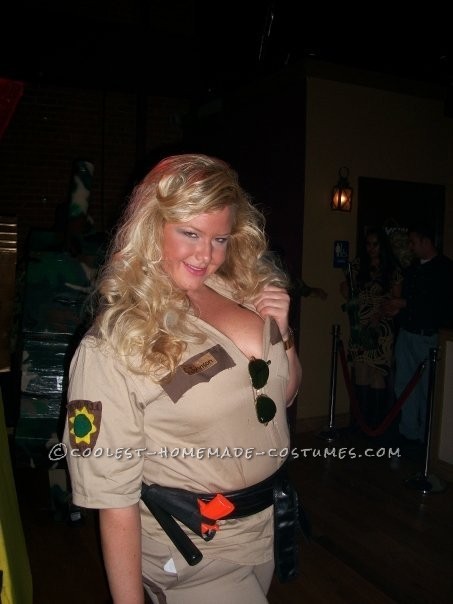 Deputy Clementine Johnson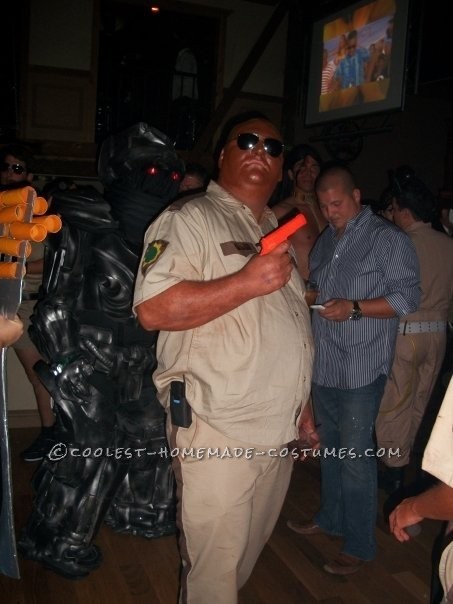 Deputy Sven Jones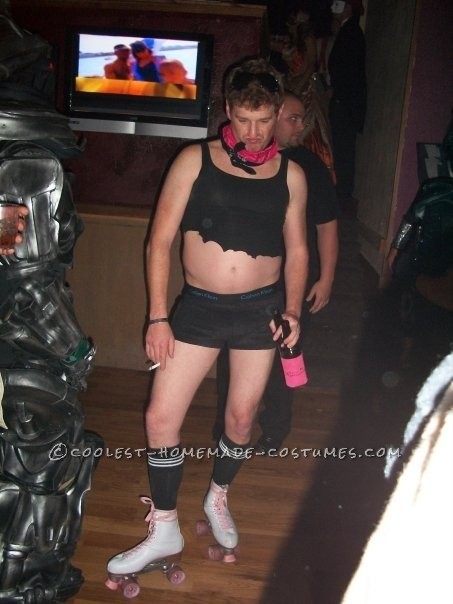 Terry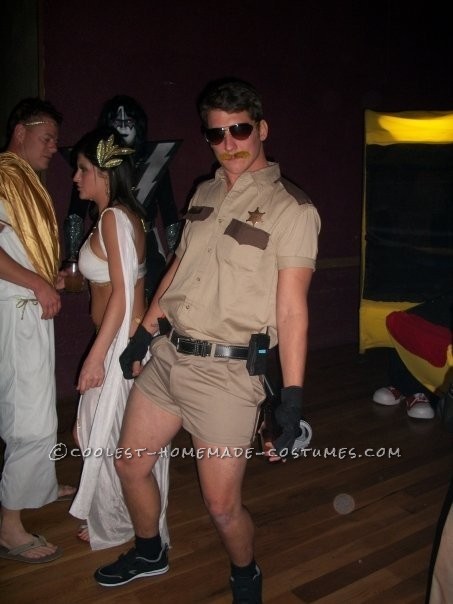 Lieutenant Jim Dangle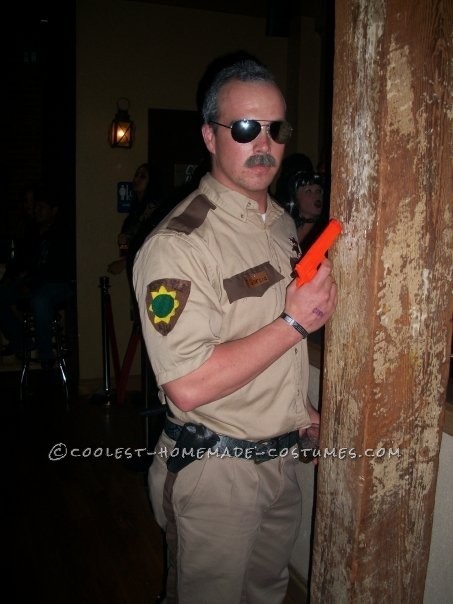 Deputy James Garcia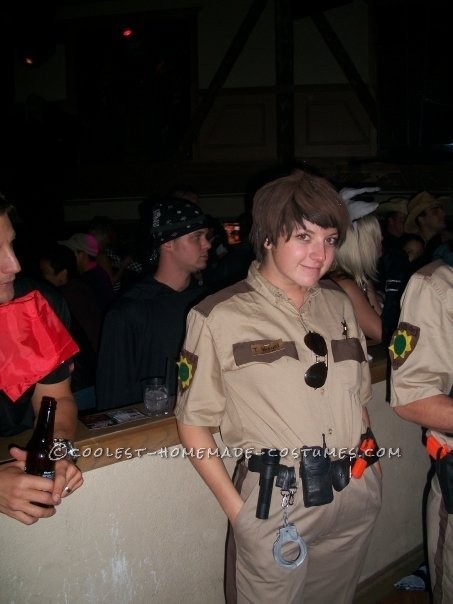 Deputy Trudy Weigel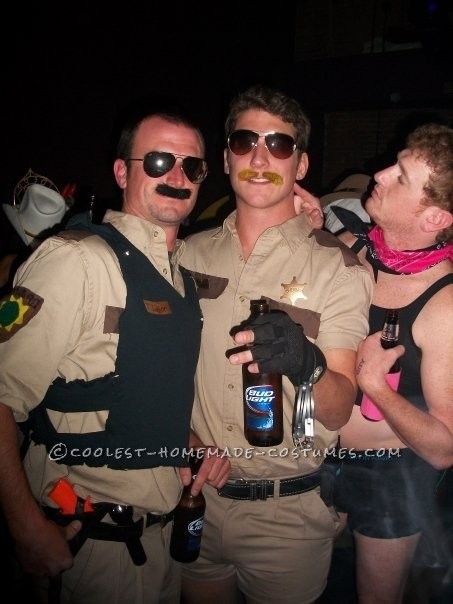 Deputy Travis Junior, Dangle and Terry
Disclaimer
I didn't think to get individual pictures of each character before we went to the bar, so many of the pictures have alcohol or cigarettes in them. I assume you won't want to put pictures with these things on your page, but I added them so that you could see close-ups of each character. The group picture doesn't have any though, so that one should be okay.
Hope you enjoy!