Take a look at the cute Halloween costumes of the Pilsbury Doughboy submitted to our annual Halloween Costume Contest. You'll also find loads of homemade costume ideas and DIY Halloween costume inspiration.
Costume by Tara T., Forrest City, AR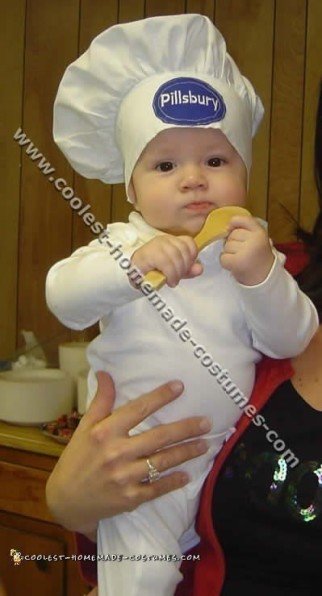 I got an idea for turning our six month old into the Pillsbury Doughboy for Halloween. We already had a long sleeve white onsie and white cotton pants so I bought a small piece of white material to make his neck handkerchief. I went to a restaurant supply store for the chef's hat and had a friend take it up a bit in size to fit my little one's head. Then bought a blue piece of material and had Pillsbury embroidered on it.
My best friend had a small wooden spoon that my son carried around with him. So many people loved his outfit; my best friend borrowed it for her eight month old son to wear to a Halloween Birthday party and got rave reviews! I always come up with some cute Halloween costumes every year. It was a hit!
Total Spent: $18