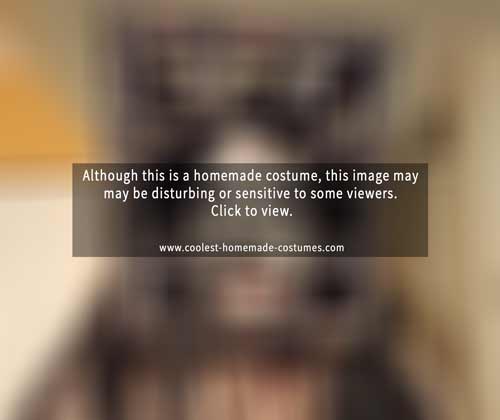 I was a little unsure about how appropriate this Retired Hooters Girl Costume would be for our annual Halloween Party, but I'm glad I went ahead with it because it was the hit of the party.
For the Hooters girl blouse, I did an iron-on Hooters logo onto a black tank top that I purchased at the local Goodwill store. I also purchased the shorts there as well as an old pair of glasses.
For the boobs, I used a pair of knee-high hose. I first inserted 2 natural-colored baby bottle nipples and then stuffed in some fiber-fill to the size I wanted. I then pinned each boob to the straps of my own bra.
For my legs, I wore a pair of flesh-colored hose. I rolled a few pieces of the fiber-fill to resemble veins and stuffed them into the legs. I bought a couple of the make-you-own-buttons at the craft store and created my own "award" buttons.
I used pieces of wet Kleenex tissue to make wrinkles for my face and bought some ugly teeth as well as a long blond wig. I completed the outfit with my own tennis shoes and some ankle socks.
This costume won me FIRST PLACE in the contest!!