This year, the main theme for our class photo was "Imaginary characters of our childhood in literature". So, as I used to be a huge fan of Mr Men & Little Miss, I decided to make a costume of Mr Happy. Not just the character, but the entire book.
So here is my Mr. Happy Book costume.
Creation of a Model in Reduced Size
First of all, I made a model, to imagine how I would wear it.
The problem was to find a solution to enable me to wear it and remove it as easily as possible. So I decided to.. Well, the cover (front cover, back cover, book binding) would be all tied up, and a piece of corrugated cardboard would sustain the pages. And this piece of cardboard would be fixed to the cover just on one side, but the other one would be detachable to permit me to open it, come in it, and close it.
You see what I mean..? Well, a picture will explain this better than I do (I hope so) !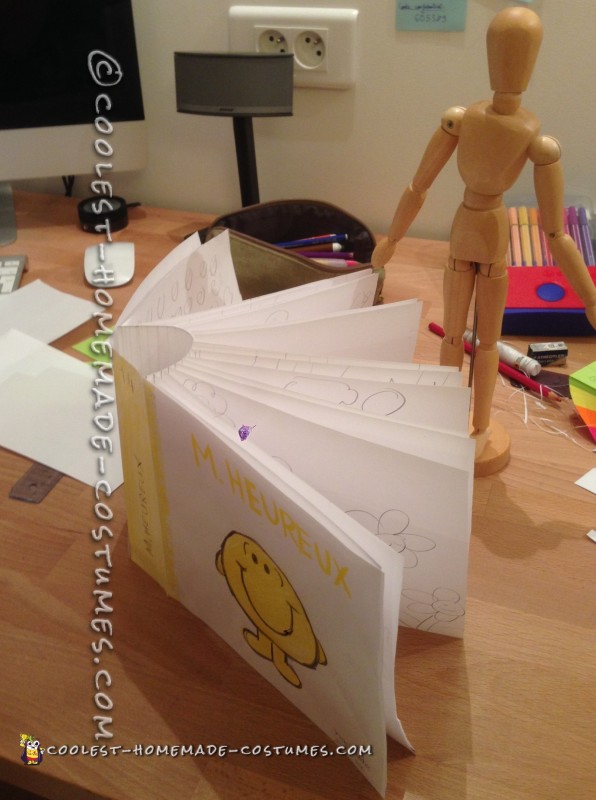 Story and Details
Now, you must know that the original book has about 20 pages. But I couldn't make 20 pages because of the weight of all these pages and the price of a page like that (the costume was rather big). So I had to shorten the story to 10 pages. I had to mix some illustrations together, and to shorten the phrases. So I made my storyboard like the picture below.
And then I thank about some technical details. Lengths, sizes, way to fix the pages, etc.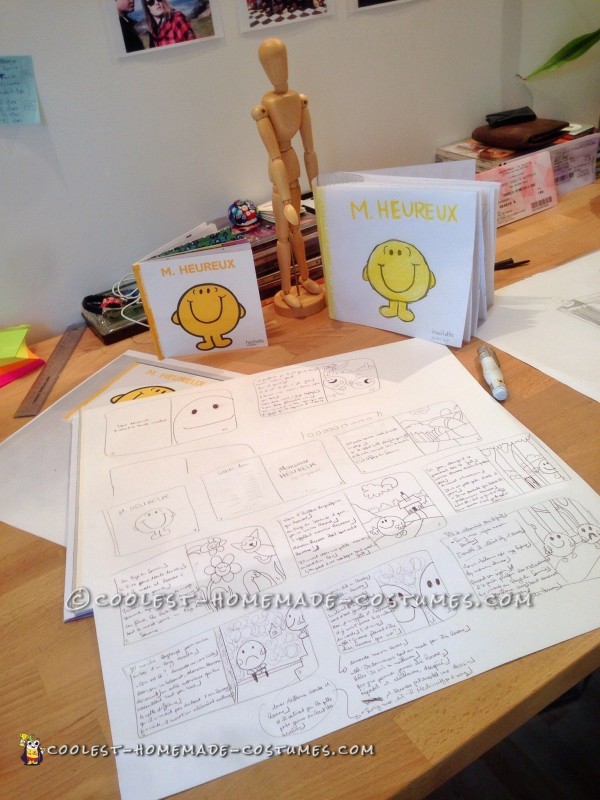 Drawing with Pencil
After that all the details were worked out, I drew the covers and the pages with a pencil. The harder thing to draw was the back cover, with all these characters, you know.
It looked like that.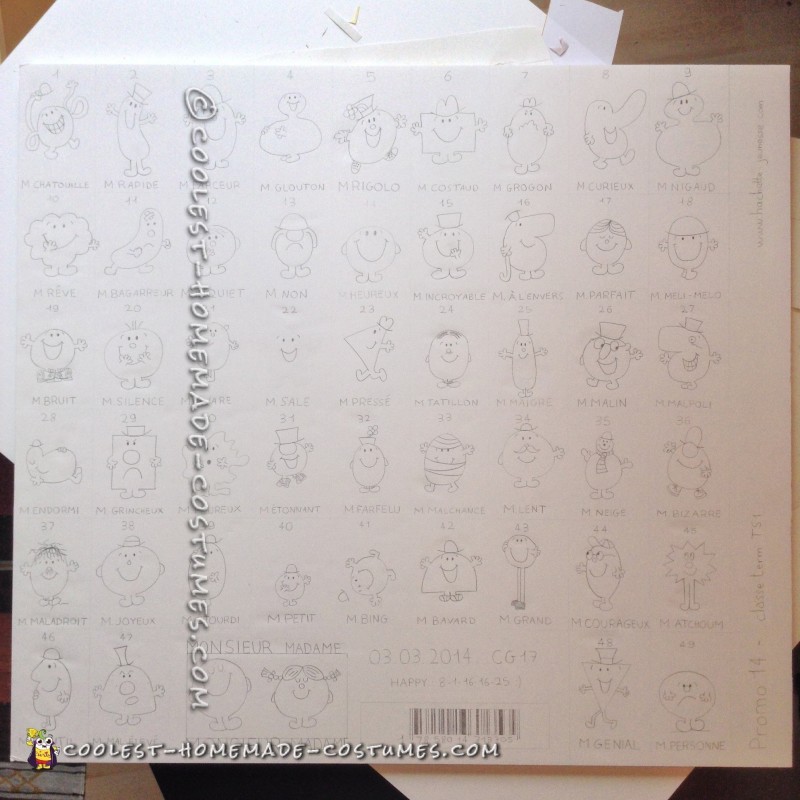 Painting
And after that, I painted all of that ! Here is the result: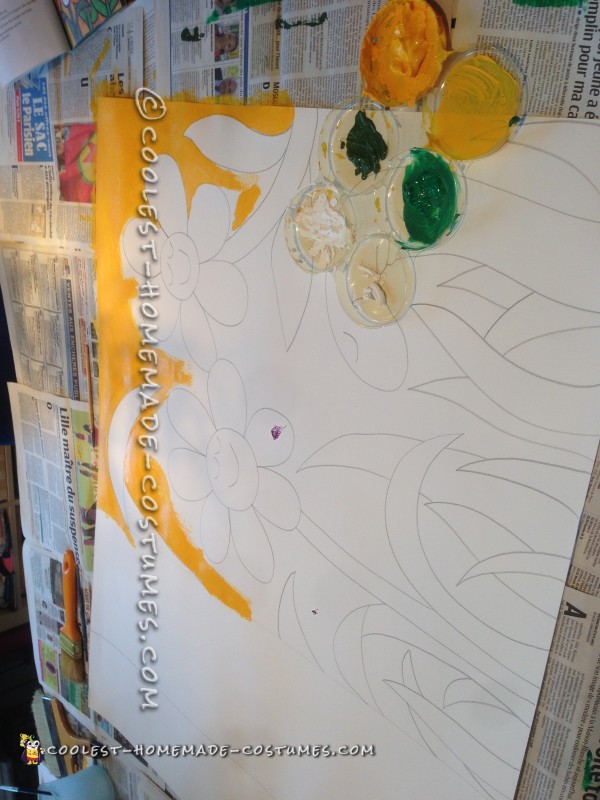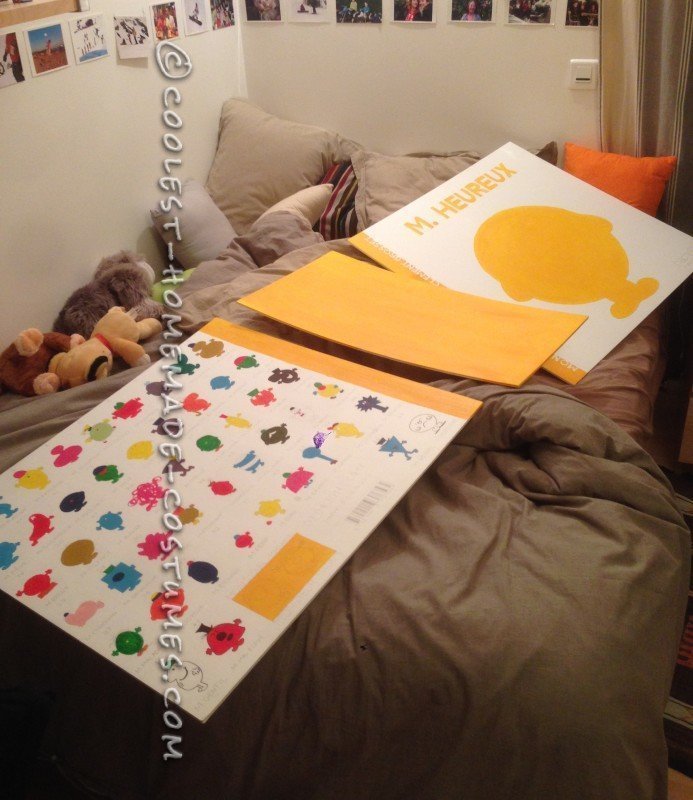 Black Outline and Text
Then, I had only to cover the outlines of the drawings with a black marker, and also to write the story on the white pages.
Assembly of the Costume
Then I assembled all of this, and here it is !