Like all eight year olds these days, my son is obsessed with Lego Ninjago. So of course he had to be Lloyd the Green Ninja this year. At first we considered the idea of just dressing him up in a green ninja costume. But after looking at his toys and watching an episode of the cartoon, I knew we had to go farther and turn him into a Ninjago Lego Minifigure! Having turned him and his brother into Sandman and Dr. Octopus last year, I took on the challenge! Here's the original Ninjago Minifigure: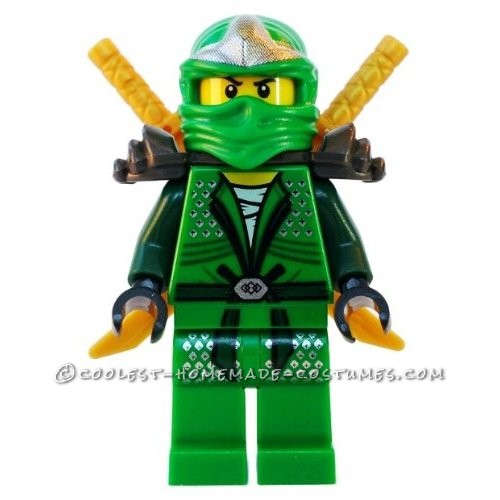 Lego Green Ninja Minifig
This Project Has Legs! And Hands!
I started with the legs, which I built out of foam boards I happened to have in the garage, the packaging material from a flat screen TV we bought some time ago. I simply cut them and taped them into the right shape, making the height just below the knee.I then covered the outside with green poster board pieces affixed along all edges with green duct tape.
The hands were made of four foam beer coozies covered in black duct tape. Two were cut open for the open Lego 'clam hands '.  I cut a hole in the middle of each to fit the other two coozies through which served as his wrists.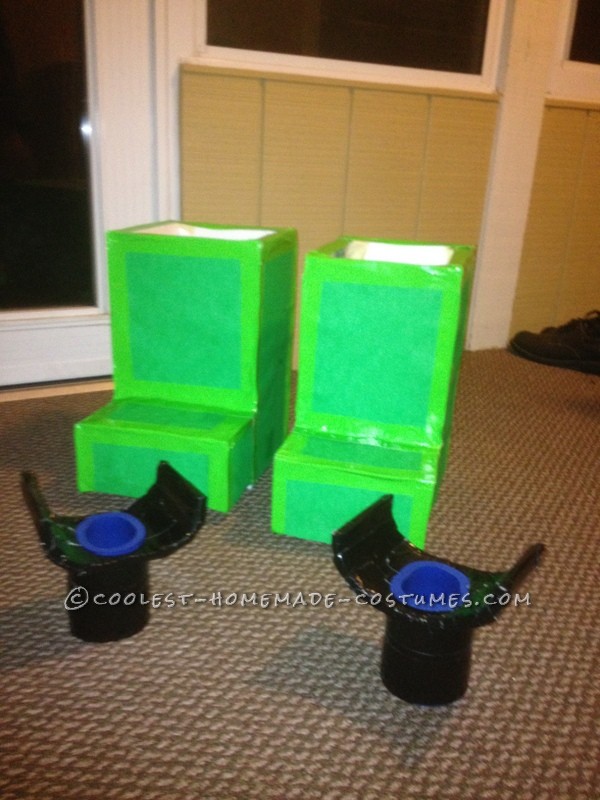 Legs and hands
Getting Ahead!
Next came the helmet. This is made from a small laundry basket and an upside down plastic bowl, both purchased from the dollar store. I got this idea from another contributor. I cut out a piece of the laundry basket where the eyes would go and covered the outside of it with yellow poster board. I covered the bowl with green duct tape and attached it to the basket making the mask. The back of the laundry basket is covered with green poster board to save on duct tape a bit. Silver duct tape was used for the helmet decorations.
Finally, I taped a white towel (rolled up) in a circle on the inside of the helmet along with one of his ball caps. This is for stability.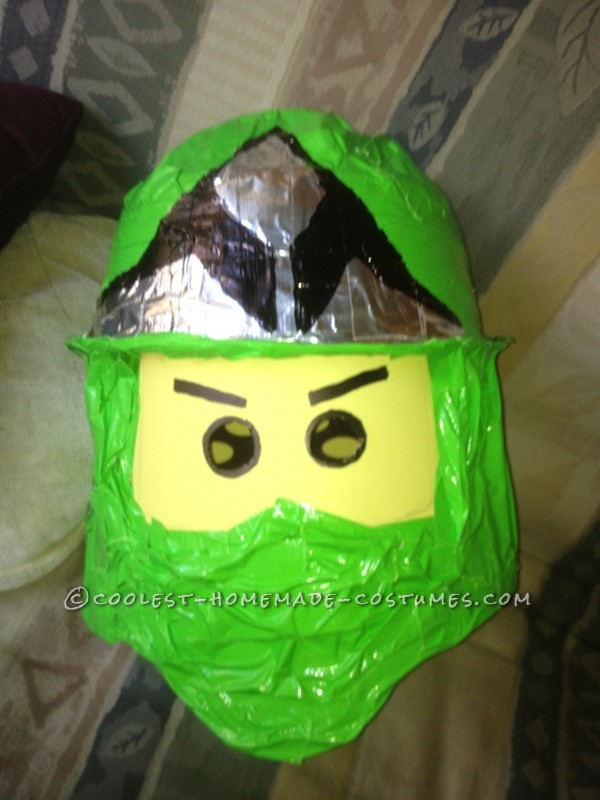 Finished head
Finishing Up!
The chest and back are simply large pieces of cardboard cut covered in green poster board. I attached the two pieces with a strip of duct tape cloth over the shoulder. Just under these straps went the black shoulder armor, which I made out of pieces of the same foam board, wrapped in black duct tape. I used yellow and white poster board and a black marker to decorate the front.
I also got two white plastic swords from the dollar store and spray-painted them golden and hot-glued them to his back.
My biggest difficulty was how to attach these to him so that he could actually walk in them. I settled on taping them to an old pair of pants which I also covered up to the thigh in green duct tape.
The Green Ninja was ready to rise!!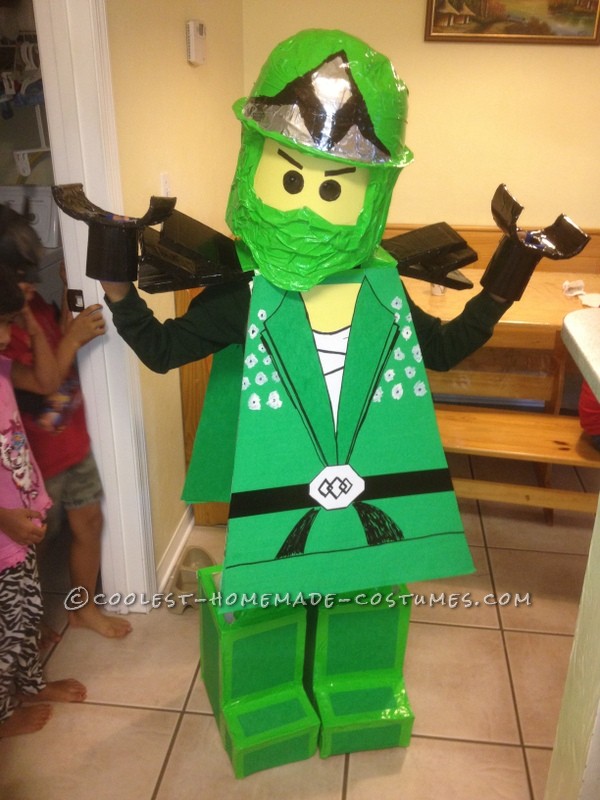 The Green Ninja Rises!
Showing Off!
This costume was such a hit with everyone who saw it! Best overall costume at our local cub scout costume carnival! At a larger event, parents kept stopping my son to ask if their children could get their picture taken with him. He was like a character in the Disney parade. And of course he beamed with delight the entire time.
Though it looks great, this costume was surprisingly easy to make. I think it took me a total of 8-10 hours and cost less than $35 (mostly in duct tape!). My biggest success yet!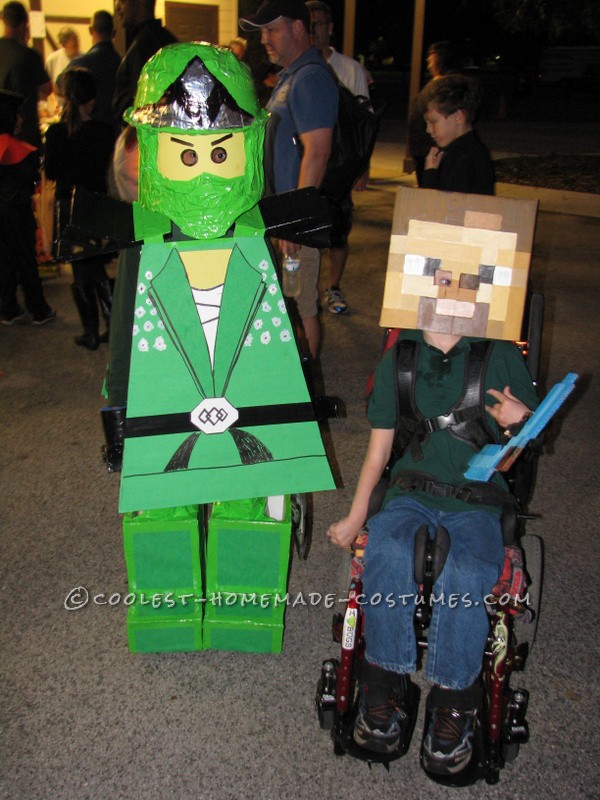 Posing with a friend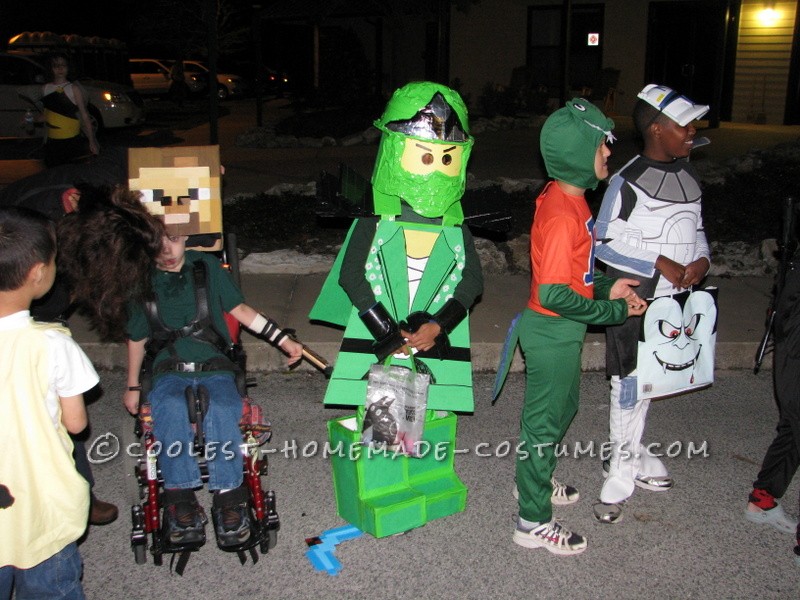 The costume contest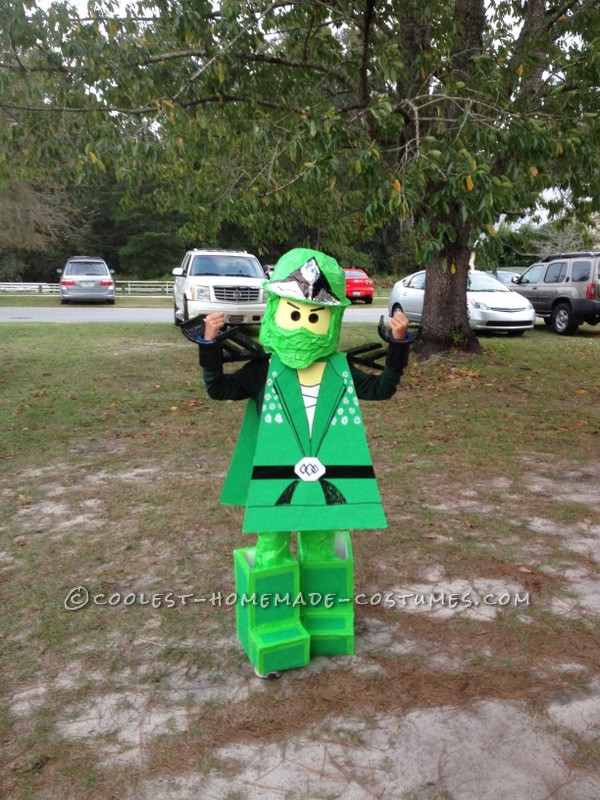 The green ninja!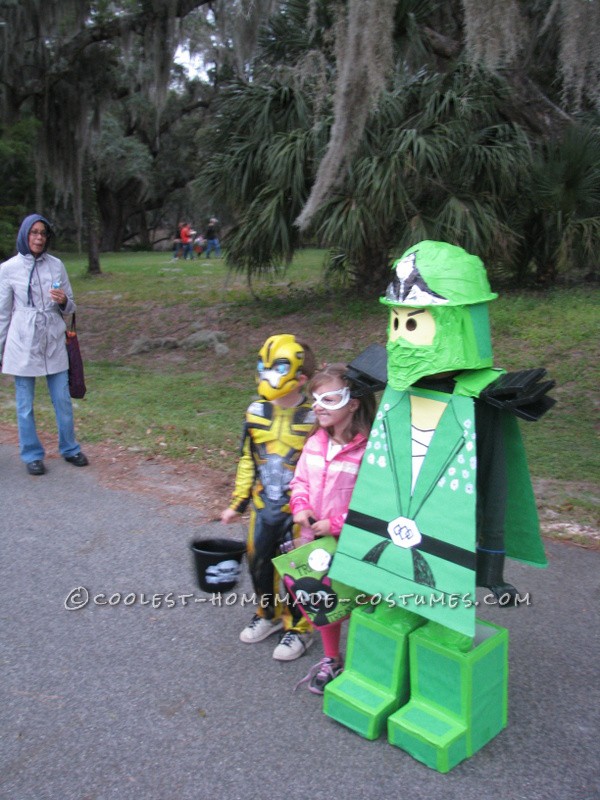 Posing for a photo op!