For this years Halloween our group of friends came up with a homemade Circus group costume. We are not just a circus but an unfortunate one at that. We started to plan as soon as our last years costumes have been worn. Amy is our Knife throwers assistant who got impaled. Lynn is our Half man Half woman who is sewn together. Jeff is our Ringmaster who is a dead voodoo man. Myself – Michelle is the snake charmer who has had her life taken by her snakes attacking her. Our overall look was inspired by the vintage 1930's circus similar to that of the movie "Freaks" directed by Tod Browning.
Making the Circus Group Costume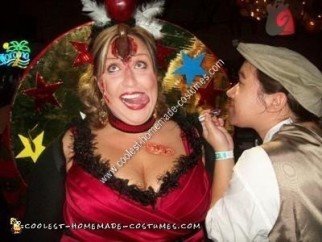 Starting with Amy, her main attire is a bridesmaid dress that she had worn only one month before Halloween. She had altered it from floor length to knee length and added trim and sparkle. Her fingerless gloves are mens dress socks with trim added. Her spinning wheel cardboard worn like a backpack. Apple from Hobby lobby attached to headband and feathers added. Lastly store bought knife in head and stab wounds to complete the look.
Half and Half Costume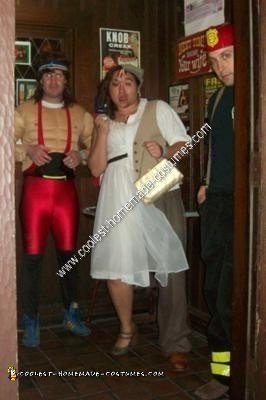 Lynn our Half and Half is all thrift store items bought, cut and sewn together. She purchased a sexy little nightgown then embellished with a bit of brown trim. A mans shirt, pants, and vest all cut and sewn to dress. One pair of men's shoes and one pair of woman's then only one from each pair was worn. She purchased a hat and cut that in half. Hair was all swept to one side and curled. Makeup girly on one side and thicker brow and 5 o'clock shadow added to man side. To finish off her look some store bought stitches were added.
Jeff the Ringmaster Costume
Jeff the Ringmaster was yet another creation of reconstructing thrift store finds. His pants black dress pants. A white woman's shirt with ruffles and gold buttons. A long red woman's coat, that was cut short in the front and shaped in back to look like a jacket with tails. Thrift store bought cummerbund and then a Halloween theme lace was applied over it to match his top hat. His hat was fashioned after a Mad Hatter's Hat construction instructions found online, using poster board, cardboard, fabric and a lot of hot glue. Add cool makeup and store bought skull necklace and his look is complete and fist right into the Circus group costume.
Snake Charmer Costume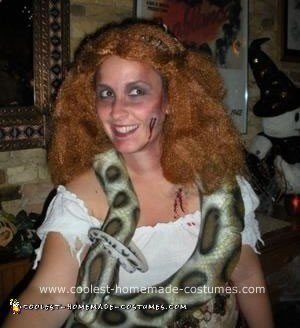 Lastly my own, the snake charmer. I have used a formal dress and skirt that I will never fit into again. I cut off the upper section of the dress to make just a skirt, sewing at this point did not matter as it will be covered. The two skirts were layered and a safety pin gathers one section to add dimension. I then found a short Jacket, then cut off the shoulders and arm, leaving just the waist. Next was to cut open the back on this section and add in some brown fabric to make it be able to fit me (was too small).
After that the waist cincher had some grommets added to be able to lace up the front. Then lastly for the cincher I stained it with coffee grounds to fade and make look more worn. For the White shirt portion, I found a pirate dress at the thrift store and layered over it. I bought some and borrowed most of the belts from Amy. Borrowed the bangles from Lynn. Threw on some big hair wig, a few small snakes tucked into it.
For the snake bites I made my own versus buying them from the Halloween stores. I took tissue and rolled long skinny sections. Applied a bit of rubber cement or fake skin on to my skin, allow to dry a bit to get tacky. Then make the tissue loops and stick into the adhesive. Then coat again with more adhesive to seal it onto the skin. Lastly makeup, I used blue, purple, gold and greens to make the appearance of bruising. Added some snakes then done!
Good luck with your homemade Circus group costume!