Every little girl's dream is to be a princess, on Halloween night, Princess Tiana came to life. Prince Naveen was homemade too but these were the steps taken to make princess Tiana .
Supplies:
All Fabrics were purchased from Fabricwholesaledirect.com netting and tulle purchased from local JoAnns fabric store.
6 yards light yellow crepe back satin
2 yards light yellow china silk lining
4 yards lime green crepe back satin
3 yards lime green china silk lining
1/2 yard olive green crepe back satin
Hot glue gun, glue sticks,
1 yard 16 gauge galvanized wire
2 large Safety pins
10 inch x 3 inch green marine vinyl
500 yards of yellow and green thread
Large hook and eye
9" zipper
1 yard 3/8" lime green grosgrain ribbon
piece of 3"x3" cardboard
Low loft batting 10"x36"
8 yards 54" petticoat netting
4 yards crinoline
10 yards 1/4" boning for corset
3 yards of medium weight fusible interfacing
Simplicity 8629 – to help guide the construction of skirt and corset
Pair of shoes
Green glitter-purchased from hobby lobby
Mod podge
Step 1: Corset
Cut out all pieces for the corset and pin and cut the appropriate pieces to the crepe back yellow satin, yellow lining and interfacing. Pay attention to the seams. Attach all pieces as instructed. This corset is asymmetric , which worked great for this 2 piece dress. You will have to press open the seams, but don't have to worry about the amount of seam allowance, instead of making a casing for the boning, i purchased the boning that was already encased in fabric, so i was able to sew the boning directly on the corset on the wrong side up.when top stitching you want to make sure that there is room to insert the boning on either side of the seam. To close the corset, i put holes in both middle back pieces using a seam ripper. I made the holes about 1/4" long then heat sealed with lighter to keep the fabric from unraveling. To close corset, i laced it up with the green grosgrain ribbon.
Step 2: Skirt and Petticoat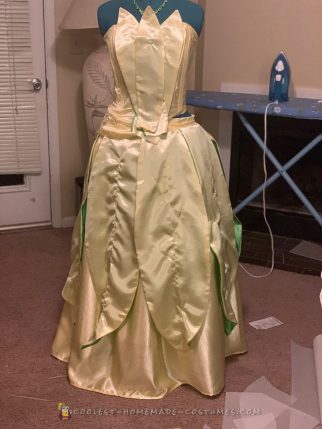 This skirt is 3 layers. Using the pattern as a guide, cut 104"x 50" rectangle from yellow crepe back satin sew large stitches in long side of fabric (104") from end to end following instructions to fabric. Repeat for the yellow lining with measurements 50"x72" gathering long end. Fold the 8 yards of netting in half, fold the crinoline in half, then cut on fold and cut in middle, should have 4 pieces that are approx 18"x144". Attach crinoline to bottom of each layer of netting, then gather netting on long end until it is same size as waist. Attach netting to top of lining then attach crepe back satin to top of netting. You now have a skirt with a built in petticoat that is a great base for a ball gown.
Step 3: Let's Create the Yellow Leaves for the Dress
The yellow leaves for the skirt are 8" shorter than the full length of the skirt. I made them 10" wide at the largest point. Free hand drawn oval with a point on top and bottom. 7 leaves were cut from yellow crepe back satin and lime green lining and medium weight interfacing, then sewn together right sides together, interfacing in center, then turned right side out. Then topped stitched in center leaving 4" unstitched top and bottom of leaf. The 3 leaves for the top required 3 leaves that were ovals that were 3" wide at the largest point, pointed part extends 3" above corset and flat on the bottom.
Step 4: Leaves for Crown, Shoes and Waist Flowers
Each leaf uses same color top and bottom, interfacing and batting. Free hand leaf pattern for flower, cut 10 crepe back satin yellow for waist flower mine was 5" long, 5 for interfacing Each pattern pointed on top, flat on bottom. Stitch right sides together flip right side out, top stitch. Cut 14 olive green crepe back satin and 7 interfacing and batting, sew right sides together flip right side out the top stitch. Repeat 3" leaves for each shoe both olive green and yellow crepe. For crown make 2-1.5" 2-2" and 1-2.5" yellow crepe back satin. For flower center cut 2 -2" yellow circle from cardboard and batting. Glue batting to cardboard then glue the yellow circle tightly around bathing and cardboard. Repeat with a 5" circle for each shoe. Carefully glue the flowers in a circle around the circle. To creat the flower steam cut a rectangle 3" x 30", interfacing and 1"x30" batting. Fold rectangle in half long ways wit wrong side out, flip right side out. Feed batting and wire through stem, then sew one end close. Connect stem to flower shaped leaves and shape stem and needed.
Step 5: Let's Create the Green Leaves for the Dress
There are 3 large green leaves for the skirt, and 4 green leaves for the top. The skirt green leaves are 24"x36" and pointed top and bottom. They are cut from green crepe back satin, top and bottom with medium weight interfacing. Top stitched in center of leaf leaving 4" unstitched top and bottom. The upper leaves for the corset are a free hand half leaf attached to a rectangle that covers the back of the corset. This is done for both sides of the corset. The bottom leaves are 6" wide pointed on top and flat on the bottom.
Step 6: Crown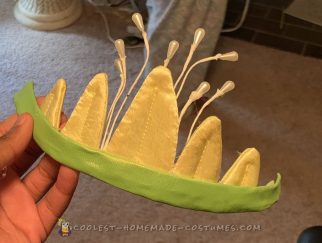 Fold over the top of vinyl 1/3 of width then attach each leaf by height with center being the tallest going to shortest on bot sides of the center. Take green vinyl square and place piece of wire 1" shorter than rectangle , glue 1/3 the distance from the bottom. Fold the vinyl so that the wire is fully encased in the vinyl. Then shape to head.
Step 7: Fancy Shoes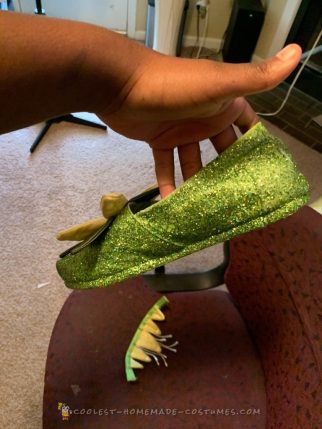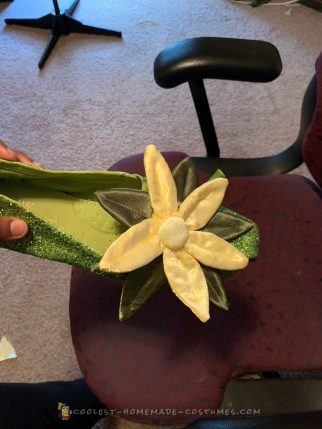 Shoes were an old pair of lime green toms that were coated with mod podge then sprinkled with green glitter. Each shoe was given 2 coats. Hot glue constructed leaf flowers to each shoe.
Step 8: Let's Put It All Together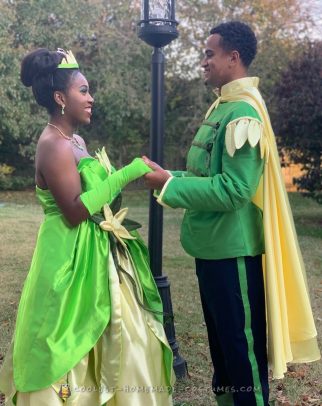 I placed the dress pieces on the dress mannequin, draped the large green leaves over the skirt, gathered and hand tacked. Draped the green leaves over the corset making sure that the bottom of the leaves were not longer than the corset and tacked the green leaves to the bodice. Pinned the leaf flower to the front of the dress, shaped the crown, trimmed and fluffed the petticoat making sure it was 1 inch shorter than the lining.