From the very start, I have always encouraged my daughter to be an individual..to think outside of the box and to go over and above what is required. Of course, I thought that this would help make me a good parent, but in reality, it has given me one imaginative, creative young lady but also a very demanding one.
Her criteria for a Halloween costume has always been that it has to be fairly original…not seen before in our area anyway and under no circumstances can you have something similar to another kid. She also wanted something that would get her noticed as both her school's Halloween costume party and while out Trick or Treating.
We decided to go with a 'headless' butcher with my daughter's head on a platter of salad. This worked out quite well as we were able to take some photos outside the local butcher's shop on my daughter's walk to school.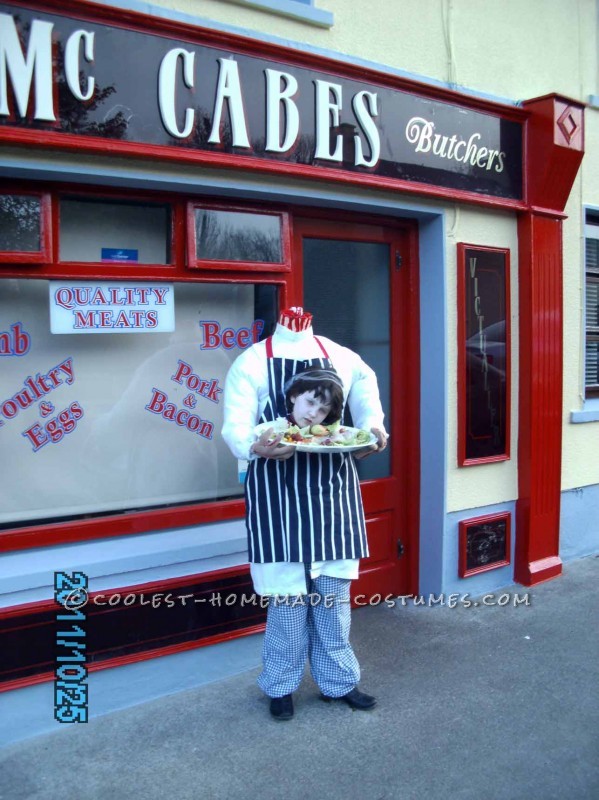 Building the Torso
Firstly, I prefer not to follow set instructions and instead to make our 'method' up as we go along. I love to recycle old bits and pieces where possible and only spend money where absolutely necessary.
For the torso of the butcher, I started with an old backpack, cutting away the actual bag part to leave just the back of the bag with the attached straps. The torso was then built onto the remainder of the backpack using bamboo canes, a strong coat hanger, old pillows as stuff and LOADS of duct tape.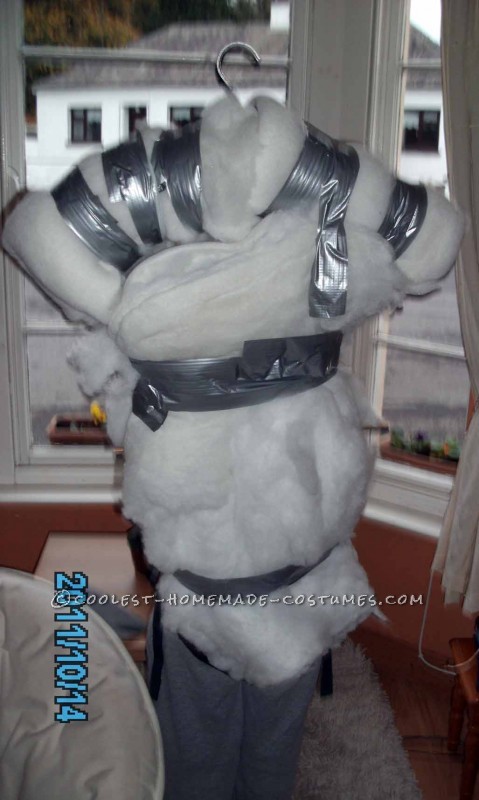 Can't Have a Naked Butcher!
Once the 'torso' was more or less constructed, the next question was "what should he wear". Again, I was reluctant to spend money on clothing that I was going to be covering in fake blood, etc. so instead, we gathered up stuff from family members. We used an old shirt (thanks Gaga!!), an old white lab coat (thanks Auntie Odee for being a scientist!!), a pair of old navy/white checked pajama bottoms (for my daughter to wear on the bottom), a old pair of black shoes and our only 'clothing' purchase…a navy/white striped apron.
Hands??
Once the lab coat was placed on the torso, the next obvious step was to create some sort of hands for the butcher. We were short on time and so wanted a quite 'handy' way of creating hands, so we used a pair of beige fleecey gloves. These were stuffed with more old pillow filling and some florist wire was added in order to allow us to bend the fingers of the gloves so that the could grasp the tray/platter. We also put some wire down the inside of the arms of the shirt & lab coat to achieve a bending effect at the elbows.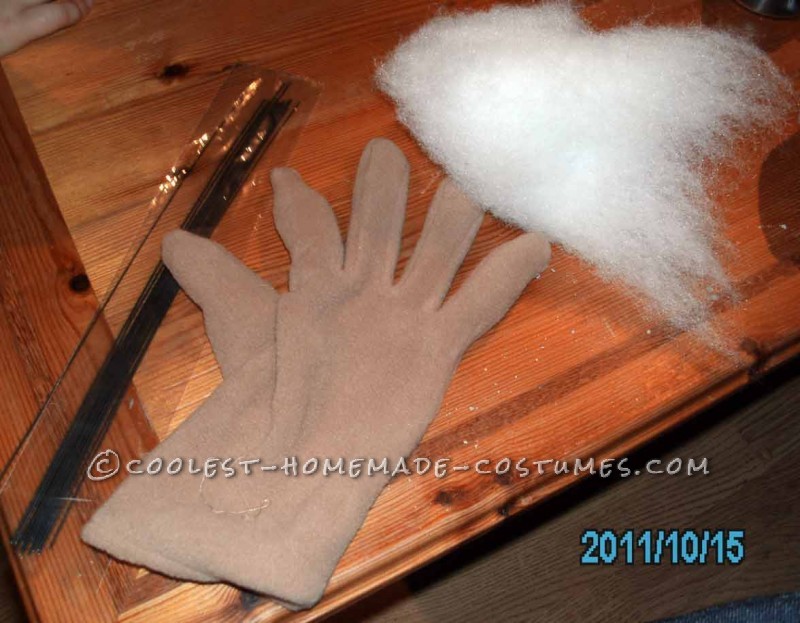 Serving up the Head!
We used a plastic oval platter that we picked up in a local discount shop hoping that it would be easy to cut and look more effective that getting a tin foil tray. I cut a piece out of it with an old hacksaw to allow for my daughter's neck and to make allow her head to appear further in on the tray. The cut was quite rough so I placed a little bit of padding (which I found embedded in the base of the bag part of the backpack that I cut off…Yay..another opportunity to recycle.
As I need the platter contents (salad veg mainly) to look as fresh as possible, I cut them up freshly and laid them out once my daughter was wearing the costume…so I had to do this twice, once for school party and then again on Halloween night)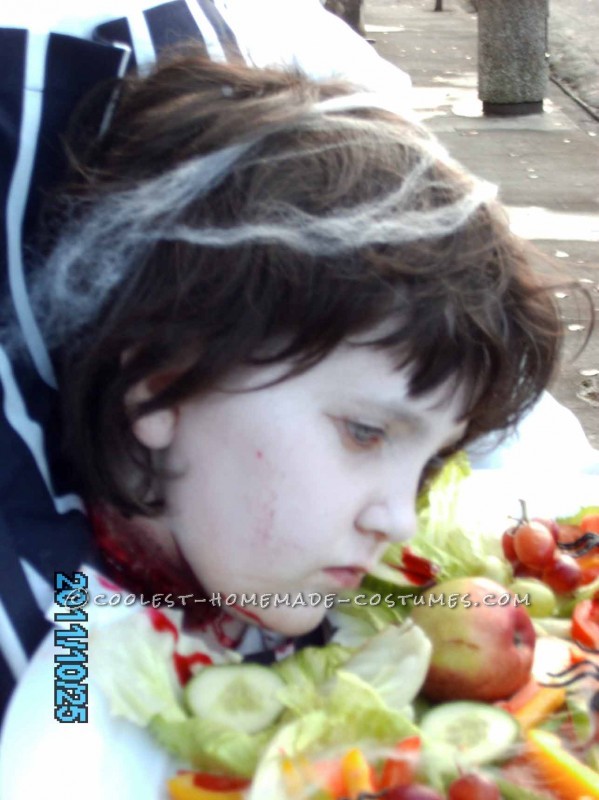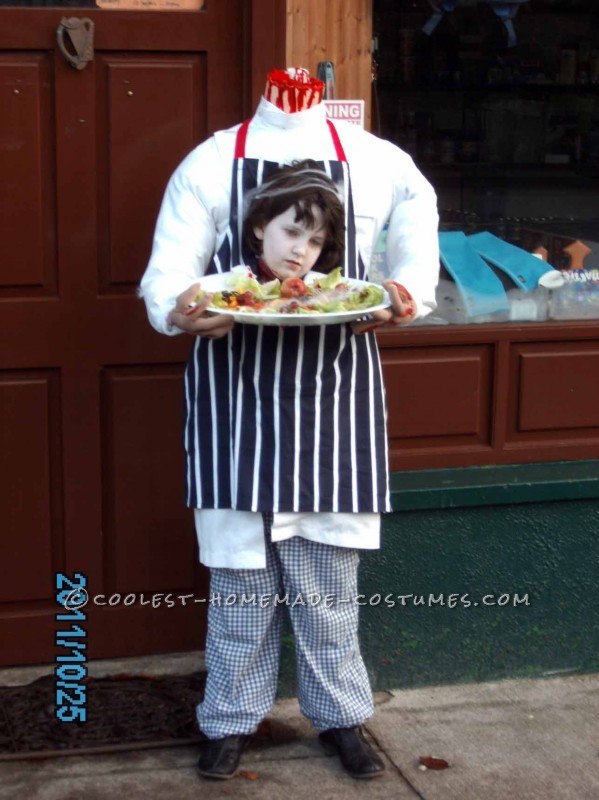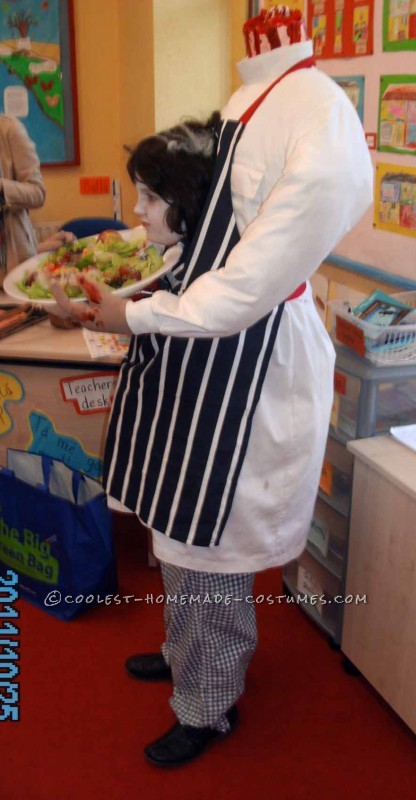 Neck Wound
I had never really attempted to create a wound before but I bought a Snazaroo Special FX kit with some molding wax, fake bloods, etc and tried to create a long gash or wound along her neck. The first attempt was funny as my mum couldn't even bear to look at her grand-daughter once the wound was finished.
I made a few attempts at the wound and admittedly it could still have been improved upon at the end…oh well, at least the kids and my daughter were happy with it.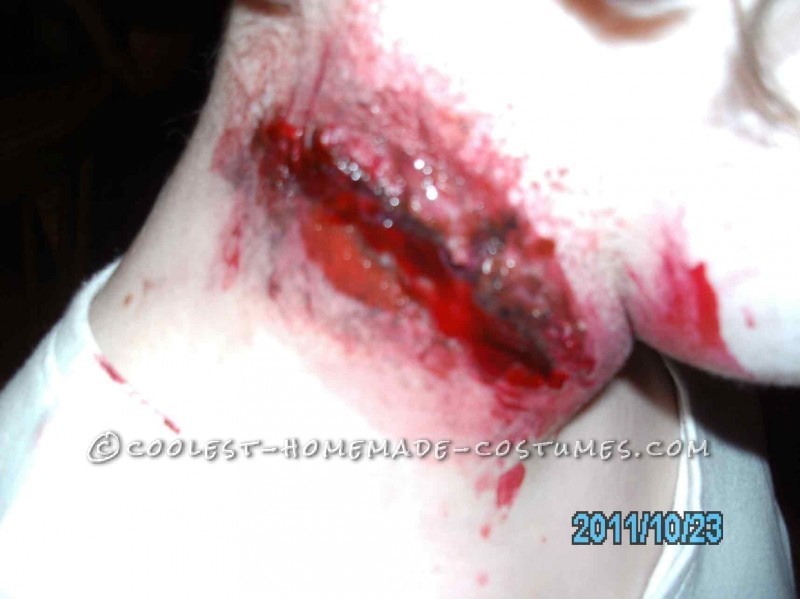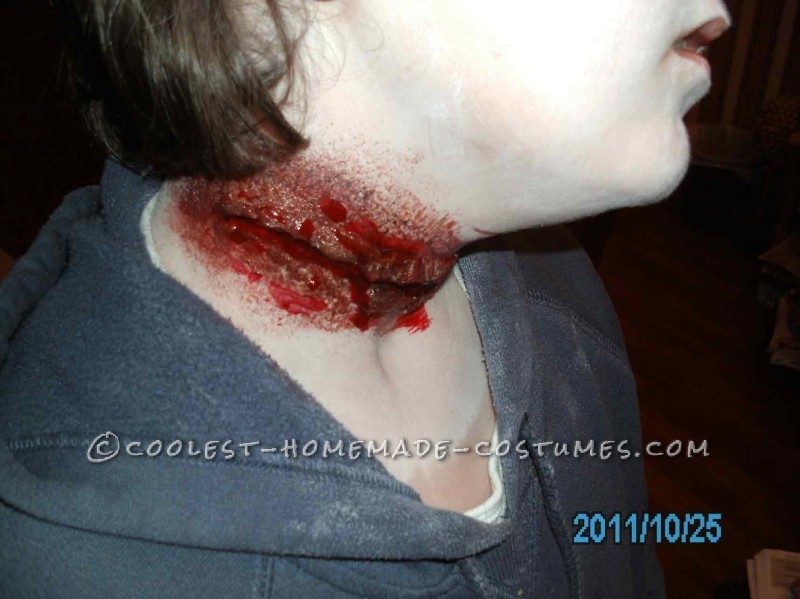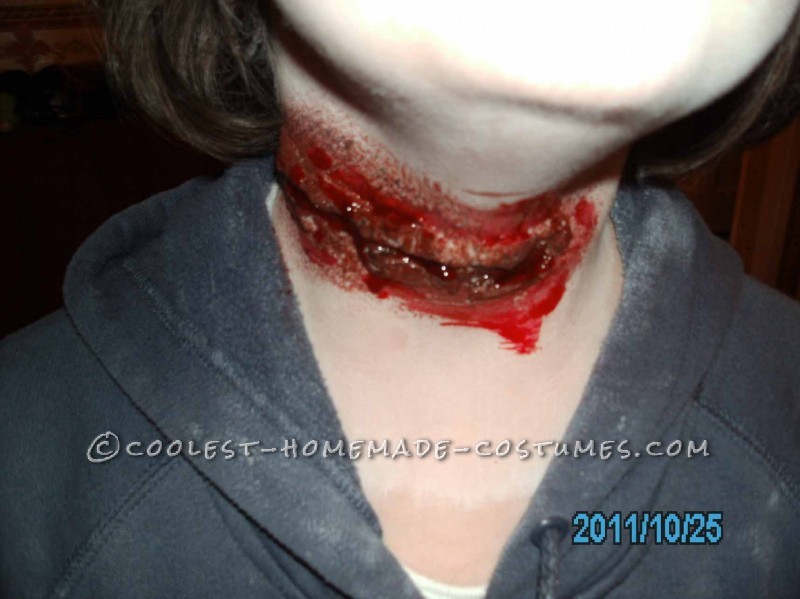 A Last Minute Neck!
The neck was such a last minute job…possibly as I wasn't quite sure how I was going to go about it, so of course I left it until the last minute. In the end, I made it with a piece of grey card, with a very thin layer of DAS modelling clay attached, painted it with acrylic paint. I then attached a lump of DAS to the top of the coat hanger used when building the torso (it saved having to chop it off) to look like a piece of bone and chopped up a car sponge that my daughter had painted red to look like blood bits around the bone.
Finished Costume
We were so thrilled with the end result once all the different parts of the costume came together. A slow walk to school allowed us to take photos along the way and my daughter was delighted with the reaction that she got from her teacher and the other kids at school. Some of the smaller kids were a little frightened I think, but once they realized that it was my daughter, they were fine.
While out Trick or Treating, my daughter was like a celebrity with loads of parents taking photographs of her when she called to their doors. We did have a little accident when my daughter stubbed her toe on the footpath and sent a whole platter of salad veg. flying all over the pavement but I managed to pick most of it up and rearrange it for her.