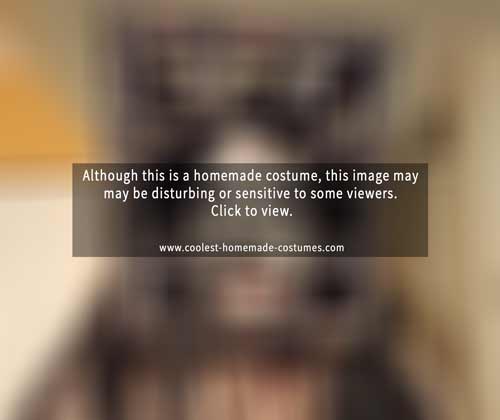 I got the idea for these Homemade Decapitated Bride and Butcher Costumes from your site (thank you!) but wanted to make the "execution" a bit easier than molding my bust, etc. I found the dress at a local thrift store for about $12.00 so the costume ended up being very economical to make.
For the body I went to my dry cleaner and asked for a form hanger, which is basically a piece of cardboard formed to look like a chest. I took the metal hanger out of the form and covered it with a long-sleeved white tee shirt. I then placed the handle of a rolling backpack inside the form and stuffed the form and the arms of the tee shirt with poly-fill. I tied the bottom of the tee shirt to keep in the poly-fill and voila I had a very light and easy to make torso.
I cut a hole in the dress for my head and then put the dress on the torso. I cut up the veil that came with the dress and used the headpiece as a "choker" to hide where the neck would have been. I used one of those sleeves that you can buy to make it look like you have a gaping wound on your arm for the neck. I simply left the sleeve on the cardboard bent it around to make a circle and then moved the wound part up to the top rim to make it look like cut flesh and stapled it to the cardboard form under the choker.
Since the dress had a low neckline and the cardboard looked nothing like flesh, I took some of the netting from the veil and created a new neckline that went all the up to the choker. The rest of the netting from the veil was pinned under the skirt of the dress to make it long enough to cover my legs.
I strategically applied a tube and a ½ of fake blood to the dress and let it dry overnight. I used one of those fake hands that you can place under a door or out of a trunk for the hand and pinned it up to make it look like it was holding my head. I don't know how much the hand cost because we've used it for years as a Halloween decoration on our porch.
The costume was a hit at the party we went to and it was fun and easy to make! Though the form I made was pretty light and the end product didn't weigh too much, my neck and back did hurt by the end of the night because of the unnatural way I had to hold my neck. Other than that it was a great costume.
Supplies and Cost:
Wedding dress and veil – $12.00
Tee shirt – $6.00
Form hanger – $1.00
Rolling backpack – $4.00 (found at thrift store)
Poly-fill -$3.00
Wound sleeve – $3.00
Fake blood – $2.00
Make-up – $5.00
Total – $36.00