The Bumble and Yukon need to get out of the North Pole for some fun.  The following steps are how they were created.
The idea.
I love costumes that no one can tell who I am.  I halloween more that one night.  My husband always wants a costume that he can easily consume beverages in and be comfortable wearing.  I have always loved the Rudolph story since I was a kid.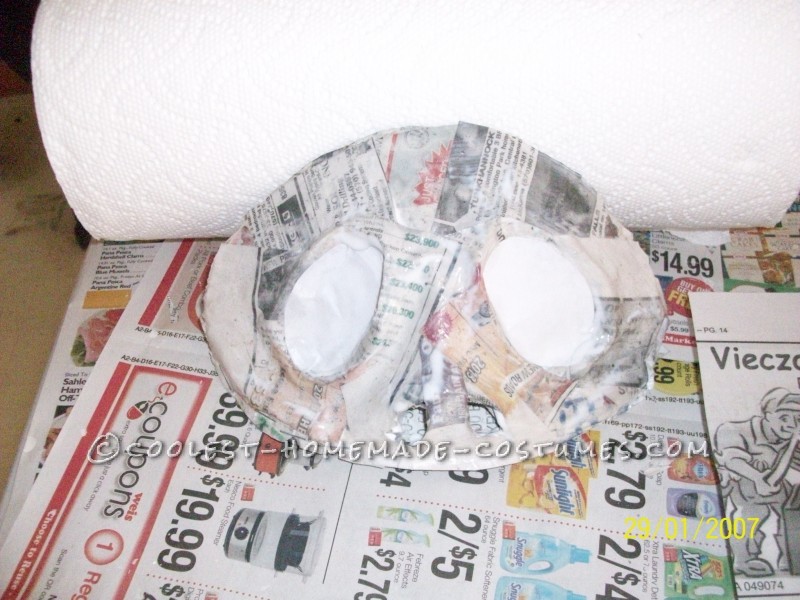 facepiece
Getting started
I think about what it would take to make the costumes for awhile before I start.  Two months before Halloween I ordered 6 yards of white fake animal fur.  I started looking in thrift stores for other items.  I used a disposable painters jumpsuit as a pattern to make the bumble body.  I used half inch foam to create a bulky vest underneath the costume to make me rounder, and to form man boobs.
Creating the Bumble
I cut apart the jumpsuit and used it to cut out the fur parts.  I then sewed it together.  I made an area in the chest to insert foam for man boobs.  The hands are rubber gloves.  The feet are bedroom slippers covered in fake fur.  The head piece was more difficult.  A month before Halloween, I started to make his face. The  eyes and nose are out of paper mache.  I use flour and water as the paste and coat newspaper strips.  After many layers, I painted the piece with a facial expression for the cartoon.  I made a hood to go over a hard hat.  The mouth is made from window screen and painted felt.  This is how I would see.  I cut a small hole behind one tooth for a straw to fit through.
Making Yukon Cornelius
Yukon took less time.  The shirt and sweat pants came from the thrift shop.  I also bought a red T-shirt from the thrift shop to use a a base for his beard and mustache.  I made his mustache by twisting yarn and forming it.  I then used mod podge to stiffen it.  A pipe cleaner in the back supports it so it will stay straight.  I cut the red T-shift and made darts to fit my husbands face.  Then I threaded yarn through the face piece to create the beard.  The piece attached to the knit hat.  I used foam circles covered in yellow felt as his ear muffs.  His miner tools are made from papermache also.
Time to trick or treat.
This was the best Halloween yet.  Everyone loved the costumes.  They wanted to feel the Bumble and touch Yukons beard and mustache.  We stayed in character when we talked to people (or growled at them).  Every place we went people wanted to have their picture taken with us.  When my husband had to work, my sister wore his costume.   We used these cotumes to go out four different nights.  My sister and I also plan to use the costumes for some local events during the Christmas season.  I can't wait.
Cant upload photos
I can not get my photos to upload.  When I click on select files, random pictures show up. I will e-mail the photos seperately.This face piece is the only picture that comes up.