My one year old son just loves when we read books to him. My husband and I saw "Where the Wild Things Are" and I bought it knowing it was one of my favorite books when I was a kid. Half way through the book Max cries out, "Let the wild rumpus start!" Then the next three pages shows them partying. Well, we got up and jumped around and danced, while yelling "RUMPUS, RUMPUS, RUMPUS"! My little boy just laughed uncontrollably, he loved it so much! That's when I thought how great would it be if we could reenact this together, and so it began, the Morgan became the WILD THINGS!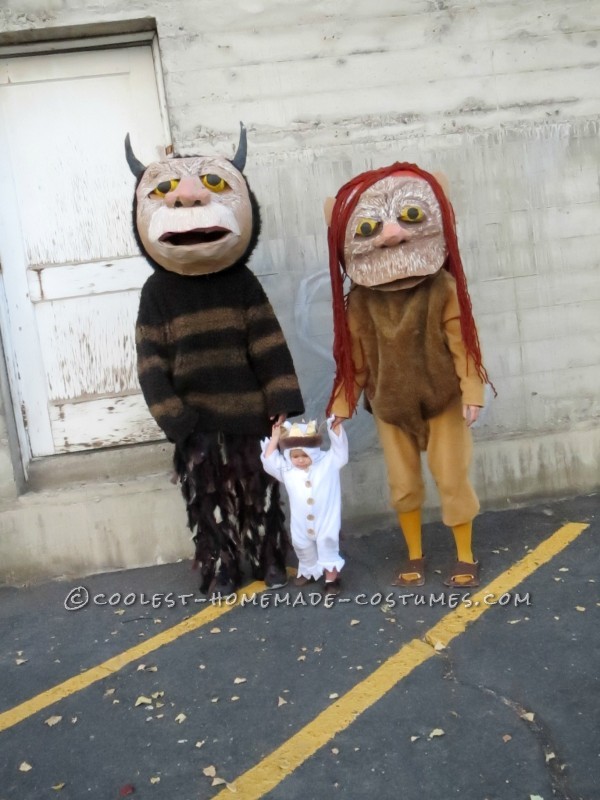 The King of All Wild Things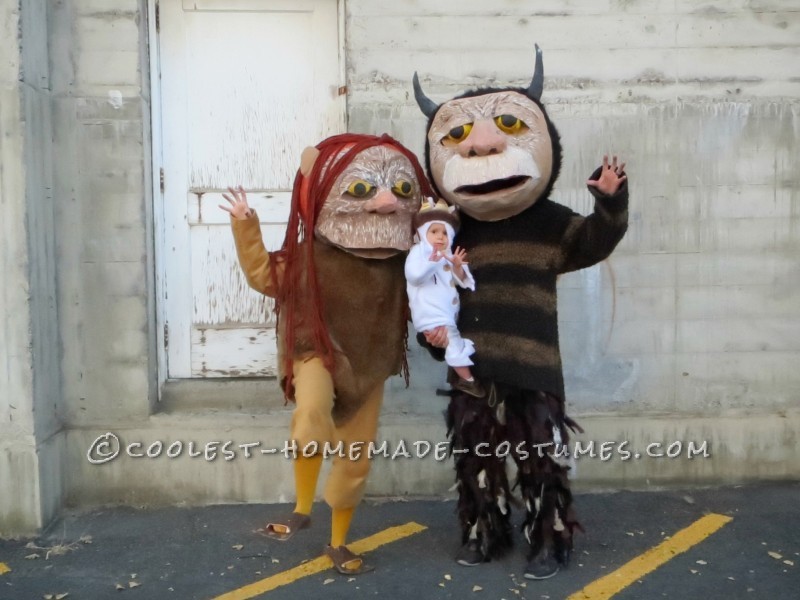 We'll Eat You Up!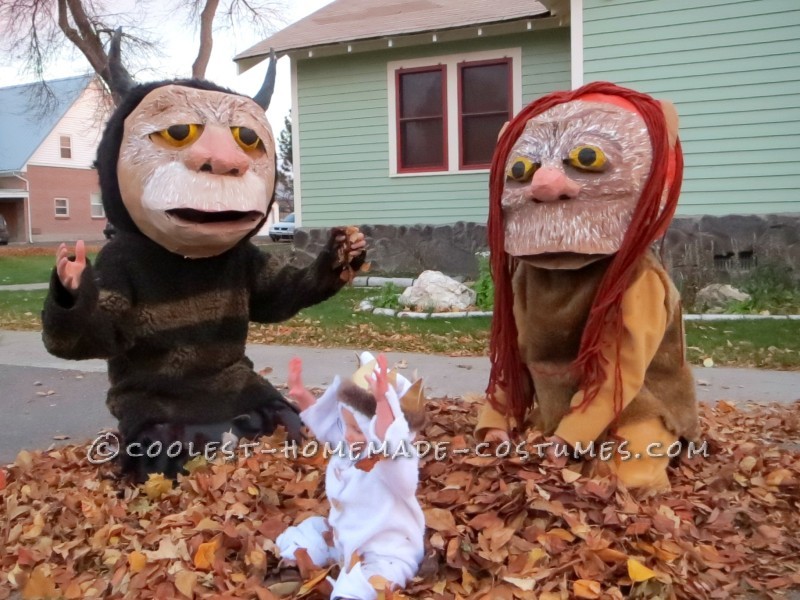 Let the Wild Rumpus Start!
The Wild Heads & Max's Boat
Let me start off with, we bought my sons costume, thinking that realistically that having a Max would be the end of it, that it would be impossible to create the trio. Making the costume took all month! I just started to paper mached a yoga exercise ball during my sons nap time, and then let it dry all day and night. I did 3 to 4 layers per head. We then cut out bowl size eyes and flipped them over for the eye socket. We then used styrofoam for the eye balls. Adding dimension was key for these costumes. We then used rolled up paper to create the nose, cheekbone, horns, ears, and eyebrows. We used poster board for the mouths, and cut an opening to see out of. We taped down all of this and re-paper mached it. We spray glued fur to Carols head, and hot glued red yarn to KWs head.Then my husband painted two works of art! I was shocked, with all of his detail!
Max's boat was very easy. I just bought a yard of fabric, a thick dowel and a thin dbendy dowel, and a rectangular thick wood base. I folded the fabric into a triangle. I made a cross with the dowels the thicker one running vertical and the flimsy one horizontal. I cut an opening into the fabric and ran the vertical towel through it, while the flimsy one was inbetween the fabric as well, like I said, in a cross pattern. I spray glued  the fabric together. Then I drilled a slightly bigger hole than the thick dowel, into the rectangular base, and placed the sail in. Then I painted MAX on the sail! Thats it!  Looking back I would have sewn the sail together, t was windy Halloween so our sail made it for 10 minutes!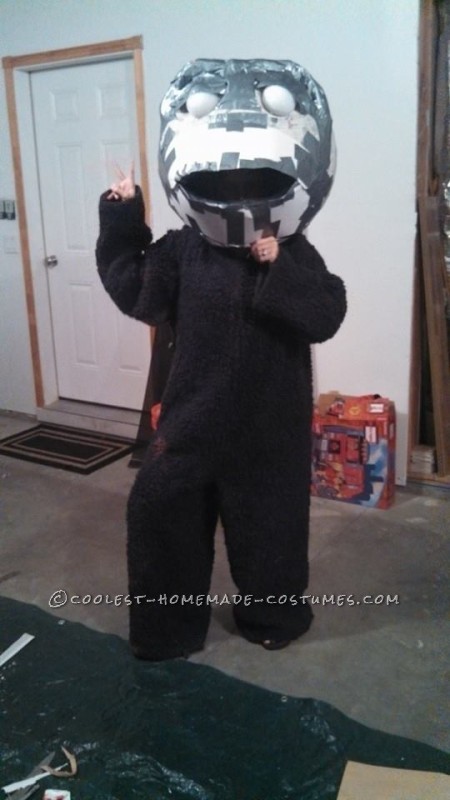 Very Beginnings of Carol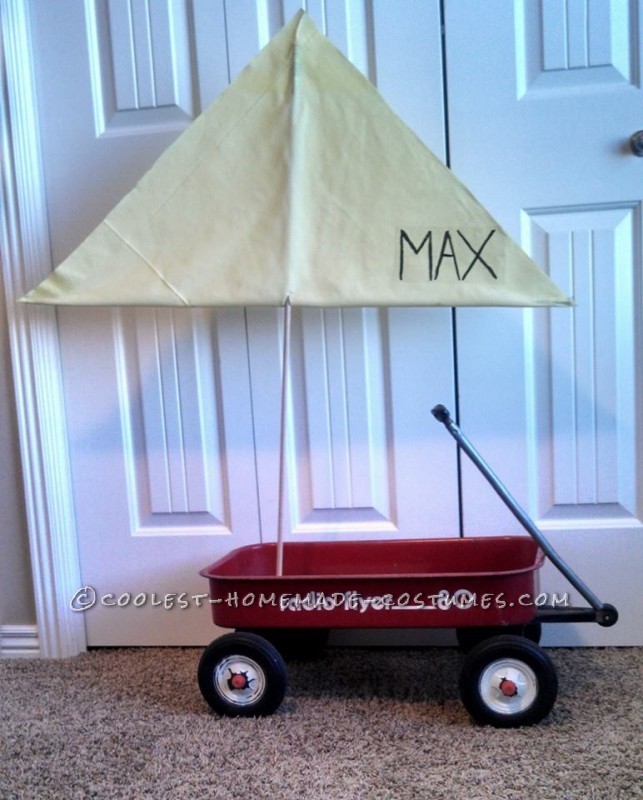 Maxs Ship
Carol's Getup
My husbands outfit, or the Carol character, was half of a very old gorilla costume that his mom use to do sing-a-grams with when she was trying to make extra money. It was very worn and tattered so I had to resew it together. We cut it in half and then spray painted gold stripes onto him. His pants were sweatpants that had black and brown feathers hot glued to it.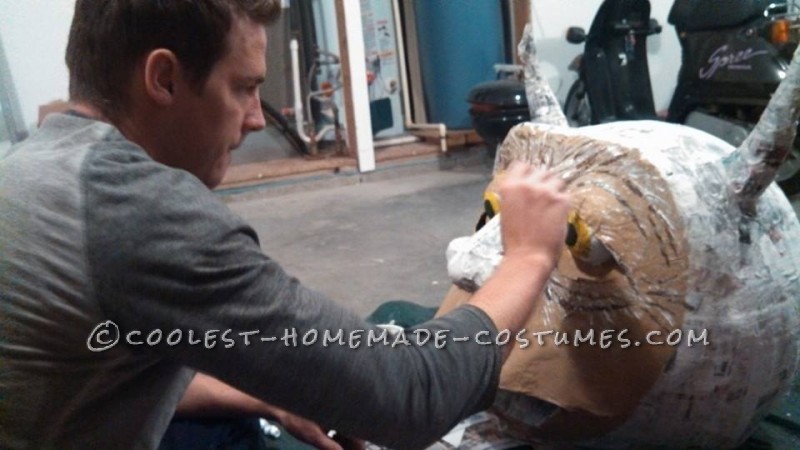 Handpainting Carol
KW's Getup
My costume, or the KW character, was much harder. I don't know how to sew, so I hand stitched the whole thing. I used a couple yards of plush yellow felt, and copied the pattern of an XL sweater and capri sweatpants. It looked a little plain next to Carol's costume so I bought some brown and yellow faux fur for the body and designed it to look like a baby onesie. I also wore yellow tights. I spray painted and hand painted swimming flippers!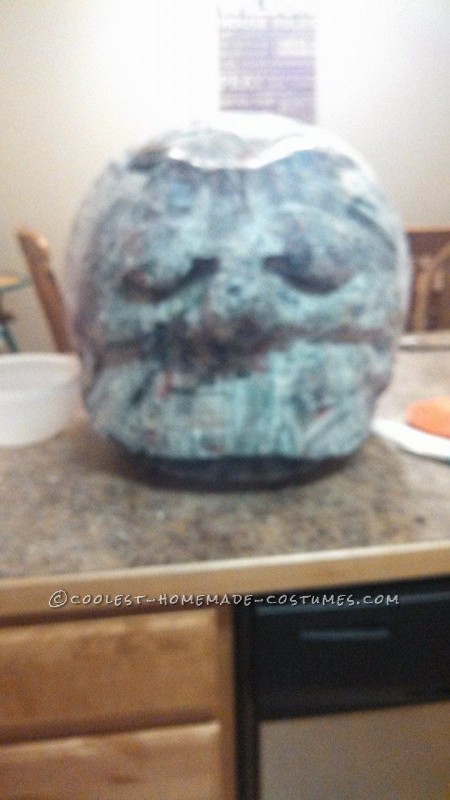 Kws Paper mache
There's A wild Thing In Us All
Let me just say, we just moved into the state and knew noone, so we were pretty nervous about going to a  town party not knowing any adults or kids, but we sure did make alot of new friends. This is how it went: Our little town threw a Halloween party at the elementry gym where they played games, then paraded down Main Street that ended at our town park, where there were hot dogs and trunk-or-treat. When we entered the gym, all eyes were on us. I couldn't hear very well, due to the massive ball on my head, but I saw all of the eyes. I felt like a celebrity! It was great! While everyone else was there to play games, we ended up taking pictures with every witch, vampire, lion, rocketship,etc ., there (kids and adults). Like I said, celeb status.
There were some that thought we were just monsters but most people knew exactly who we were. They would come up and call my son Max, and say that it was their favorite book. We had a very little pirate that followed us everywhere, working up the courage to touch both of our furs. We had a little girl that clung to her mom's leg for dear life. We had a older "too cool for school" kid that walked by and mumble under his breath, "I love your costumes!" and then a couple minutes later come by and say it again. It was kinda funny.
When we were all at the town park, we had a teacher ask if I could come in tomorrow and read "Where the Wild Things Are" to her first graders. I was asked if we could show up at a birthday party. I was asked if they could buy it off of me for next year. We heard that this was the best costume they have ever seen in their whole life. The best thing I heard though was someone say, "when that little boy grows up and sees these pictures he's going to know that his parents are cool and love him." That obviously made me tear up.
On the way back to our car, we had people drive real slow while the parents pointed at us and their kiddos waved. Seriously, this was the best day! We had so much fun getting into character and playing with all the other tricker treaters. I was amazed how much people loved our costumes!
This was the best Halloween costume ever! At first, I made these costumes for my son, because he just loved the "Rumpus" book so much. But once we got to the town party this costume was for every child. So many kids and adults just lit up. We got into character for all of them. We would say, "We'll eat you up!", "Let the wild rumpus start!" We would wave, stomp around, dance, hug, take pictures with kids. It was just so much fun! It was more fun being there for all of them than for us individually. I felt like Santa Clause! We loved it so much, while my husband worked, my son and I went to the elementary school to read "Where the Wilds Thins Are" to the strangers that werre now friends!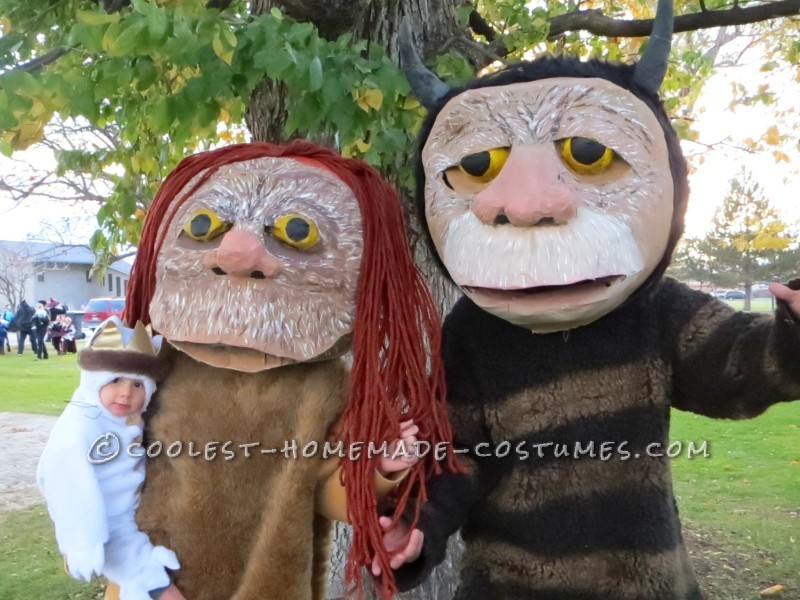 There's A Wild Thing In Us All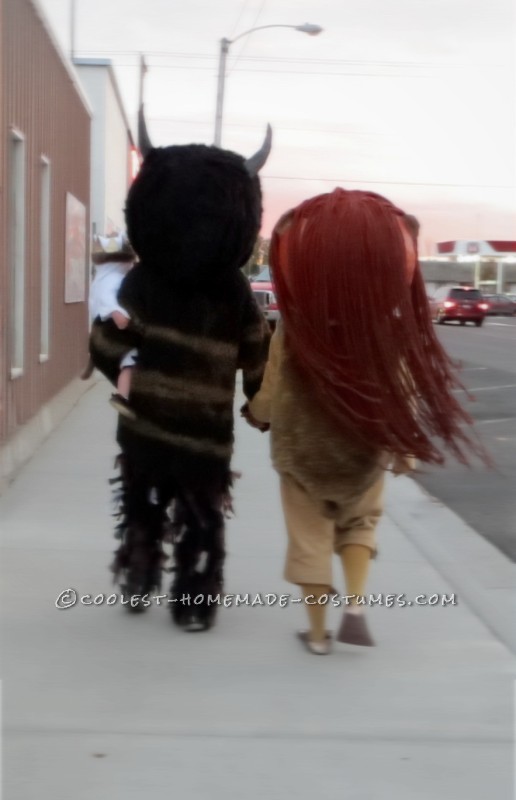 Oh Please Dont Go- We Love You So