My wife, being an elementary librarian, came up with the idea of honoring Maurice Sendak with this year's costume.  We always do homemade costumes, but these took more work than normal.
Papier Mache Heads:
Each head was constructed out of paper pulp papier mache over a punch balloon.  Each layer took 2 days to dry and we ended up using around 4 layers.  We then covered the heads with newspaper papier mache to achieve a smoother surface.  Next up came hand-painting with acrylics and details such as teeth and horns added made out of Crayola Model Magic.  Finally, faux hair/fur was hot glued on.  Working on these, we realized how heavy they were becoming.  We used camera tripods to support them while working so we didn't have to hold them.  Then, we hot glued used construction worker hard hats inside them to make them more comfortable to wear.
Bodies/Sweater:
Goodwill and Walmart were our best friends for this step.  The striped sweater was actually just a solid, very over sized cable knit sweater from Goodwill.  We then masking taped the stripes and spray painted it the correct colors.  The legs of the sweater costume are grey sweatpants with scales drawn on with a Sharpie.  The entire other costume is a Walmart generic solid sweatsuit in size 3XL, turned inside out for extra fuzziness.  For added girth, we bent coat hangers into hoops, like a hoop skirt, and sewed it into the center of the bodies.  Tops and bottoms were sewed together using a sewing machine and hands were sewn on.  We cut a slit below the claws so we could slip out hands out to eat or drink at the party.  Finally, we cut a slit down the back and affixed Velcro so we could climb in and out.
Claws/Feet:
For the detail claws and feet we used an old white t-shirt.  We cut it into wedges, sewed them into cones and then stuffed them with remaining old t-shirt scraps.  The human like monster feet were the only piece purchased from a costume shop.  I did rough them and our claws up and gave them all a dirty appearance using shoe polish.
Experience:
We attend a large costume party each year.  We were reigning champs for the contest from the prior year, so we knew these costumes had to be great.  After working for weeks on creating these costumes, my wife unfortunately had a serious car accident the week of Halloween.  After the hospital released her and despite her concussion, she was determined to strap on the Wild Thing and make an appearance.  Although the soreness required her to spend most of the night sitting in one spot, she said it was worth it.  And, we won, concussion and all!  Since the party, we have worn the costumes to my wife's library and read Sendak's story to awestruck kiddos.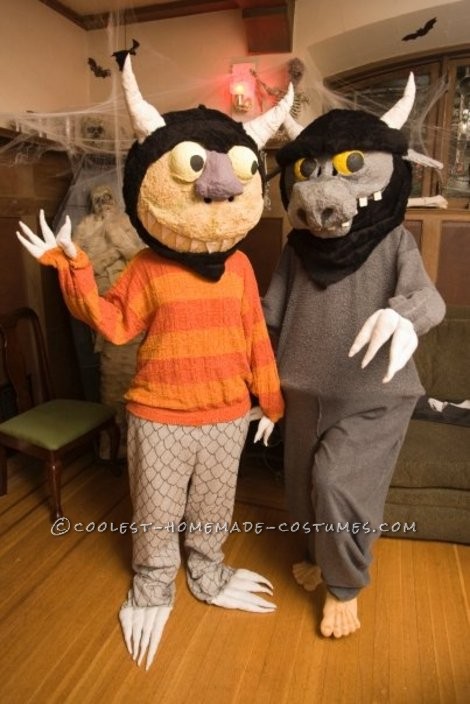 Finished Costumes (also the only time my wife stood the entire night)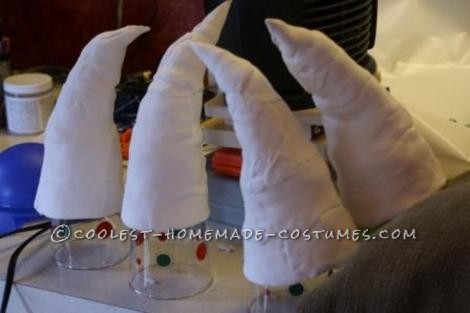 Horns — Model Magic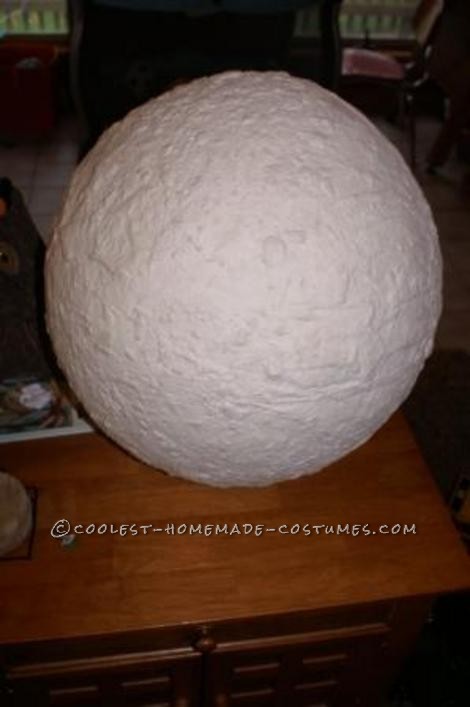 Papier Mache pulp head on punch balloon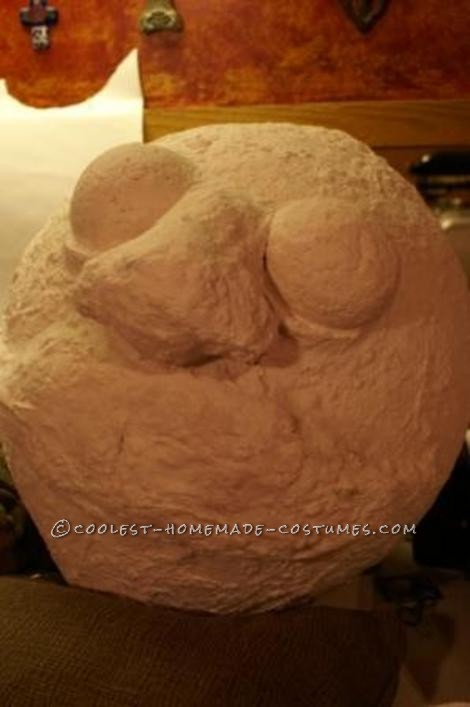 details and paint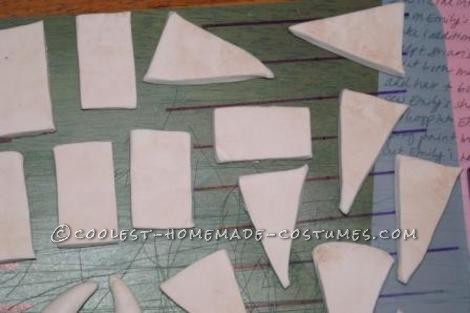 teeth – Model Magic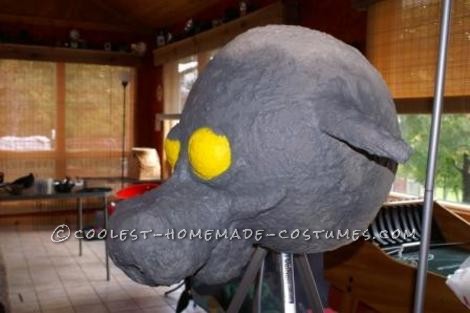 Painting & tripod holder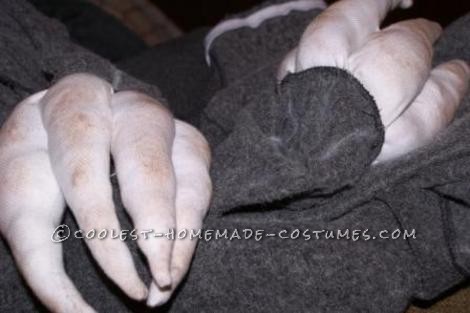 shoe polished claws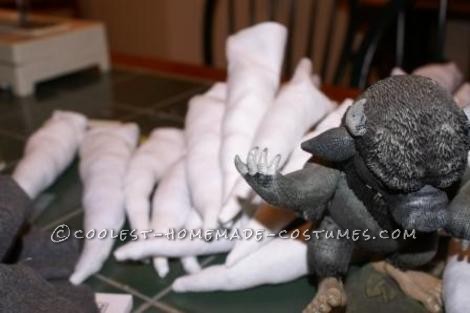 claws made from old t-shirt & our inspiration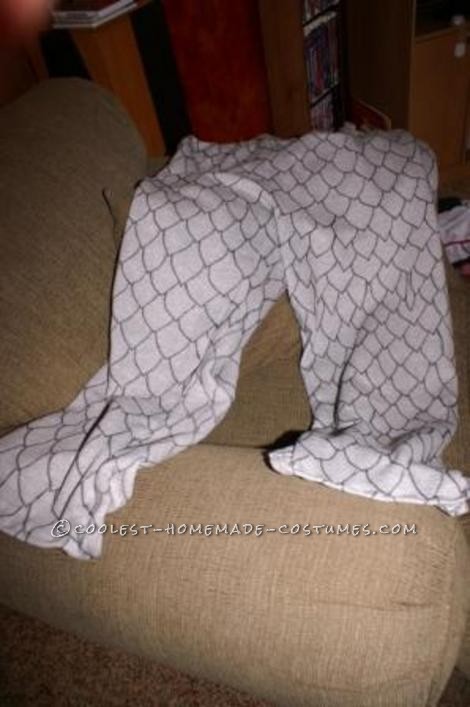 pants with Sharpie scales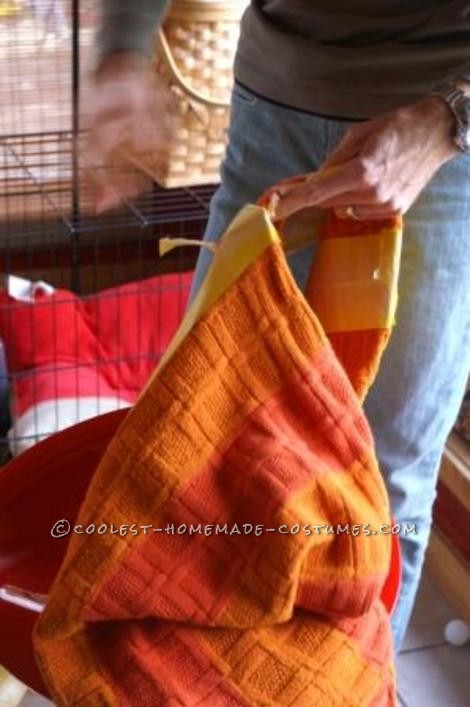 removing tape from sweater after spray painting