Love playing video games? Imagine what it would be like to step into one of the characters. Take that fantasy into real life with these homemade Super Mario Brothers costumes. Most of all, are the DIY instructions written by people like you. So you can try these homemade costumes yourself.
Take a look at the fantastic Mario and Luigi costumes here. Additional characters include a pretty Princess Peach, Bowser, Piranha Plant and Dry Bones. And each one is uniquely crafted for a one-of-kind DIY costume. You will find the best tutorials here. For instance, discover the tips and tricks to creating the perfect shaped mushroom cap.
Feeling ambitious? Try the Mario Toad cart. Or Koopa family costumes. Another idea is Luigi inside of a Gameboy.
So get inspired by these homemade Mario Brothers costumes and create your own this Halloween. Then share it with us here to inspire others on their DIY costume journey!
---
Latest Super Mario Brothers Costumes
---
---

---
Featured Mario Bros. Costumes
---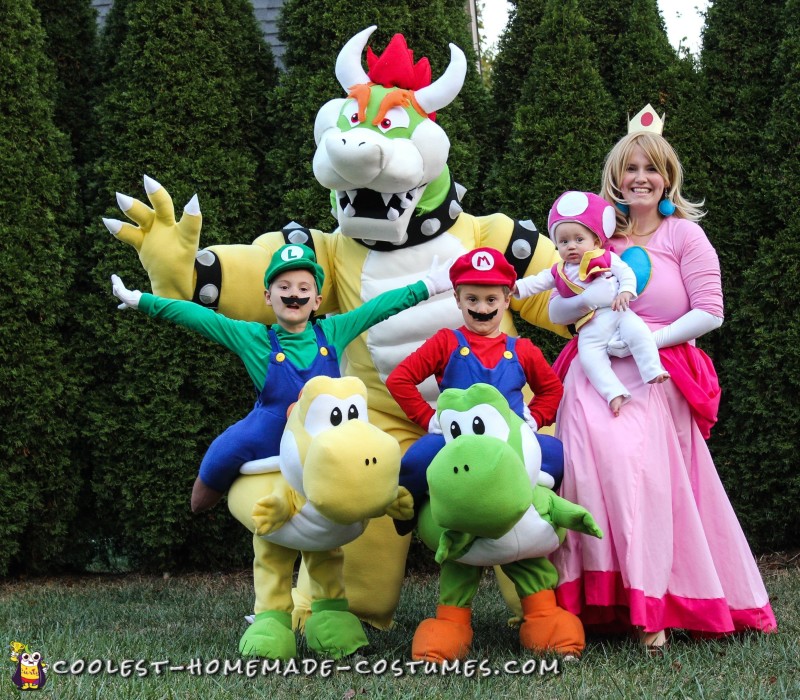 Our 5 year old twin boys adore Mario (it is their favorite game to play with their Dad). So we decided in late August that with our new addition (baby girl born in May) a Mario family costume would be super fun and memorable. As we scoured the internet for inspiration I came across some pictures of a Mario riding Yoshi costume and just couldn't get over the cuteness so we set out to make some for our boys. My husband took on the daunting task of creating the Bowser costume and I made the 4 other costumes. Read more »
---
We were looking for a great four person costume to wear to Toronto's annual Halloween street party. For my wife, myself, and one of our friends, we've been doing this for a few years and have really enjoyed the crowds and the camaraderie; however, this would be the first time for our fourth and he was feeling kind of awkward about dressing up for Halloween as an adult. Read more »