The only problem I can see with making Halloween costumes, is I have to outdo myself each year. Pretty soon I'll be starting my costumes a year in advance.
I like to try and come up with something that hasn't been done before. This year, I decided to go with a video game theme. I grew up playing the original NES, and always loved King Koopa. Kids nowadays know him as Bowser. To separate myself from the others, I decided to make Bowser's Castle with moving characters driven by k'nex gears and motors.
This costume took over 2 months to build. I have approximately 200 hours and $400 invested in this project. It was a blast to build. I'm slightly saddened that the project is complete, but I'm thrilled with the result. I hope you like it!!
Planning:
It's always important to plan your project carefully before you start to build. While I was still gathering materials I thought I would need, I drew some sketches, and then planned a model of the castle using 3d modelling software.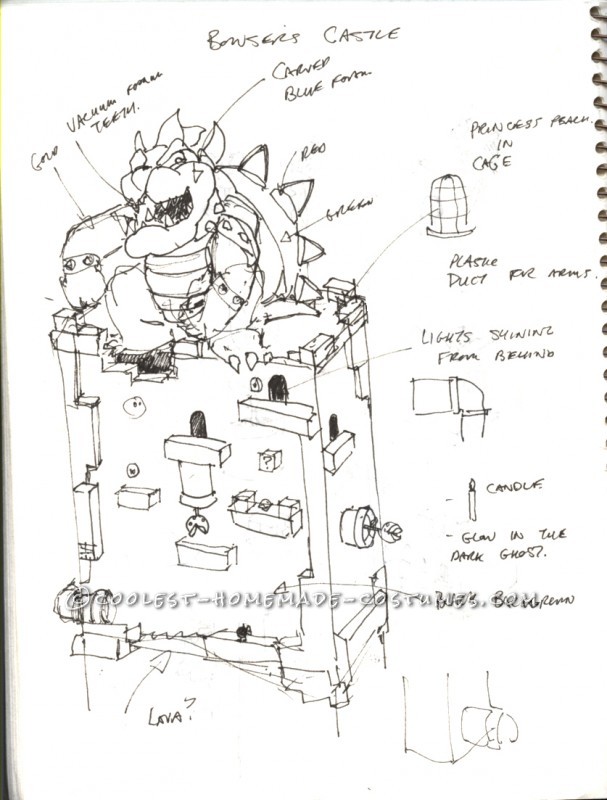 Building the Castle:
The castle was built with blue foam insulation. It's relatively cheap and very lightweight. I built the body of the castle based on the 3d model I drew in Rhino. The design changed slightly as I went along, but I'm very happy with the final result.
If you're going to build something similar, please be warned. Carving the bricks in the castle with a dremel quite literally took me 8 hours. Soooo…… tedious, but sooooo worth it.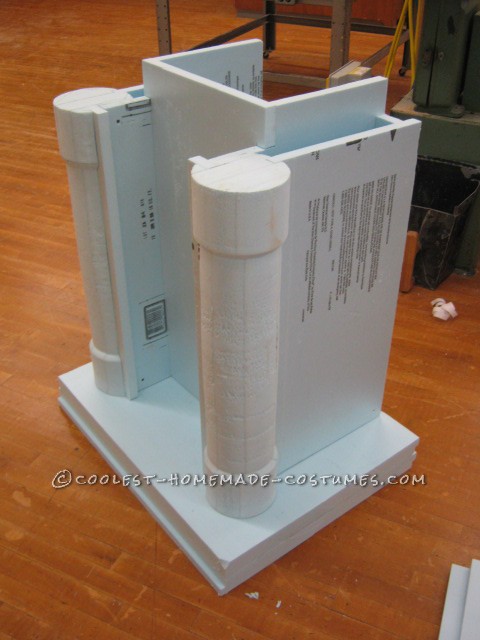 The basic blue foam castle.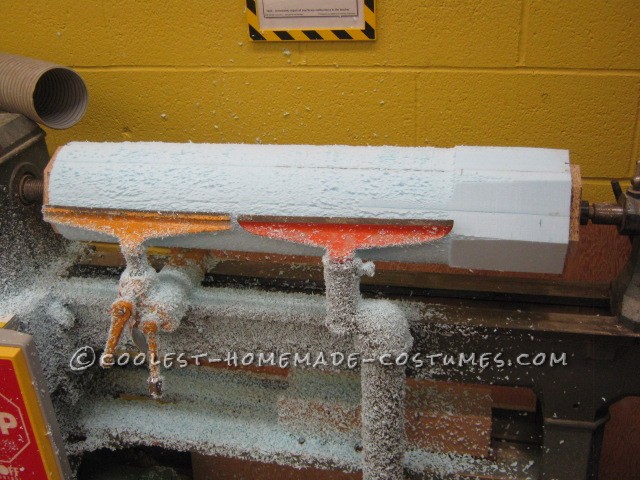 Turning the towers on the lathe.
Animating the Figures:
Animating the figures was quite a bit of work and a lot of trial and error. If you have some old k'nex sets like I do, you're way ahead of the game. You also have to be okay with drilling holes into the Mario figures that you paid good money for.
I had to be careful not to drive too many actions on one motor.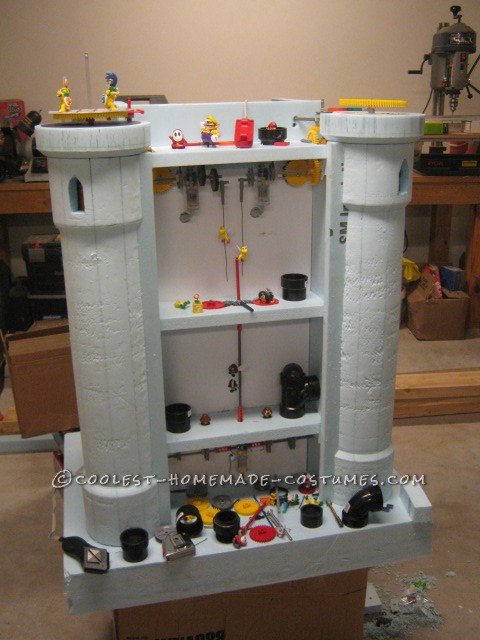 Trying to figure out the toys.
Paint and Details:
Painting the castle was pretty quick and painless compared to the carving. I started with a base coat of grey latex paint. Be careful what paint you use on blue foam. Most spray paints will dissolve foam. After the grey base coat was dry, I went back with some different colors of acrylic paint to add some variation. Finally, I hit the castle with a light dusting of black spray paint to add more depth.
Before you paint, you'll want to find ways to make the surface of the foam rough so that it looks more like an old castle.
To add further detail to the castle, I put characters in the windows, added vines to walls, and installed a Bowser flag, curtain, and two banners.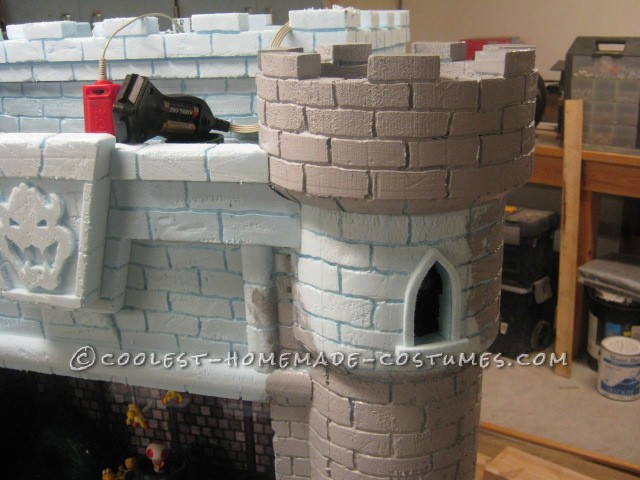 Starting the paint job.
Lighting the Costume:
For the last few years I've been traveling around to different costume contests. The biggest thing I've learned is that it's beneficial to light your costume in some way. This will attract more attention to your build, and make it way better for photos in a dark club or bar.
I used a variety of different lights to try and achieve this goal. All of the lights I found were purchased from the Dollar store or Value Village. They're cheap and they work. I even have some strobe lights that provide a cool effect when the room is really dary. Either way, the lights can be easily switched on or off depending on the lighting of your party.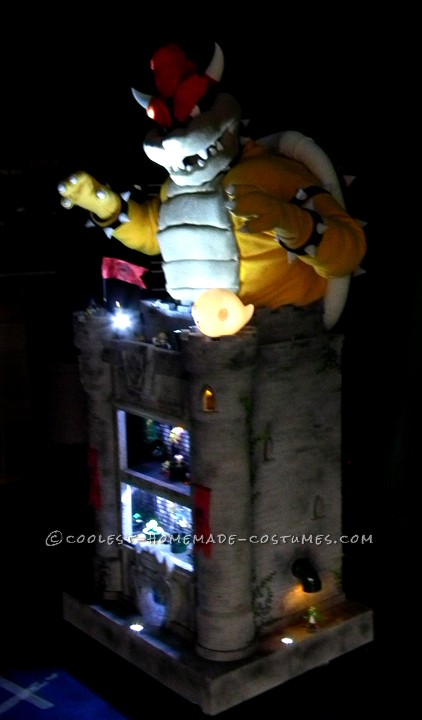 The Mask, Gloves and Jacket:
The mask and the jacket took a long time to build. The mask is built on top of a hard hat which actually makes it very comfortable to wear. You can see quite well through the teeth, and it's hard for people to even see that you're in there. All of the material for the costume was purchased in the form of old shirts and sweaters from Value Village.
I had the benefit of a 3d printer from instructables that helped me make the horns, the spikes and the finger nails. The teeth for the costume are vacuum formed.
I'm not very good at sewing, so I tried to avoid it at all costs. I have to thank my mom for helping me sew the hands and the belly. I became very good friends with the glue gun on this project, and I now understand how my students go through them so quickly.
The shell was quite a big project in itself. I started with layers of blue foam, and carved it until I had a good replica of the tiny Bowser figure I purchased. It was then covered in some green fabric, an wrapped with a pool noodle around the edge.
I took over 2000 pictures when documenting this build which makes it hard to pick just 10 pictures. If you want to see the rest of the project, you can search Bowser Costume on the Instructables site.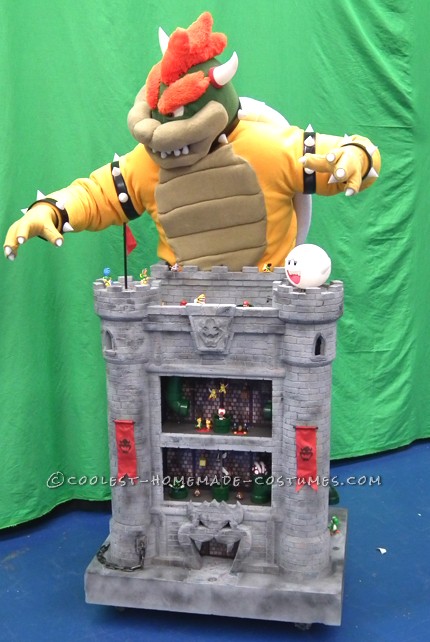 Final costume.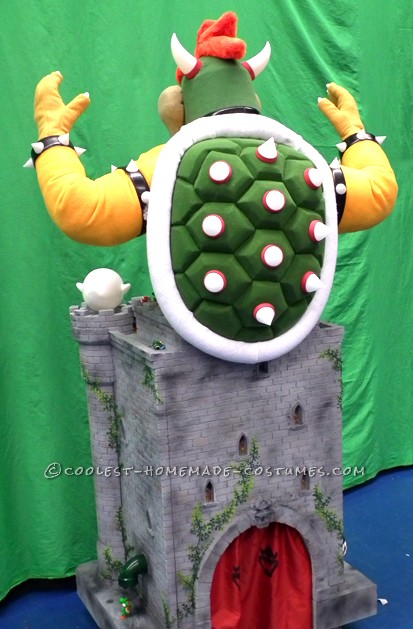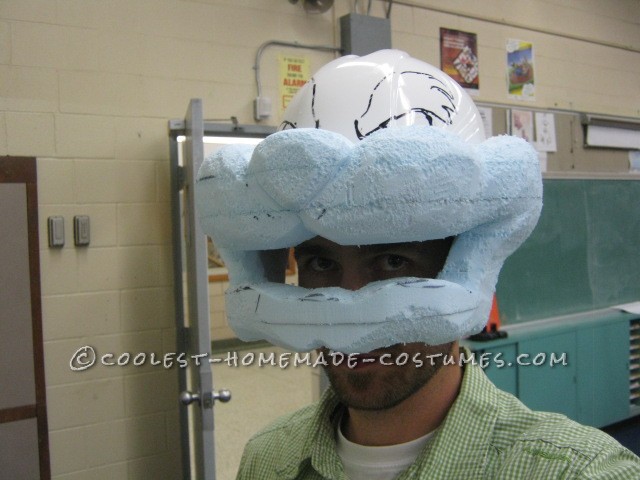 The mask before I covered it.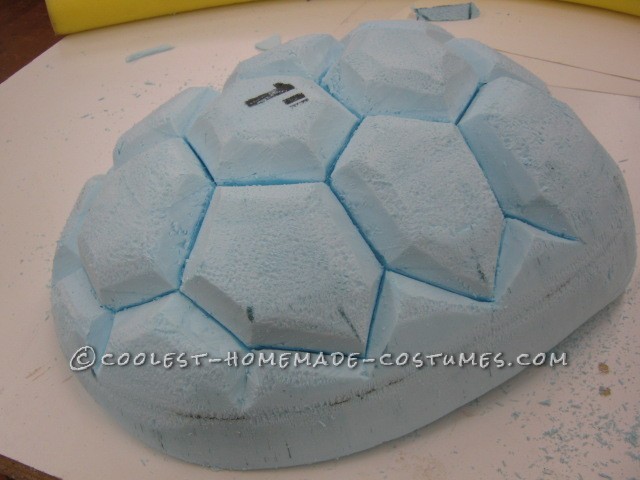 The uncovered shell.
Video: