When your best friend is the peanut butter to your jelly, there's only one option – you must dress in a couple costume for Halloween. Start designing your costumes together with the DIY costume inspiration here. Mario and Luigi costumes are a great choice because they are almost completely identical except for the red and green colors. So everyone will you came together.
Just because they are men, doesn't limit these DIY costumes. Indeed, you will see many women pairs rocking these homemade costumes.
You don't even need to wear the classic overalls. Take liberties with these DIY costumes in order to wear the most comfortable or feminine costume.
So, take a look at the awesome collection below of Mario and Luigi costumes. Get inspired to craft your best homemade costume. Then share it with us here to encourage others on their DIY costume journey!
Latest Mario and Luigi Costumes
---
---

---
Featured Mario and Luigi Costumes
Mario and Luigi costumes by Mark S., Nottingham, England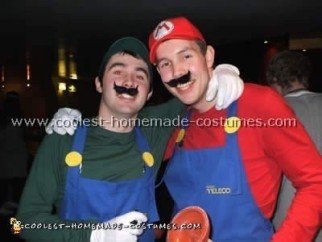 To make our Mario and Luigi costumes we simply used: Blue overalls, plain baseball hats, long sleeved t-shirts, white gloves, yellow card buttons, household plungers and stick on moustaches.
The overalls were bought from EBay along with the white gloves. We simply purchased the t-shirts in town along with the moustache at a fancy dress store. Our buttons were simply cut from a sheet of card and stuck on to our outfit.
Everybody recognized us and it was a brilliant night out!
Total Spent: $39
Adorable Homemade Mario Costume
Costume by Kelly K., Bradford, PA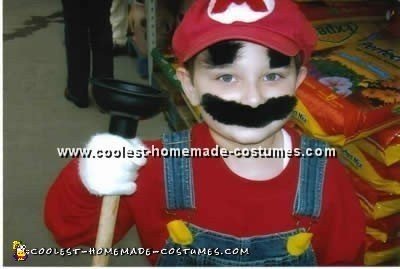 This is a picture of my soon-to-be seven-year old son Nathan who absolutely loves Super Mario. He actually dressed up as Mario about three years ago but we added a few extras this time such as the mini plunger (because Mario is a plumber!) and the fake eyebrows (last time we only did the moustache). He went around saying "Mama mia….It's me…Mario!" It was just like a mini Mario.
When he went out trick-or-treating everyone kept saying "Hey…it's Mario!" Even the older people knew who Mario was and chuckled at how cool the costume was. It was really easy to put this costume together and because he was Mario a previous year we still had the hat (which my sister-in-law made by sewing the "M" on a newsboy cap) moustache felt yellow circles (the yellow buttons on the overalls) and the white gloves.
Of course we had to buy new larger overalls for him and we found the plunger at a local hardware store. The eyebrows were hard to find. We ended up taking them off one of those play glasses with the big eyebrows and nose.
For shoes he just wore a pair of brown shoes he already had.
In conclusion, this was a very fun costume and easy to put together. My son loved being Brooklyn's most famous plumber.
Enjoy your own Mario and Luigi costumes!
Total Spent: $50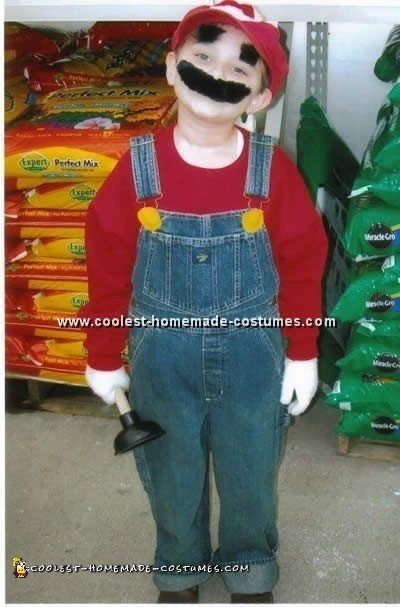 Happy Homemade Mario Costume
Costume by Sarah L., Groton, NY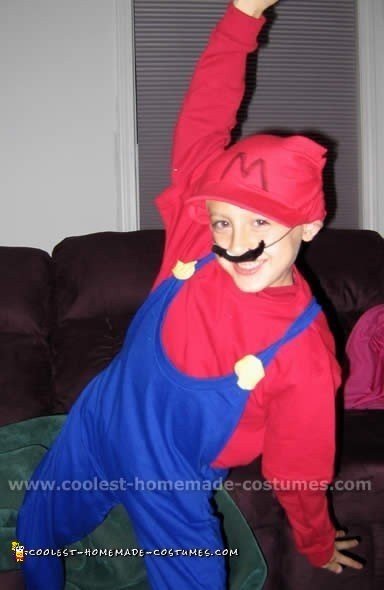 For the hat we took a visor and sewed red material on it and then drew the M. For his overalls we took an XXXL Red t-shirt and cut it up to be overalls and sewed up some legs. Then we just sewed some little yellow circles and it looks so great! Mustache bought separately. Total Spent: $10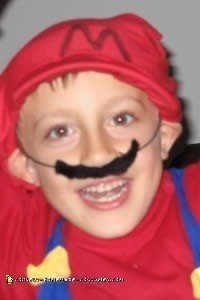 Marvelous Mario Costume
Costume by Rita S., Blaine, TN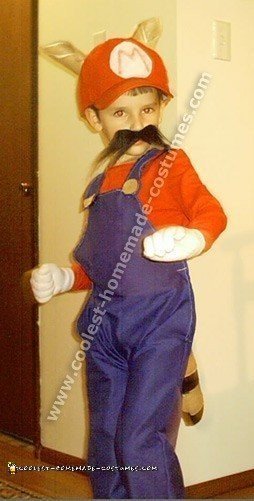 This idea is great for those who want to make Mario and Luigi costumes. My son loves the Mario video game. So we decided to make him a Mario costume for Halloween.
I bought a blue piece of material and just used a pair of his bib overalls to trace onto the blue material and cut it out. In addition, I bought a cheap red shirt (in the girls section – around $3.00) and red, tan, black, and white felt. I used the tan and black felt to make the tail and stuffed it with newspapers.
For the hat I just used an old cap we already had and just hot glued the red felt onto it. I cut out a circle from the white felt and hot glued it to the hat (I wrote 'M' on the white felt). The ears on the hat are just made out of poster board rolled up with felt hot glued onto it.
Just add white gloves and mustache and you've got Mario. We went to the mall trick or treating and it really was a Big Hit with the kids and adults from the time we got out of the car until we got back in. It seemed like everyone stopped us.
Total Spent: $7