Going to another "Wild West" themed party? Tired of being a cowgirl..saloon girl…outlaw? Want something that's original and looks sharp (:P) at the same time?  Cactus Cutie is for you!  This costume was easy to create and fun to wear and I definitely stood out in the crowd although I did get confused for a dinosaur a few times, but that's another costume altogether.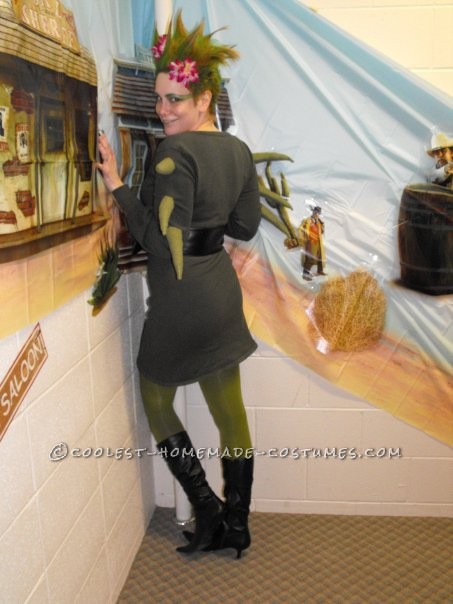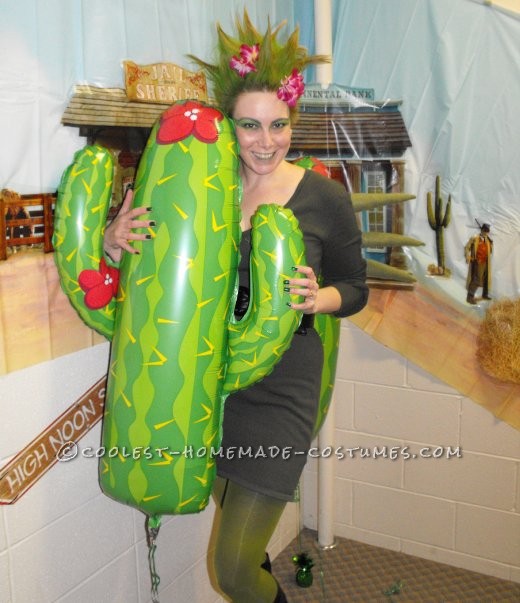 Spikes
Using green felt, cut out triangles and sew them together along one edge  (I used an empty serger thread cone as a template…but flat triangle will work too.)
Fill the spikes with cotton batting (or tissue paper).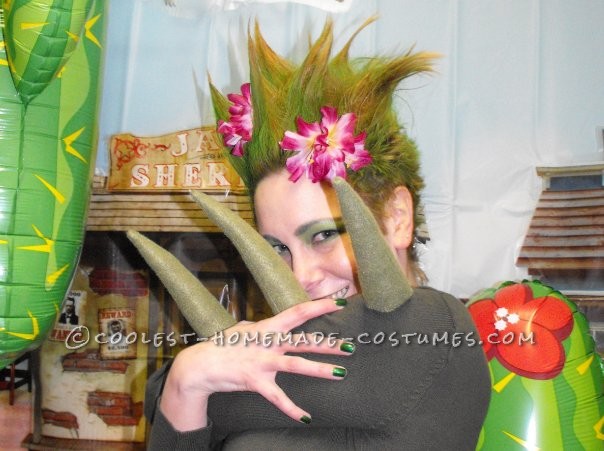 Attach spikes
Attach the spikes to a green dress ( I used a sweater tunic) or t-shirt by sewing the open end of the triangle to the sleeve.  Use pins to hold it in place and use green thread to hand sew them on.  Make sure you only go through one layer of the sleeve, it's frustrating when you go to put it on and you've sewed the sleeve together…just trust me on this one.
You can add as many spikes as you'd like. You can also add them to the sides, the back may not be so comfortable if you plan on sitting at all. Remember, you're a cactus afterall!
Green tights
This was the most challenging, yet most fun, part for me.  I love testing things out and wasn't 100% sure I could dye a pair of dollar store tights green (too cheap to go and buy real green ones).
Bought a tin of fabric dye from the fabric store and followed the instructions.  I chose to dye them using the stove method (boiling water, salt (to make the color stay) and dye, add tights, stir and soak, rinse and viola!).  You can also use the washing machine method.
They looked so perfectly green in the pot on the stove I was afraid to rinse them out. However, they remained that perfect, cactus green after rinsing and didn't bleed at all during wear.
Makeup
Ahhh…makeup…go green…literally!
The sky is the limit when applying makeup.  I used various shades of green on my eyes, eyebrows and lips (use foundation as a primer on your lips, use a wet q-tip to turn your eye shadow into lipgloss).  I also used a light green, shimmery eyeshadow as a blush.
Nails were left long, and if I'd thought of it then, I would have filed them to a point.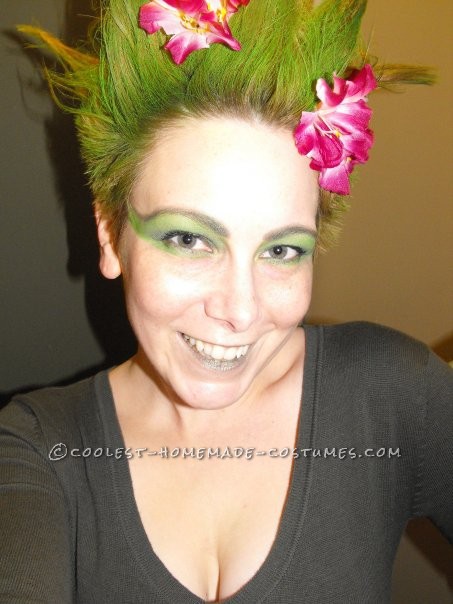 Hair
Having shorter hair was a plus for this costume.  I used mousse on wet hair, fryed it upside down for more volume the back combed it like crazy.  I then sprayed my hair with hairspray and let it set for 5 minutes.  I went back in with ice gel and created very distinct spikes up and away from my face.  Used another half can of hairspray and then added the green spray (sorry ozone…I'll take it easy on the next costume). If you had longer hair, I would suggest putting in to a few ponytails, but not pulling the hair all the way through (making a loop) and using ice gel to spike the ends.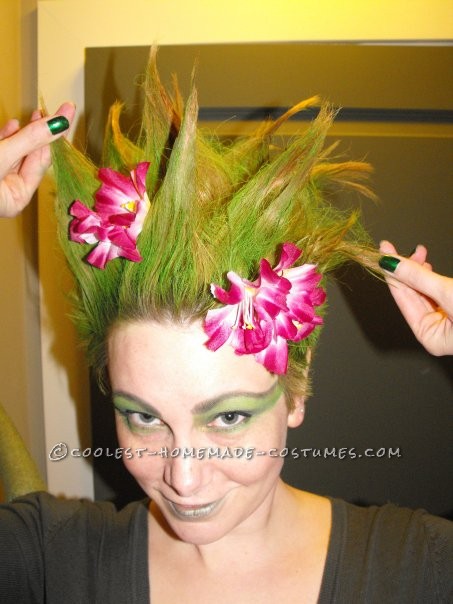 Putting it all together
Time to get dressed and add the final touches.
I wore a black belt to cinch in my waist and black tall boots with a spiky toe.  A few fake, pink flowers in my spkiy hair and I was ready to head to the Wild Wild West (not the movie…cause that was a har one to sit through).