As the longest running American television show, the Simpson family has been providing laughs since 1989! The awesome people here have turned their love of this animated bunch into rocking DIY costumes. Discover how to make your own Simpsons Halloween costumes from the amazing instructions found in this collection.
Big eyed and hilariously dysfunctional, all your favorite characters are here. Whether it is beer-loving Homer, blue-haired Marge, sax-playing Lisa, trouble-making Bart or pacifier-sucking Maggie. You will also see some of the highly entertaining supporting characters here. Check out the Duffman, Sideshow Bob and even Otto wearing school bus!
One of the most impressive DIY costume feats is the height of Marge Simpson's hair. The costumers here are insanely creative getting their blue mane to defy gravity.
So bring along a couch gag and slip into your yellow skin for the coolest homemade Simpsons costumes this Halloween!
Take a look at these cool homemade NAME costumes shared with us by costume enthusiasts from around the world. Along with the costumes here, you'll also find loads of homemade costume ideas and DIY Halloween costume inspiration for your next costume project. Enjoy!
Latest Simpsons Halloween Costumes
---
---

---
Featured Simpsons Costumes
Simpsons Halloween costume submitted by: Patrick O., Naperville, IL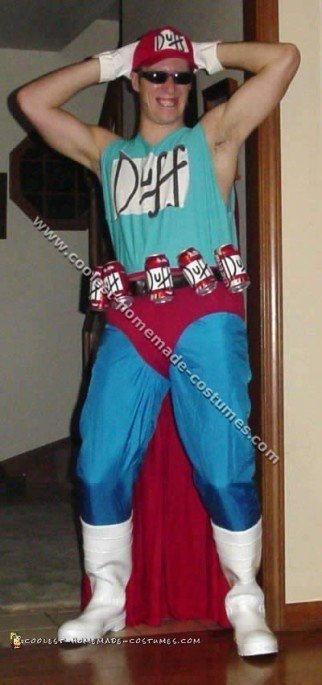 This is Duffman from The Simpsons. This home made Simpsons Halloween costume idea was a very time-consuming costume to make as I wanted it to be extremely accurate.
The basics: Shirt, pants, hat and sunglasses were purchased from Goodwill.
Boots
Boots are simple rubber rain boots purchased from Wal-Mart (priciest purchase at around $20 or $30 I believe) spray painted with several coats of glossy white spray paint over the course of a few days. This will turn into a problem later as the paint will begin to peel gradually throughout the night since the paint never quite binds to the rubber.
*This could be bad if you have pets or small children that like to eat off the floor.
Gloves
Gloves are white dish washing gloves with cuffs turned inward to shorten them.
Briefs
Red briefs were purchased in a Hanes 3-pack of red, black and gray.
Shirt
V-neck was cut into blue shirt and sleeves were cut off as well.
The Complicated Stuff
Logos were drawn onto white t-shirt sections and cut into rectangles cutting around the edges of the logo so they extend beyond the white edge. Edges of the white logo sections were then sewn into the blue shirt and red hat. I purchased a red cape from a Halloween store and sewn into the shoulders of the blue shirt. Even more complicated: The belt was an old belt of mine (forgot where I purchased it) that luckily had two holes one on top of another throughout the entire length of the belt. Duff logos were printed from a resource online.
The printed logos were then glued onto red Coca-Cola cans. Two holes were punched into the backs of the cans through which a single twist-tie was fed. The twist tie was then fed through a pair of holes on the belt and tied off tightly on the inside of the belt to pull the cans right up against the belt so that the ties could not be seen. The Coke was drained from the holes so that the tops of the cans could remain sealed as well. It is difficult to approximate how long it took to make this since my fianc? helped out a lot and it took a while to find the "right" clothes to match the colors of the character.
Ignoring the time it takes to spray paint the boots over a few days and if you have all the materials in front of you it might take one person two to four hours to create this home made Halloween costume idea.
Total Spent: $50
Cool Homemade Simpsons Halloween Costume
Stacy H., Hennng, MN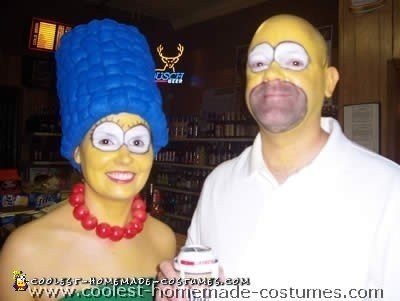 My husband and I own the local pub in our small town of 700 people. We began a Halloween costume several years ago and have set the bar high for creative costumes for our costume contest. We aren't eligible to win but enjoy being part of the fun. My husband was dying to have an excuse to shave his head. And so the Homer Simpson costume idea was born. We like to do a couples costume so I was Marge of course to complete the Simpson Halloween costume!
Homie
For Homer Simpsons Halloween costume – we bought a cheap polo style white shirt and blue Dickies pants. I sewed a little round tummy pillow from scraps in my sewing room and pinned it to his white Hanes undershirt so he didn't have to fuss with adjusting it through the night. He finished it off with brown shoes he already owned. For Homer's "Duff" can I downloaded a Duff playing card image from the internet adjusted the size on my computer printed it on cardstock and hot glued it to a neoprene can cooler. This way Homer was able to drink "Duff" beer all night.
Marge
For Marge Simpsons Halloween costume – I sewed a simple shift dress out of green fabric with an elastic casing at the top. I spray painted a pink pair of skimmer style shoes from the Wal-Mart clearance rack with glossy red spray paint. I bought large wooden beads; spray painted them red too and strung them on a thin red satin ribbon. For Marge's signature hairstyle I bought a piece of tag board cut it down a little and fitted it to my head. I cut four lines down from the top and overlapped the pieces across from each other to make the top curve of the beehive. Also, I created notches for my ears. I then hot glued large cotton balls to the tag board in rows until no space remained. The final step was spray painting it blue from every angle so no trace of white remained.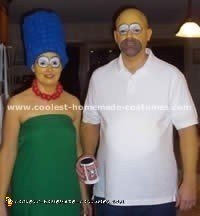 On Halloween night my husband shaved his head down with our clippers and then "bic'd" it down to skin. I drew in our "eyes" with black eyeliner and then we cover ourselves with yellow face paint.
In addition, we added some yellow face paint to our arms and I put it on my shoulders too. We filled in our "eyes" with white face paint and I added Homer-style squiggles to the top and sides of Homer's head. We had a blast getting ready and at the party that night.
All of our customers insisted we should've won our own Halloween costume contest. But, of course, we gave the prizes away. The compliments and fun was prize enough.
Total Spent: $50